The Relationship Sons Of Anarchy Fans And The Creator Agree Is The Show's Best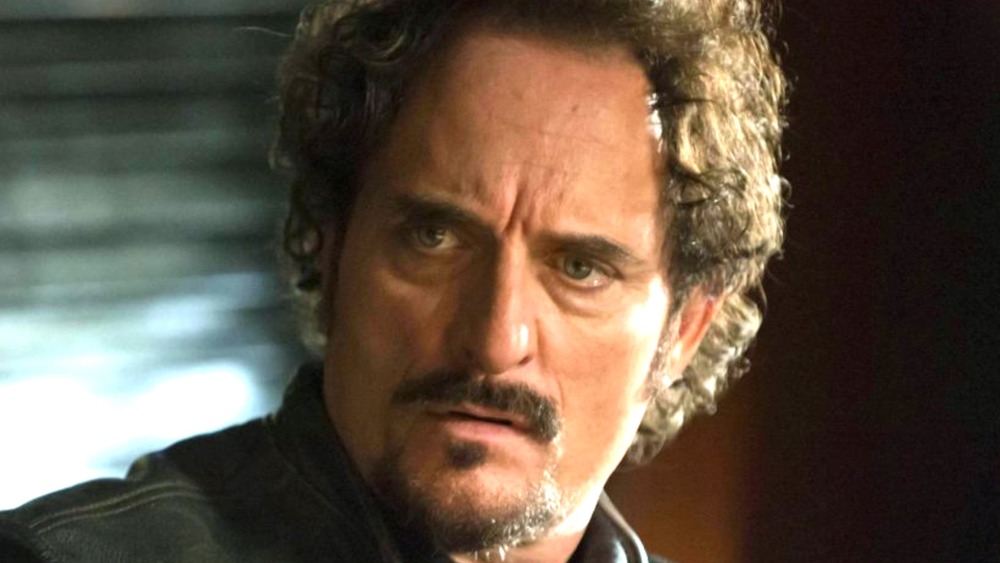 FX Networks
Like so many shows, Sons of Anarchy was driven by the relationships between its cast members. The cast members, in turn, drove around on motorcycles (seriously, there were some awesome and expensive bikes on Sons of Anarchy). Where were we? Relationships! Certain relationships — and their various dynamics — served as the show's fuel, for lack of a worse metaphor. Jax Teller's (Charlie Hunnam) relationship with his wife, Tara Knowles (Maggie Siff), drew him away from his brothers in the MC, whereas his relationship with SAMCRO cause him reciprocal issues in his relationship with his wife. But it wasn't just the show's romantic entanglements that were key to the plot points; Jax's Shakespearean-slash-patricidal relationship with his stepfather Clay Morrow (Ron Perlman) and mother Gemma Teller-Morrow (Katey Sagal) were also important dynamics when it came to the show's overarching plot.
While, by and large, Jax's interpersonal relationships were sources of conflict, there's one relationship on the show which Sons of Anarchy fans and series creator Kurt Sutter thought was the absolute best: the tender bond between violent sergeant-at-arms Tig Trager (Kim Coates) and transgender escort Venus Van Dam (Walton Goggins).
Sons of Anarchy's best relationship was shared by Tig and Venus
FX Networks
Fans first meet transgender escort Venus Van Dam in the fifth season of Sons of Anarchy, in the fifth episode, entitled "Orca Shrugged." SAMCRO enlists Venus to help the club acquire compromising photos of city council member Allen Biancone — whom they've drugged — for the sake of blackmailing him. Tig is visibly spellbound as soon as Venus enters the scene. The first spark of chemistry between them comes when he offers to escort her to the powder room before the aforementioned photo shoot, which she coyly rebuffs; "It's not gonna happen, tiger."  Later in the scene, Venus playfully asks Tig if he's jealous, which he concedes. "I know you are," she replies.
Venus returns halfway through Sons of Anarchy season 6, in need of the club's help after being assaulted. She reveals her abusive past and enlists the MC in getting her son back from her mother. Venus shows back up halfway through season 7, when it's revealed she and Tig have been keeping in touch. Tig and Venus both put their cards on the table in season 7's 10th episode, "Faith and Despondency."
When answering fan questions on social media, Sons of Anarchy creator Kurt Sutter revealed that Venus and Tig's relationship is his favorite. "Hands down, Big and Venus. It was the purest, most unadulterated love story of the show. That love scene between them was probably one of my most favorite scenes I ever wrote, on any show. Venus was my muse," Sutter wrote. Reddit user schree421 shared screen shots of Sutter's answer in a thread entitled "I agree with Sutter on this one." User dragosblessing was one of several who concurred, calling the story arc one of their favorites. "The fact that Tig is completely helpless when venus is around him and his protective instinct kicks in when someone verbally offends her in front of [him] makes it so real," they said.