The Worst Thing Oscar Ever Did To Angela On The Office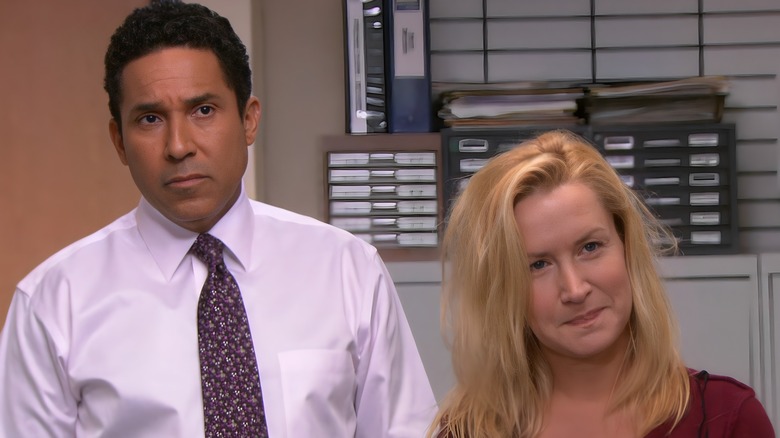 NBC
The Office was able to capture the personalities of all the different types of people you might see in a modern-day workplace. It had the boy-crazy customer service rep, the goofy accountant, the overachiever, the mysterious oddball, the cocky youngster, and many others. There were several characters who epitomized the level-headed employees in an office, which included Jim Halpert (John Krasinski), Pam Beesley (Jenna Fischer), Darryl Philbin (Craig Robinson), and Oscar Martinez (Oscar Nunez).
Jim, Pam, and Darryl mostly stayed the course as the normal ones of the bunch, and Oscar did as well for most of his tenure on the show. However, he made a major screw-up in season 9 when he completely betrayed one of his friends and longtime co-workers. It was a move no one saw coming and shocked many when Oscar became one of the shadiest people you can be. He coincidentally made this dirty move to the series' shadiest and cruelest character: Angela Martin (Angela Kinsey).
Angela and Oscar had quite a complicated relationship throughout the show, but the two were always able to get their job done, despite the wrenches thrown in their work by Kevin Malone (Brian Baumgartner). The duo eventually formed a solid friendship, but it only came after Oscar did one of the worst things you could do to anyone.
Oscar carried out a secret affair with Angela's husband in Season 9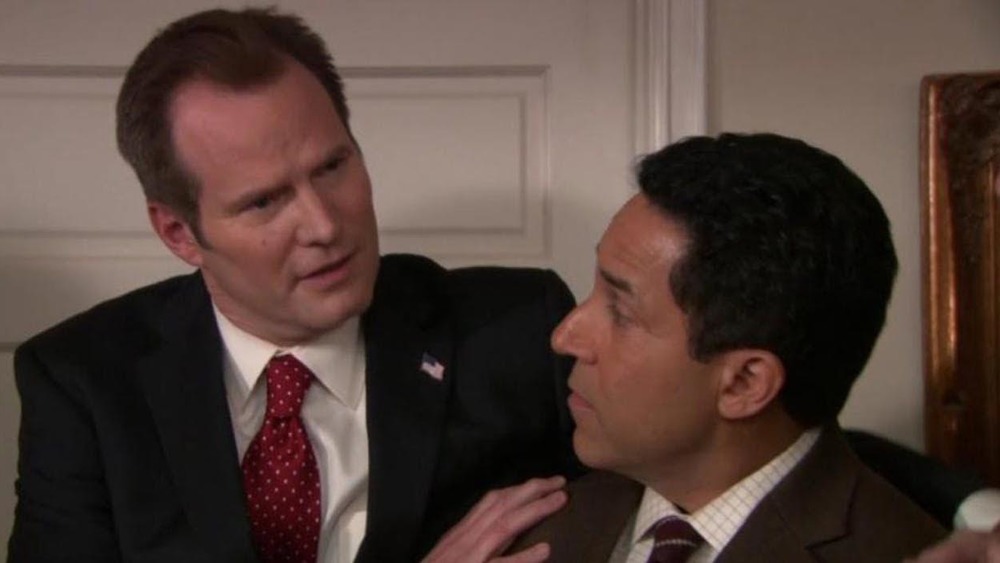 NBC Universal Television Distribution
Remember the senator? How could you forget when Angela mentioned his profession every time she talked about him? She rarely referred to him by name — which was Robert Lipton by the way — and only called him "the senator" to her co-workers.
Robert was introduced to the Dunder Mifflin gang in season 7, episodes 11 and 12 ("Classy Christmas"). After shaking hands with Oscar, the accountant has a talking head interview where he admits he thinks Robert is a nice guy but also notes that he is gay.
The two share several flirty exchanges over the next couple of seasons, but things progress in season 9, episode 5 ("Here Comes Treble") when the two have a lengthy make out session in the office's parking lot. Kevin finds out about the incident in the next episode after he comes upon another talking head interview where Oscar admits the indiscretion to the camera.
Oscar and the senator carry out a torrid affair, and Angela even begins to suspect her husband is straying. She confides in Oscar about her theory, but at first, never suspects it's her desk mate. In season 9, episode 7 ("The Whale"), Angela eventually finds out it's been Oscar all along. After planning revenge on Oscar, Angela eventually backs out on it and finds comfort in her former lover, Dwight Schrute (Rainn Wilson).
In season 9, episode 19, the senator comes out during a press conference and confesses his love for his assistant. Oscar finds out he is also being cheated on, but how you get them is how you'll lose them right?
After his betrayal, Oscar and Angela eventually form a deeper friendship. When she is down on her luck, Oscar takes in Angela and helps her recover from eviction and a new dependency on alcohol. Oscar also helps Angela as she navigates her new life as a single mom, where she also realizes she is still in love with Dwight.