The Dirty Dancing Star You Never Noticed On Friends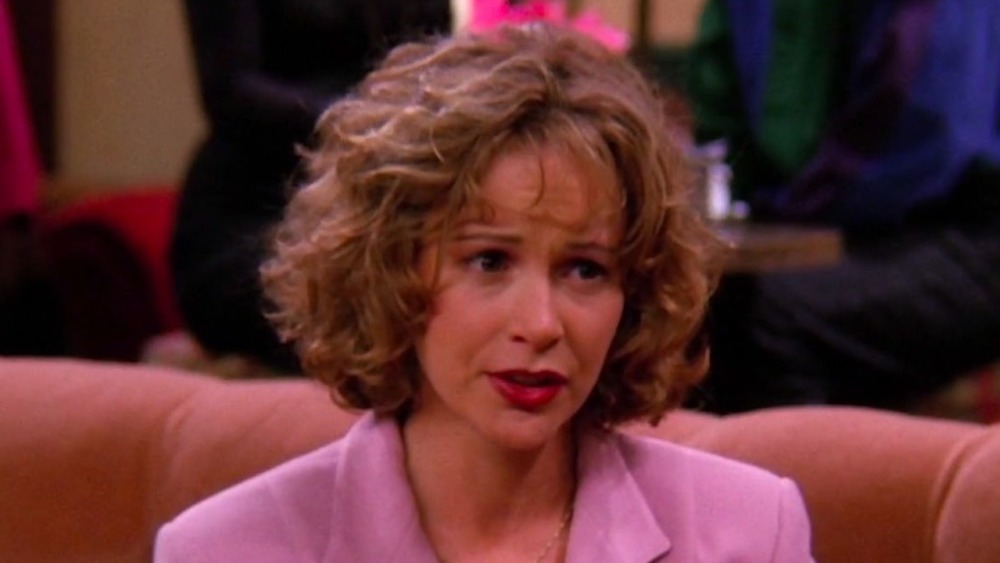 Warner Bros Television
Jennifer Grey is best known for her lead role in the 1987 romantic drama Dirty Dancing, co-starring Patrick Swayze. The film takes place in the summer of 1963 and stars Grey as Frances "Baby" Houseman, who goes on vacation with her family at a resort in the Catskill Mountains in New York. There, she meets and falls in love with a dance instructor, Johnny Castle (Swayze). The movie has since become quite iconic, with details such as the famous lift or the often-quoted line, "Nobody puts Baby in the corner!" cemented in the pop culture canon, both of which will forever be associated with Grey.
Aside from Dirty Dancing, Grey also has a famous role — although not at all Baby-level famous — in Ferris Bueller's Day Off as the title character's sister, who is determined to expose Ferris' lies. Grey has been working as an actor fairly consistently since these late '80s roles, but nothing has garnered the same kind of public attention. She most recently starred in the 2019 drama, Bittersweet Symphony, alongside Suki Waterhouse and Poppy Delevingne.
Recently, another of Grey's early-career roles has been brought into the spotlight. Grey once showed up in a Friends episode — a fact viewers seem to have either forgotten about or never really noticed in the first place.
Grey plays Rachel's old friend Mindy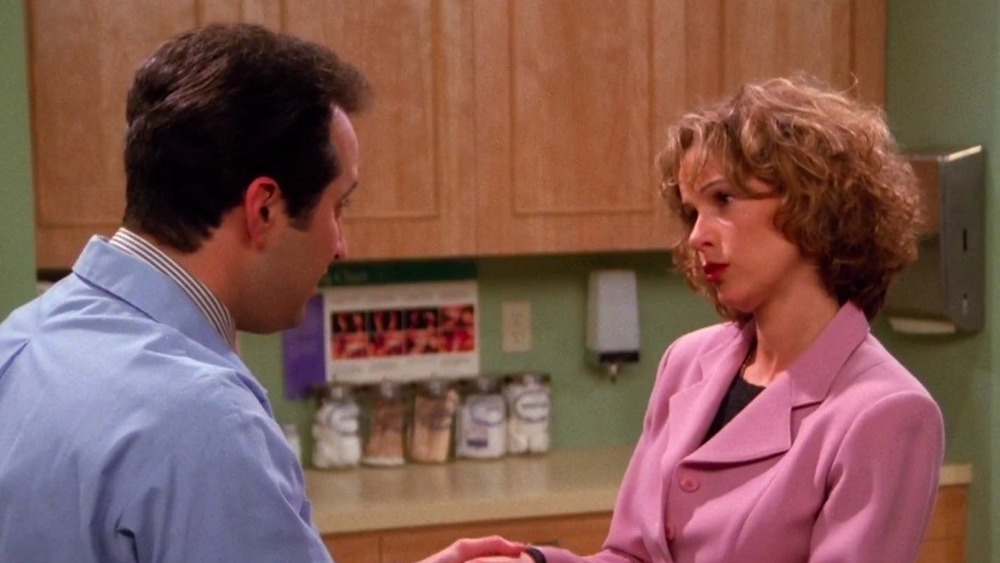 Warner Bros Television
In Friends' pilot episode, Rachel comes bursting into the famous Central Perk coffee shop wearing her wedding dress, having just left her fiancé, Barry (Mitchell Whitfield), at the altar. Later in the season, Rachel finds out that Barry is now engaged to her former best friend, Mindy, who was also the maid of honor at Rachel's cut-short wedding. But, in "The One Where the Monkey Gets Away," Barry returns to Rachel, declaring that he still loves her and saying he can't marry Mindy.
In the next episode, "The One with the Evil Orthodontist," Rachel begins seeing Barry again, despite knowing that he is still engaged to Mindy. Also in that episode, Mindy reaches out to Rachel, asking her to return the favor and be her maid of honor (not a common occurrence between friends — two weddings with the same man!) When Mindy shows up for the first time, it's none other than Dirty Dancing's Jennifer Grey (as Cosmopolitan recently brought to readers' attention).
Mindy has suspicions about Barry cheating and confides in Rachel about it. This eventually leads to Mindy revealing that she and Barry had an affair of their own while he was engaged to Rachel. Rachel, in turn, admits her own affair and the two confront Barry — although Mindy decides to stay engaged to him. The next time we see Mindy is in season 2 when Ross and Rachel attend her wedding to Barry. This time, however, Mindy is played by Jana Marie Hupp, since Grey was reportedly not available to return. Still, fans will likely remember Mindy as Grey from now on.