Coming 2 America Review: From Zamunda 2 Queens All Over Again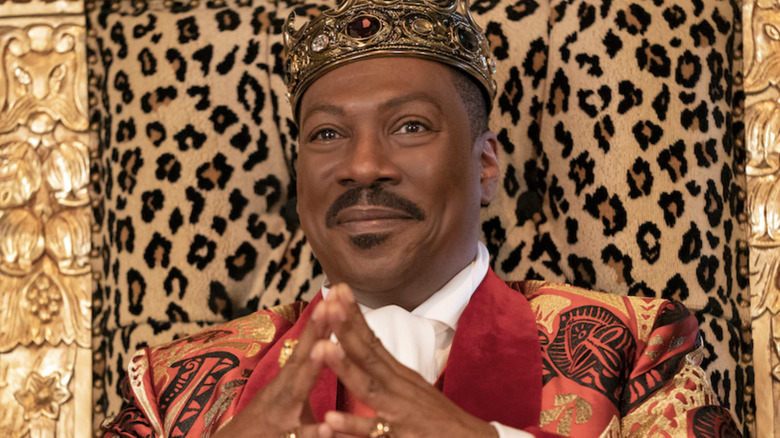 Amazon Studios
Prince Akeem makes his long-awaited return in Coming 2 America, a sequel to the 1988 classic Coming to America that occasionally harkens back to vintage Eddie Murphy magic, but is ultimately taken down by too much runtime and too little fresh inspiration. The movie starts very strong coming out of the gate, but when it gets around to fulfilling its plot obligations it settles into autopilot mode, powered by goodwill for its beloved characters and notable guest stars.
For some viewers, it will be like reuniting with a beloved family member. Others will be left shaking their heads and muttering: "Damn shame what they did to that dog."
The first 30 minutes of the movie (give or take) are about re-introducing Akeem's royal land of Zamunda, and the revelation that he may have sired a male heir during his trip to America all those decades ago. We see James Earl Jones' King Jaffe Joffer on his deathbed, insisting that he wants a "spectacular funeral," but while he's still alive. This leads to the film's funniest sequence, an outlandish ceremony that has the king lying in a casket amidst all the pomp and circumstance, with no less than Morgan Freeman delivering his eulogy.
This is when Coming 2 America feels the most like Coming to America. The jokes are not only funny, but they have bite. There are some dirty words, some adult humor, and some edge — like when we're reunited with the old men in the Queens barbershop and one says: "Nazis are back. But now they dress like the Best Buy Geek Squad and they want to kill people."
That's what Coming to America felt like in 1988. It was not only Eddie Murphy, a once-in-a-generation star on display, but the fact that he had become so big that he was able to say anything he wanted, make jokes about any color, creed or denomination, and do so in a film that would become one of the most successful all-Black cast movies ever made. It felt as edgy as his classic standup films Delirious and Raw, but with an accessible humor that made it easy to be entertained (and educated by) a cast that didn't look like any other on screens at the time.
You might be wise to turn Coming 2 America off at this 30-minute point — right around the time Prince Akeem and his loyal companion Semmi (Arsenio Hall) meet up with the Americans who have raised this lovechild named Lavelle Junson (Jermaine Fowler from Superior Donuts) — because this is where the plot kicks in and things go downhill.
We all know the necessary plot points before we even hit "play" on this Amazon Prime-streaming movie. The next generation will be introduced, someone will have an arranged marriage, they will fall in love with someone else. Lessons will be learned, misunderstandings will be corrected, and it will result in another giant Coming to America wedding. It's largely paint-by-numbers, and the movie doesn't go out of its way to inject any real originality into any of it.
Back in the New York groove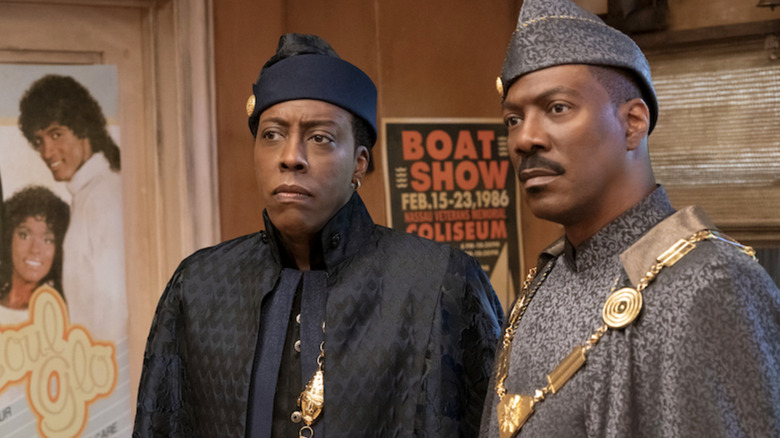 Amazon Studios
So instead, as a viewer, you're left pinning your hopes on three major selling points: the kids, the guest stars, and the oldies.
The next generation of Zamundans includes Lavelle, as well as Akeem's daughters Meeka (KiKi Layne), Omma (Bella Murphy, Eddie's daughter in real life) and Tinashe (Akiley Love). Then there's royal groomer Mirembe (Nomzamo Mbatha), and the daughter of the crazed leader of a neighboring kingdom Bopoto (Teyana Taylor). Each of these actors does a commendable job with the roles they are given, but suffice it to say no one will be looking for a sequel featuring their characters in 30 years.
Then there's the guest stars, and this film has some good ones. Leslie Jones is one-night stand Mary Junson, who all these years later is thrilled to be whisked away to Zamunda alongside her son Lavelle. Tracy Morgan is the boy's uncle, equally enthusiastic in his embrace of royal pampering. Colin Jost has a very clever cameo as a descendent of Don Ameche and Ralph Bellamy from Trading Places, which should delight all the folks who've enjoyed the cinematic universe connection between the classic '80s comedies. Not to mention all sorts of randoms, from the aforementioned Freeman to no less than En Vogue and Salt-N-Pepa.
Leslie Jones and Tracy Morgan are fun, and they are both national treasures. But make no mistake, they're just Leslie Jones and Tracy Morgan, who happen to be appearing in Coming 2 America. Rather than performance we get personality, and they could be doing many of the same jokes in practically any comedy film.
Which brings us to the oldies. Seeing John Amos, Louie Anderson, Shari Headley and others from the original cast is like visiting with old friends. Arsenio Hall looks like he's having a lot of fun, as is Eddie Murphy. If you love the original film, there is a certain comfort to be had in watching them putting on all the makeup to play multiple characters again, going through all the McDowell's/McDonald's jokes and doing things like wearing the beloved Mets jacket from the original flick.
I'll take you to the barbershop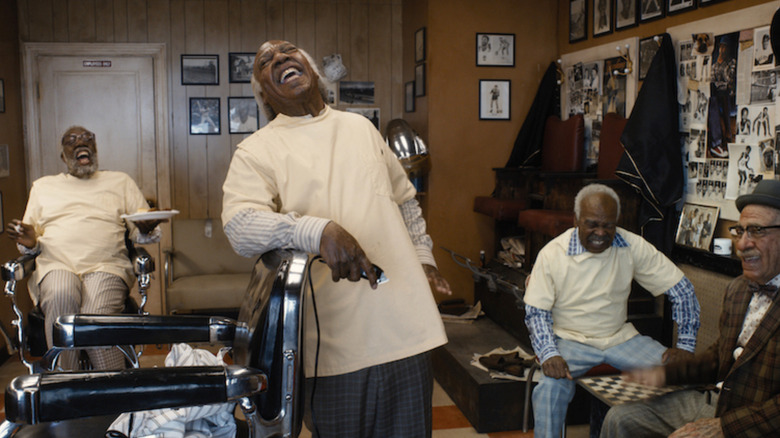 Amazon Studios
But what does this sequel bring to the table? What does it have to say that is new, original, or will become a classic on its own merits? As sad as it is to say, the film follows in the footsteps of Caddyshack 2, Blues Brothers 2000, and Dumb and Dumberer by offering up a resounding: not much.
It does have Wesley Snipes, however, in a role that can't help but remind us all how much we've missed him. Coming 2 America casts him as General Izzi, ruler of the hilariously named neighboring land called Nexdoria. Snipes struts his way through scenes that have him mocking, baiting, and barking at Murphy and Hall, all the while backed by an army as likely to shoot someone at any given moment as they are to break out in dance. He is determined to make the now-King Akeem join kingdoms by marrying his newly-revealed bastard son to Izzi's daughter, and he strikes a perfect balance between being threatening and whimsical.
Another great (early) sequence in the film depicts the classic "speed-dating" scene from Coming to America from an alternate viewpoint. While Akeem is interviewing potential mates, Semmi walks over to the bar and meets a couple eager American women, who then put into motion the events that will result in Lavelle. Director Craig Brewer, through some dizzying mix of original footage, CG magic and wigs, does a masterful job of making you feel like you're watching a deleted scene from 1988 starring Leslie Jones. It feels like a moment from Back to the Future II, and it's so much fun you'll wish there was more of it.
There are certain Coming to America elements that have yielded to the shifting tastes of time (the royal bather girls now wear shirts, for instance), and others that are less intentional, like the fact that Zamunda now frequently feels like a post-Black Panther spoof of Wakanda. Jermaine Fowler is very likable and does a better job with a cookie-cutter "next generation" role than most actors (looking at you, Shia LaBeouf in Crystal Skull), stepping into the shoes of an iconic performer in one of his most iconic roles. There are a few times (especially in end credit outtakes where he surprises his co-star with a riff on his iconic ice cream truck bit) where Fowler acts enough like Murphy to make you see some resemblance, but he also has a charismatic personality of his own that shines through.
Which brings us back to the peculiar career of Eddie Murphy, an immensely talented performer whose greatest quality back in the day might have been that he was having so much fun. He was fun to watch, surrounded himself by friends who clearly were having fun with him, and to enjoy his mid-career efforts like Coming to America or Boomerang or the The Distinguished Gentleman was to accept an invitation extended to the viewer: come join the party.
Somewhere along the line, Eddie stopped having fun, and so did the rest of us. After years of forgettable dreck like Metro, Holy Man, and Imagine That, it finally seems like Murphy is enjoying himself again with Dolemite Is My Name and Coming 2 America. Now somebody just needs to give Eddie a party worth attending.