The Real Reason Sacha Baron Cohen Was Scared While Making Borat 2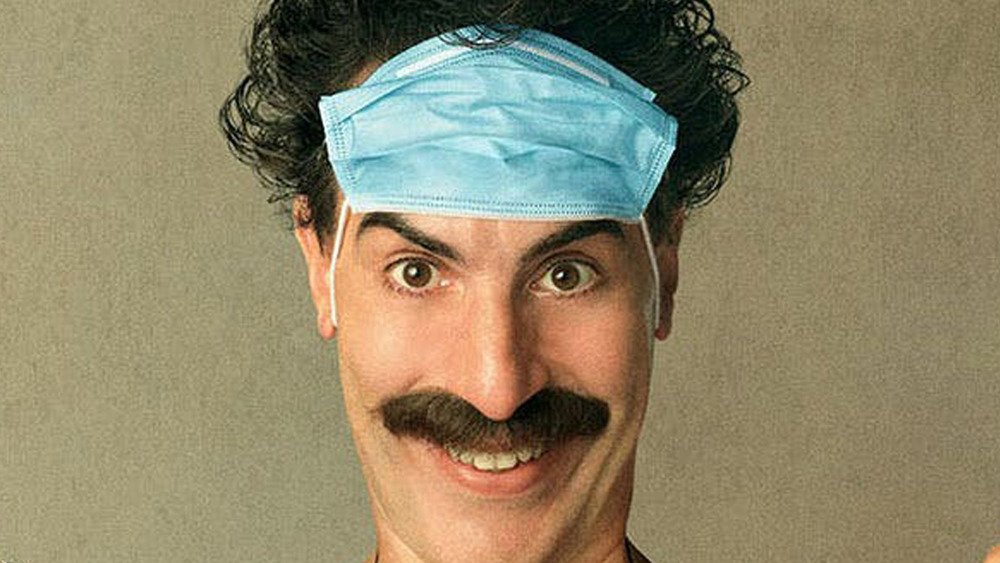 Amazon Studios
Borat Subsequent Moviefilm star Sacha Baron Cohen has a lot to be proud of, and not just his two Golden Globe wins for Best Motion Picture – Musical or Comedy and Best Actor – Musical or Comedy. Borat 2 is the rare comedy that Hollywood takes seriously. It's both a political satire about America as well as feminist story about Borat's daughter Tutar's journey of self-realization. Like many of Cohen's projects, Borat 2 was much more difficult than a typical Hollywood production because so much of it involves real people and not actors. Whenever Cohen pulls one of his stunts on the unsuspecting public, he can never quite predict what's going to happen. Sometimes, his unwitting co-stars surprise him in a good way, like when Tutar's "babysitter" Jeanise Jones determinedly tried to help her get away from her father's seeming abuse. 
But other encounters aren't so heartwarming, and some can be downright terrifying. In a recent interview for NPR's Fresh Air with Terri Gross, Cohen talked about one experience while filming Borat 2 that could have ended horribly.
Things got a little too real for Sacha Baron Cohen while filming Borat 2
Amazon Studios
The stakes got a bit higher when Sacha Baron Cohen crashed a right-wing "March for Our Rights" rally in Olympia, Washington, which was held to protest gun control. In the memorable scene, he posed as a singer named "Country Steve" and led the crowd in a singalong of a purposely offensive song. Eventually, someone in the crowd realized that it was really Cohen — something that's become more and more common after the successes of his other films like Borat and Bruno — and things went south. The crowd stormed the stage, and many of them were armed. "One of the members who stormed the stage went for his pistol," Cohen told NPR. "And luckily, I had a bodyguard who grabbed his arm and whispered in his ear, 'It's not worth it, buddy,' which is apparently what you say to somebody when they're about to shoot somebody." After the close call, Cohen fled in an ambulance.
Cohen knew he was getting into a dangerous situation that day and took precautions. He revealed it was only the second time in his career that he wore a bulletproof vest while filming and Cohen said the experience had him questioning his sanity. In the end, his motivation to produce a film as a critique of the Donald Trump administration was enough to override his fear. But he probably won't be putting on the lime-green mankini any time soon.