Morgan Freeman Was Older Than You Thought When He Filmed The Shawshank Redemption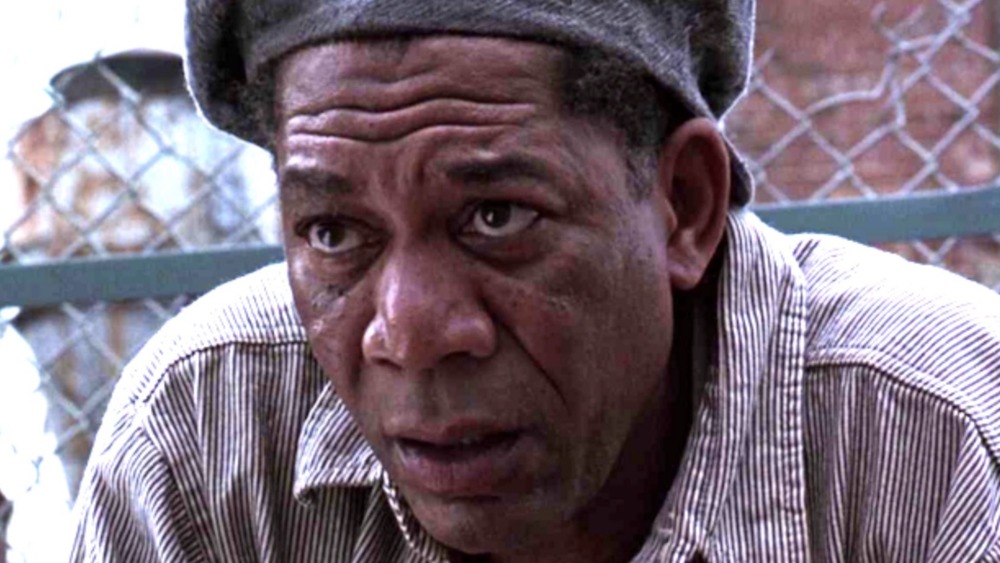 Columbia Pictures
Although it didn't do well at the box office when it was released in 1994, The Shawshank Redemption has been long considered a classic — and one of the best on-screen adaptations of Stephen King's work, even though it doesn't involve the kind of supernatural horror he's known for. The story of a determined prisoner, Andy (Tim Robbins), who survives 20 years of prison for a crime he didn't commit, weathering sexual assault, solitary confinement, murder, corruption, and more — all while working on an escape plan — appeals to so many because it uses dark events to focus on themes of loyalty, persistence, and hope.
One of the primary things that helps to keep Andy from despair, throughout the course of the film, is the friendship he's developed with lifer Ellis "Red" Redding, played by Morgan Freeman. Red is a fellow inmate who helps smuggle in supplies, and it's Red who ultimately provides Andy with the physical tools he needs to get out of the notoriously tough prison where they are institutionalized. 
The action in The Shawshank Redemption takes place over the course of two decades, making patience key to Andy's ultimate escape. With so much happening during the course of those many years, you might be surprised at how old Morgan Freeman actually was at the time he was filming the movie.
Morgan Freeman started his movie career late in life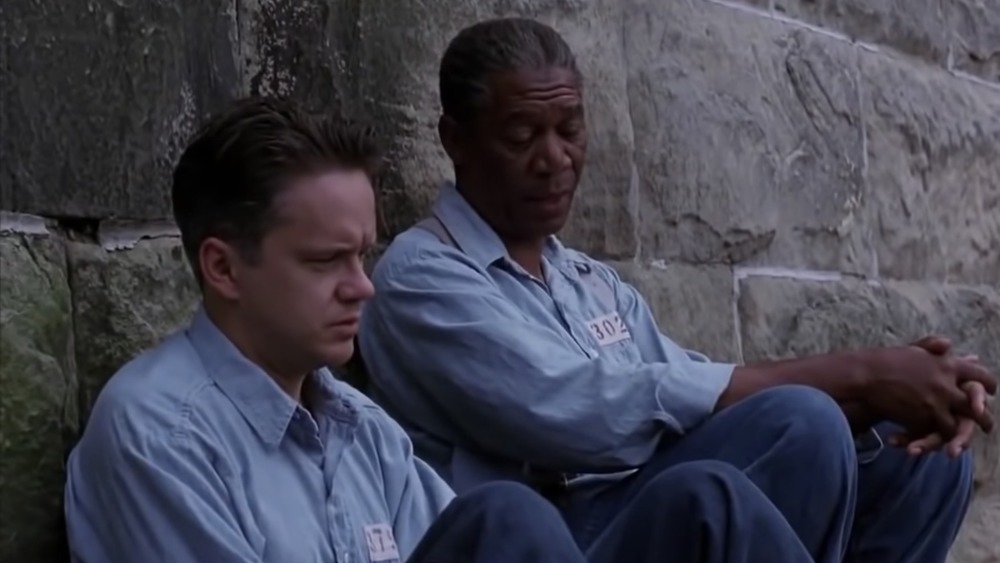 Columbia Pictures
Morgan Freeman became a movie star later in life than many others. He was born on June 1, 1937 and caught the acting bug early, while in junior high school. However, after graduating high school in 1955 he joined the Air Force, only to discover that being a fighter pilot wasn't truly what he wanted, as he told AARP Magazine (via Biography). 
He began his acting career in the 1960s, but didn't become a movie star until he was 50 years old. In 1971, in his mid-30s, he starred on the children's show The Electric Company, and continued to work in television, movies, and theater until he received his big break in 1987's Street Smart, for which he received an Academy Award nomination for Best Supporting Actor. Then, in 1989, he starred in Driving Miss Daisy with Jessica Tandy. He received an Oscar nomination for each of the two films (he finally won the award itself in 2005, for Million Dollar Baby).
As for The Shawshank Redemption, it was filmed between June and September in 1993, before being released the following year. At the time of filming, Freeman was 56 years old. 
For Freeman, though, his mid-50s would prove to be a relatively early stage of his career, as he would go on to film Amistad, Invictus, the aforementioned Million Dollar Baby, the Dark Knight trilogy, and more than 80 other projects. He remains active today, five decades after he started, at age 83. Hopefully, he'll stay that way for another few decades.