How Elizabeth Olsen Stays In Shape To Play Scarlet Witch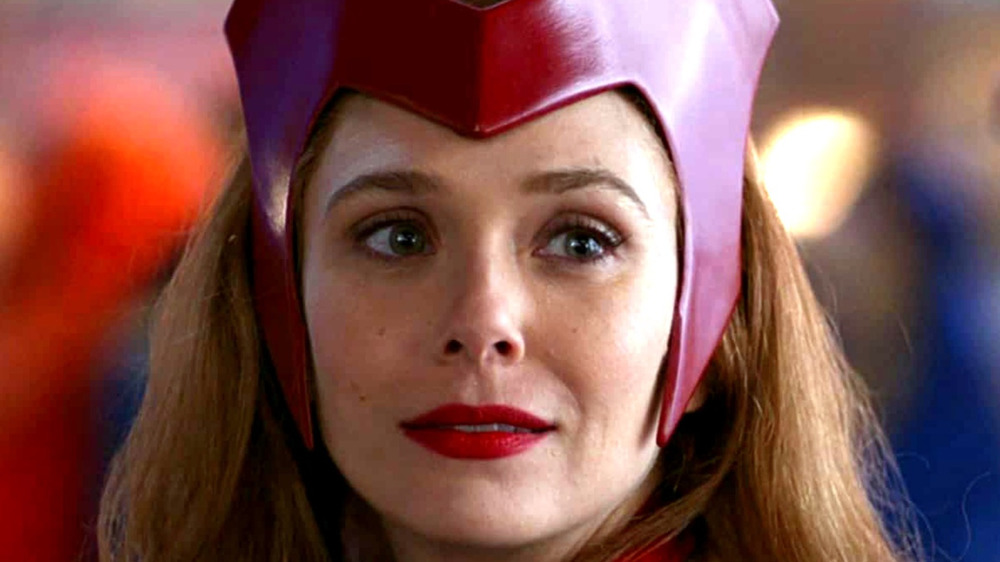 Marvel Studios/Disney+
Although Wanda Maximoff, aka the Scarlet Witch, first appeared in Marvel Comics in 1964, 25 years before Elizabeth Olsen was even born, the actress has truly made the role her own. She first appeared as Wanda in the Marvel Cinematic Universe in a post-credits scene at the end of 2014's Captain America: The Winter Soldier. Since then, Olsen has portrayed the superhero in Avengers: Age of Ultron, Captain America: Civil War, Avengers: Infinity War, and Avengers: Endgame. And in 2021, the actress and her longtime Marvel co-star Paul Bettany, who plays her onscreen android husband Vision, ushered in Phase 4 of the MCU with Disney'+s WandaVision. While WandaVision doesn't focus on the high-octane fight scenes that fans of both the comics and other MCU adventures are used to, Wanda does do her fair share of maneuvering, transforming, and superhero posing in the show.
Whether she's wearing a a 1940s A-line skirt, a pair of '70s bell-bottoms, more modern-day attire, or the very first Scarlet Witch outfit, Olsen as she appears in WandaVision always looks impeccably dressed. And when she's on the silver screen battling bad guys, the actress has been in top fighting form. That's no easy feat, even for a superhero, and luckily for those wondering how Olsen does it, she's divulged a few of the health and fitness secrets that help keep her in shape for both the fast-paced MCU films and her hit Disney+ show.
Elizabeth Olsen doesn't have one set workout routine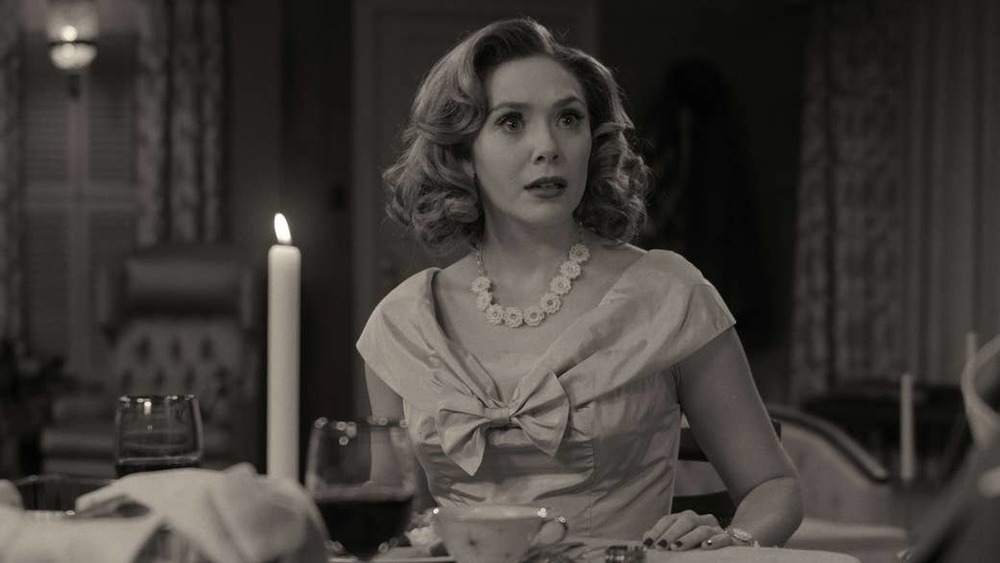 Marvel Studios/Disney+
While Olsen's Avengers co-star Scarlet Johansson, who plays Natasha Romanoff (aka Black Widow), once shared with The Hollywood Reporter that she often pushes the limits of her workout routine to achieve near-superhuman strength, Olsen doesn't claim to have such a regulated program. She is disciplined about fitness, though, and she likes to keep her workouts interesting and varied. "I always work out," she previously told Allure. "Five or six times a week. Ballet, boot camp, yoga."
When she was younger, Olsen attended ballet and volleyball classes regularly but fell off the wagon after starting college at New York University. "In college, fitness is suddenly not part of your curriculum, so I stopped doing anything," Olsen admitted to The New York Times. 
After suffering from frequent panic attacks in college, the Tisch School of the Arts alumni turned to yoga. "I found that after a hard workout, I could sit by myself in a restaurant," she said. But Olsen knows that yoga alone won't get you into crime-fighting shape. Prior to filming Captain America: Civil War, she trained for fight scenes by studying muay Thai. "It's not the most comfortable thing, and I don't do it anymore," she told The New York Times.
Keeping up with daily workouts is a tall order for anyone, but Olsen managed to maintain her fitness routine while in lockdown during the COVID-19 pandemic and during filming on the next Marvel movie, Doctor Strange in the Multiverse of Madness (via HealthDigest). According to Grazia, Olsen and her fiancé, Robbie Arnett, moved their home gym to a larger room so she could break a sweat by running, doing yoga, and dancing. Despite her commitment, she admitted that keeping up with the "strenuous, physical demands" of staying in superhero shape can be exhausting.
Elizabeth Olsen eats seven small meals a day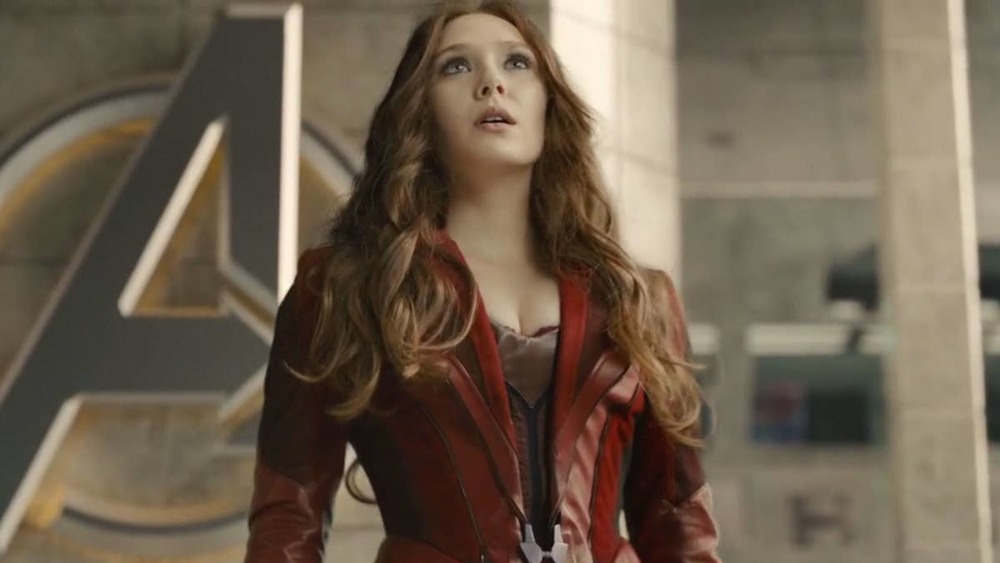 Marvel Studios
Perhaps more difficult than sticking to a daily workout routine is maintaining discipline in the kitchen. Between projects, Olsen allows herself more leniency in her diet. "I eat healthy, but I try not to overthink it. If I have a big premiere to go to, I might just have a lot of soups the week before," she explained to The New York Times.
That changes when gearing up to play Wanda Maximoff, though. Back in February 2018, Olsen's nutritionist, Philip Goglia, shared her strict meal plan for 2018's Avengers: Infinity War (via People). Prior to morning workouts, Olsen would eat a teaspoon of almond butter, followed by seven small meals — consisting of fruits, vegetables, protein shakes, hard-boiled eggs, and lean fish or chicken – throughout the day. Gluten, dairy, and yeast were off-limits.
Olsen has made it clear that while she puts pressure on herself to get in shape for her roles, Marvel Studios does not: "[Marvel] never tell[s] you to get into shape. They just hire people and let them figure out the way to express the character."