The Unexpected SNL Reunion That Had Golden Globe Viewers In Stitches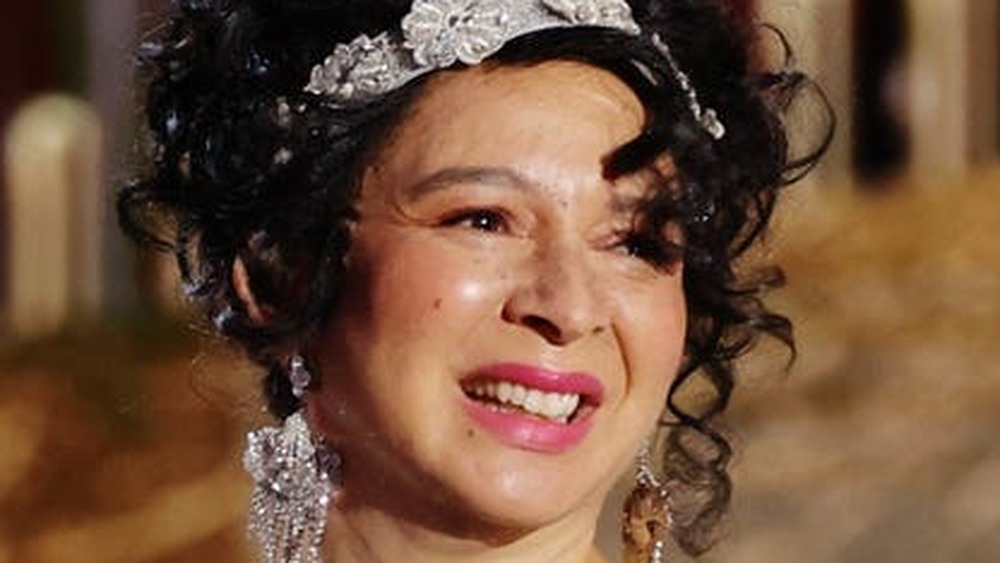 NBC
On Sunday night, as the 78th Golden Globe Awards kicked off, everyone knew that two famous Saturday Night Live alumni – Tina Fey and Amy Poehler — would come together as hosts. However, in a surprise twist, the night's events also brought two other SNL stars back together, as well, when castmates Maya Rudolph and Kenan Thompson reunited on stage. 
This occurred when Poehler, as cohost, took the stage at the Beverly Hilton to introduce a couple who would give the worst acceptance speech. Rudolph and Thompson rose from a table, in a glittery gown and crazy wig, and took the stage to accept the award for "Least Original Song."
Thompson greeted Poehler with an unexpected kiss, and Rudolph got handsy, bringing major laughs from the sparse audience. The funny couple then dug into their speech, bopping to their version of The Crown theme song, and thanking recent Golden Globe winner Aaron Sorkin for letting them take a stab at an original song for The Trial of the Chicago 7. The funny lady ended the speech with a hilarious translation of Thompson's mumbled French. Needless to say, social media was buzzing after the bit finished, with user @letsy4u tweeting, "Maya Rudolph and Kenan Thompson just made my night."
This isn't the first time SNL has pranked the Golden Globes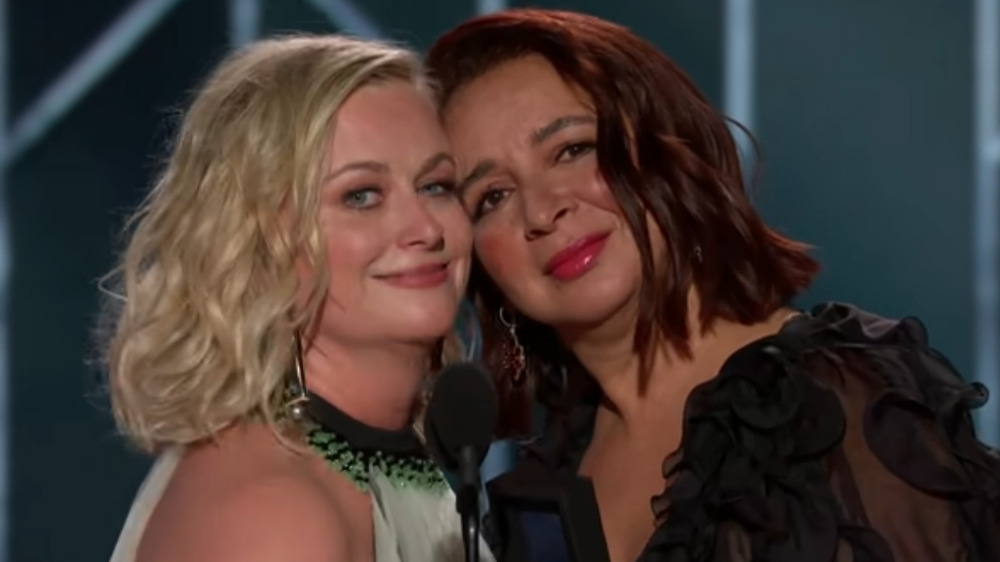 NBC
However, while this hilarious moment during the 2021 Golden Globes was an early highlight of the show, it's definitely not the only time Saturday Nigh Live alums have unexpectedly popped up on the awards stage.
At the 2019 Golden Globes, the audience awaited the announcement of the Best Screenplay nominees, but Maya Rudolph had a big announcement for her co-presenter. Her shaky hands revealed a big box, as she built up the courage to propose to Poehler. The audience roared as the two sealed the deal, following Poehler's "Yes! A thousand times yes!," with an awkward nose kiss.
At the 2020 awards, Kate McKinnon took the stage to present Ellen DeGeneres with the Carol Burnett comedy award. As McKinnon highlighted the wonderful contributions DeGeneres has made to comedy, she also highlighted the wonderful clothing items DeGeneres has passed down to her. 
Needless to say, SNL alums are great awards show presenters because they certainly know how to bring the laughs, and keep a show moving along.