Disappointing News Drops For Better Call Saul Season 6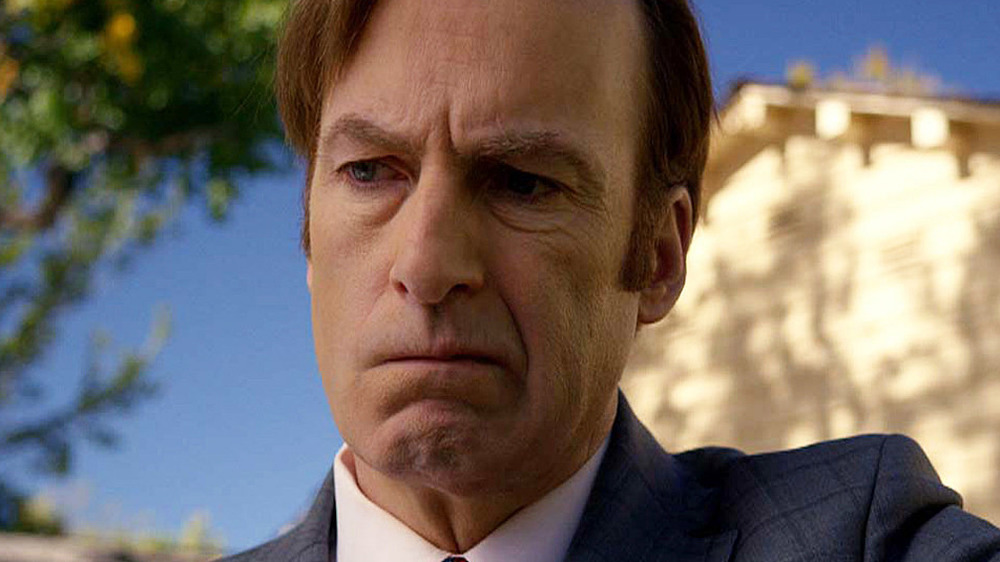 AMC
Breaking Bad is about as close as you can get to perfect television. It's the rare prestige drama series with a finale that actually lives up to the quality of the show, in part thanks to the creators realizing they shouldn't overstay their welcome. After just five seasons, fans had to say goodbye to Walter White (Bryan Cranston), Jesse Pinkman (Aaron Paul), and the rest of the Albuquerque crew ... well, except for a particular standout character.
Not long after Breaking Bad ended, it was announced that fans would receive a prequel series centered on Walt's criminal lawyer Saul Goodman (Bob Odenkirk). Prequels don't exactly have the best reputation, but fears were soon diminished when the first season of Better Call Saul premiered and wisely brought on a litany of new, intriguing characters like Saul's agoraphobic brother Chuck (Michael McKean) and his coworker-turned-love-interest Kim Wexler (Rhea Seehorn). The show expanded upon the mythology present within Breaking Bad without relying entirely on fan service — but sadly, even the best of things must come to an end. Just like we weren't ready to say goodbye to Breaking Bad in 2013, we now find ourselves facing the beginning of the end for Better Call Saul. 
Fans have known since January 2020 that the show's upcoming sixth season will be its last, which means there are only a few more episodes left to see how everything falls into place for Saul to meet Walt and Jesse. What's going to happen to Kim, considering she doesn't appear at all in Breaking Bad? Will we see what happens to Saul as a Cinnabon manager? Unfortunately, we're going to have to wait a little longer before getting answers to those questions, as Better Call Saul season 6 has been delayed.
Better Call Saul season 6 has been delayed to 2022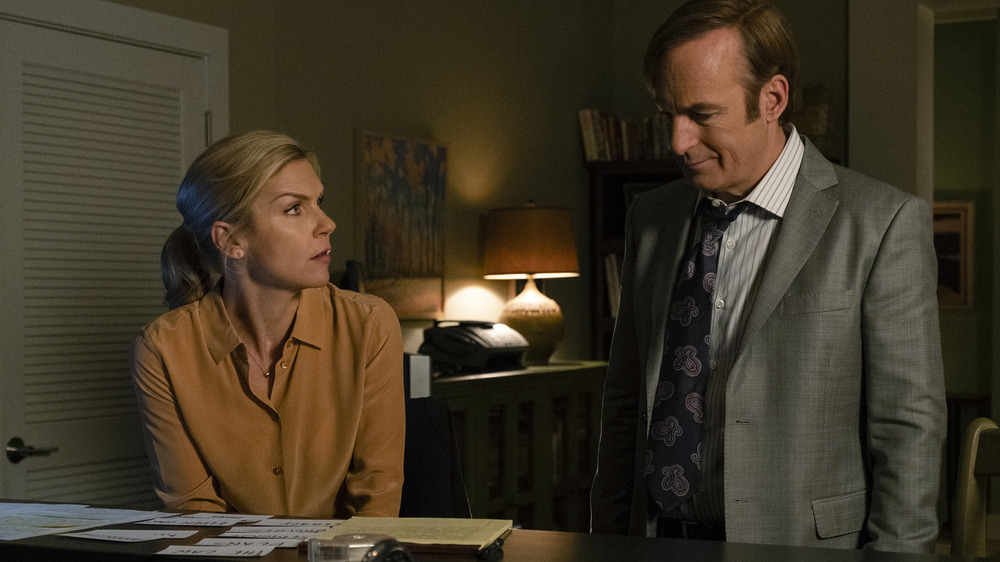 AMC
Better Call Saul season 5 ran from February to April 2020, with the original plan being for the final season, consisting of 13 episodes as opposed to the usual 10, to premiere in 2021 (via The Hollywood Reporter). That plan was reported on early in 2020, before the COVID-19 pandemic hit and completely upended society. As such, it shouldn't come as too much of a surprise that season 6 of Better Call Saul has now been delayed to 2022 (via Deadline). There had been rumblings that a delay would happen, and on February 26, 2021, AMC Networks' chief operating officer Ed Carroll confirmed the change. 
It looks as though the cast and crew were unable to film safely while the pandemic raged last year, but it sounds like everything should be good to go here in the near future. Earlier in February 2021, Bob Odenkirk revealed that production would begin in March 2021, hopefully that remains the case (via Deadline). Additionally, Nacho Varga actor Michael Mando took to social media on February 16 to confirm he'd be returning to start shooting Better Call Saul season 6 shortly. 
While the delay may be disappointing for some who are ready for what's bound to be an explosive final season, it does give the writers and crew time to ensure these last 13 episodes are as good as they possibly can be. Better Call Saul has maintained consistently high ratings from critics and audiences alike for its first five seasons, and the last thing anyone wants is for the show to drop the ball. With the writers having extra time to script the final episodes, hopefully all the kinks were ironed out and what's left is an emotionally satisfying ending to a series that more than lives up to the Breaking Bad name.
We probably won't get a specific premiere date for Better Call Saul season 6 for a while, so stay tuned to Looper for updates as they become available.