Exclusive Clip: It's Family Photo Madness In New Bob's Burgers Episode
Though she is undeniably fabulous with a capital F and is no stranger to the finer things in life, Linda Belcher is, at her core, often a simple woman with simple wants. A good book to read in bed, a nice glass (or bottle) of wine after a particularly long day, a happy husband and children — these are all things Linda desires. But on the next episode of Bob's Burgers, there's something else Linda is after: the perfect photo her family can use for their Christmas card. 
Ahead of the episode's release on Sunday, February 28, Looper is thrilled to share an exclusive clip from "Die Card, or Card Trying," the 12th episode of Bob's Burgers season 11. 
In the clip, Linda (voiced by John Roberts) leads the Belcher crew — her husband Bob (H. Jon Benjamin), daughters Tina (Dan Mintz) and Louise (Kristen Schaal), and son Gene (Eugene Mirman) — on a hike through the wintry outdoors. It's difficult to land on a location more picturesque than this one, and Linda is determined to gather up her beau and babies for a snap that'll say, "Happy holidays from the greatest, coolest family in the world — from the greatest, coolest place in the world." 
When Linda spots a couple hiking in the distance, obviously occupied as they make their way across a huge rock face, she pleads for help: "Please, we need a family picture. It's an emergency!" The couple agrees to help the clearly distressed Linda, but unfortunately, the photo op doesn't go to plan.
Photogenic, the Belchers are not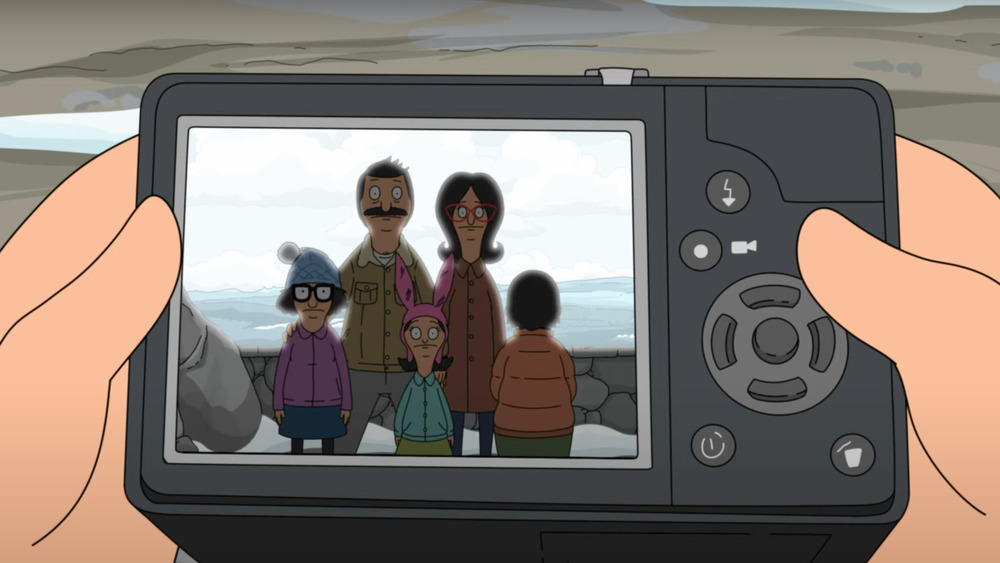 Fox
Much to Linda's disappointment, and despite the couple's kindness in serving as spur-of-the-moment photographers, none of the shots taken are usable. They even said "ravioli!" and everything, but the Belchers don't look merry or bright in the photos. All the pictures are in shadow, Gene's "completely turned around" in one, Tina is picking her nose in another, and Louise and Bob didn't keep their heads straight in two more. 
Bob looks on the sunny side (no pun intended) and suggests that the dimly-lit pictures could still work if the family markets themselves and their Christmas card theme right. "Maybe silhouette could be our thing. Like, you can't see our faces," he offers. "Who are we? Like, a — a mystery card."
Linda flat-out ignores her husband as she continues flicking through the camera roll, her frustration growing when she realizes the woman who took the photos got her "stupid thumb" in one of the shots. "Ugh, stick to hiking, sweetie!" Linda quips. 
Will Linda be successful in her endeavor, or are the Belchers fated to never take a good family photo and thus won't ever have the perfect Christmas card to send to friends and family? Tune into Bob's Burgers' "Die Card, or Card Trying" this Sunday, February 28, at 9 PM on Fox.