The Part Of Young Rock Episode 2 That Was Different In Real Life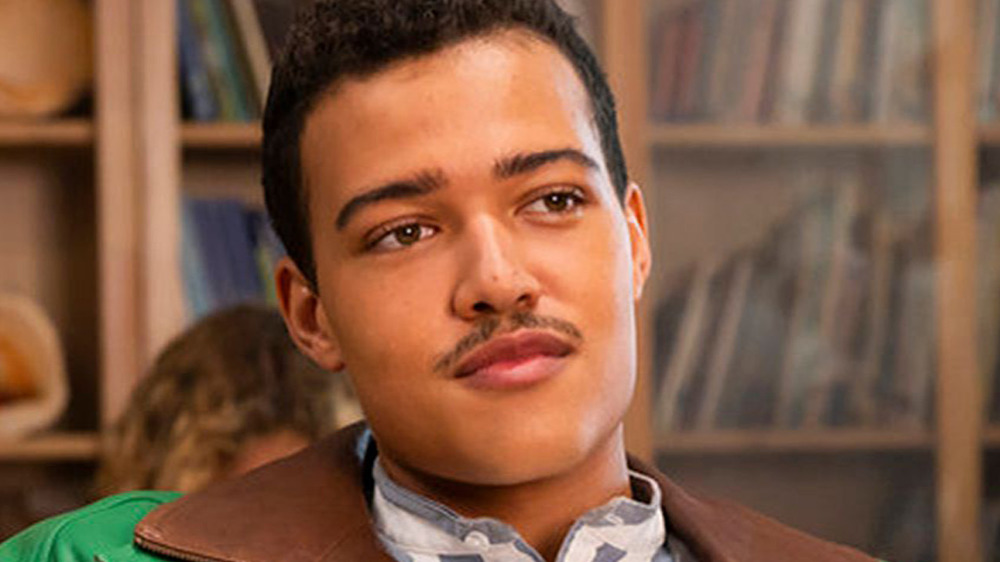 NBC
Contains spoilers for Young Rock season 1, episode 2 — "On the Road Again"
The new NBC sitcom Young Rock is quickly becoming must-see television for anyone who wants to learn how a young Dwayne Johnson became the Rock — the blockbuster movie star we all know and love today. But it's also must-see TV for pro wrestling fans, especially ones who appreciate its history and the wrestlers who helped build it into the multi-billion dollar institution it is today.
In reality and on the show, the Rock's father is professional wrestler "Soul Man" Rocky Johnson. While the Rock would go on to become one of the WWE's biggest superstars, Rocky Johnson was a superstar in his own right, becoming a Hall of Fame inductee in 2008. The elder Johnson also played a major role in the Rock's career, training him in both the athletic and performance-based aspects of the gig. Part of the Rock's reason for making Young Rock was to pay tribute to his father, who died in January 2020, just over a year before Young Rock premiered. 
But Young Rock isn't a documentary, and it doesn't try to accurately depict the Rock's life. In episode 2, "On The Road Again," Young Rock delves into Rocky Johnson's wrestling career, including bouts with two of the greatest wrestlers of all time. These matches did take place, but not quite how the show claims they did.
What really happened when Rocky Johnson took on two wrestling legends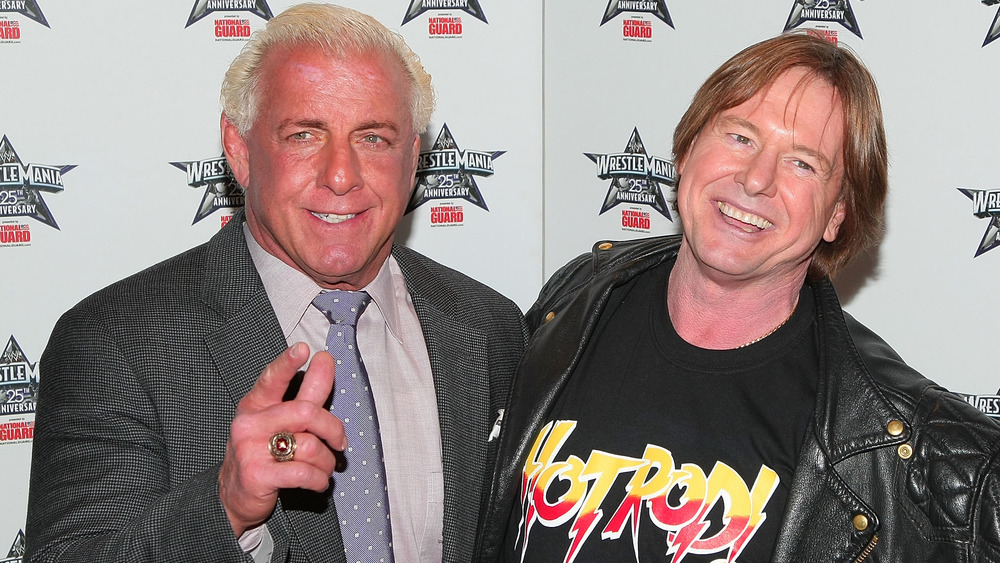 Andrew H. Walker/Getty Images
Episode 2 of Young Rock, which aired on NBC on February 23, mentions several matches from Rocky Johnson's career, but it spends the most time on two of them, recreating them in flashbacks. 
The first was between Johnson and "The Nature Boy" Ric Flair. Though Johnson and Flair squared off against each other many times in the 1970's and 1980's, this match Young Rock recreates is specifically dated April 16, 1982, and took place in Eugene, Oregon. In real life, a match did take place between Johnson and Flair on that day; Johnson, representing the Pacific Northwest Wrestling Alliance, challenged Flair for the National Wrestling Alliance title. Flair took that match, like he did as depicted on Young Rock, in a "2 of 3 falls match," according to MidAtlanticWrestling.net. However, in reality, Johnson also fought Flair to a draw the day before in Salem, Oregon.
The second match was between Johnson and "Rowdy" Roddy Piper, which took place on June 14, 1984 in Landover, Maryland, and was televised on the USA Network. (You can watch it on YouTube if you're interested.) On Young Rock, Rocky Johnson suggests that he won this match, but in reality, Piper pinned him after just six minutes. 
Nevertheless, his father's match with Piper definitely made an impact on a young Dwayne Johnson. When Piper died in 2015, the Rock credited Piper with inspiring much of his own wrestler persona.