Why Mr. Dubros From Tom & Jerry Looks So Familiar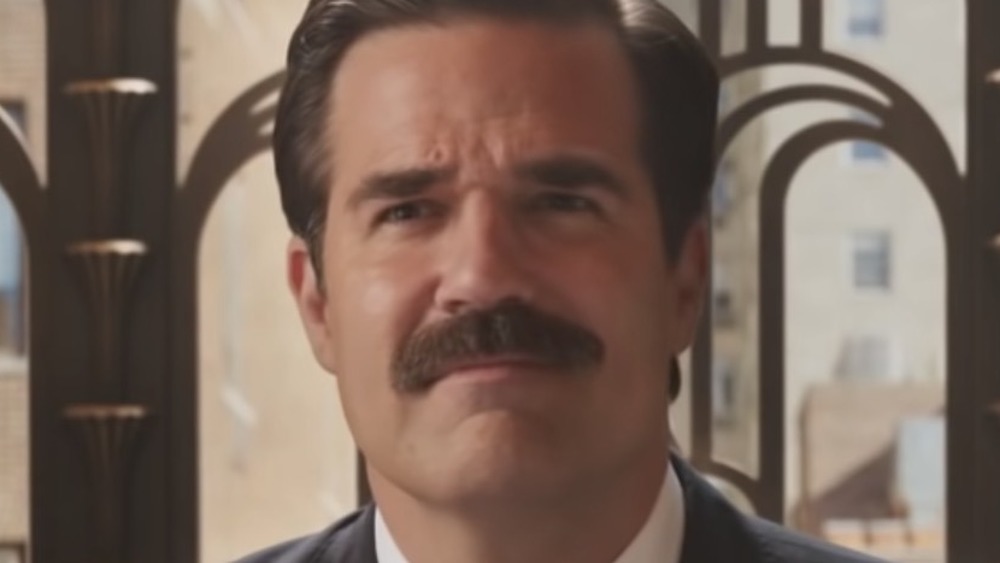 Warner Bros.
Tom & Jerry: The Movie debuts on HBO Max and in theaters on February 26, and when it hits, you're going to see an actor playing the role of Mr. Dubros that you will likely recognize. In the trailer, he's that mustachioed authority figure who appears to run the New York City hotel where the famous cat-and-mouse duo end up. He apparently hires Kayla (Chloë Grace Moretz) for a position that involves catching any pesky mice that might be making their new home there. As you might expect, she then brings in some feline help for the job. 
The movie is a blend of live-action and classic animation (think Who Framed Roger Rabbit), and its producers haven't skimped when it comes to packing the cast with comedic talent. Tom & Jerry includes Moretz (30 Rock), Michael Peña (Ant-Man), Jordan Bolger (Peaky Blinders), and even Ken Jeong (Crazy Rich Asians, The Hangover, Community).
As for Rob Delaney, who plays Mr. Dubros, there are plenty of reasons you might recognize him. He's a comedian who first became known through telling jokes over Twitter in 2012, and since then he's been plenty busy in the entertainment business, even headlining his own Comedy Central shows. Here's where you might have seen him before.
He created, wrote, and starred in Catastrophe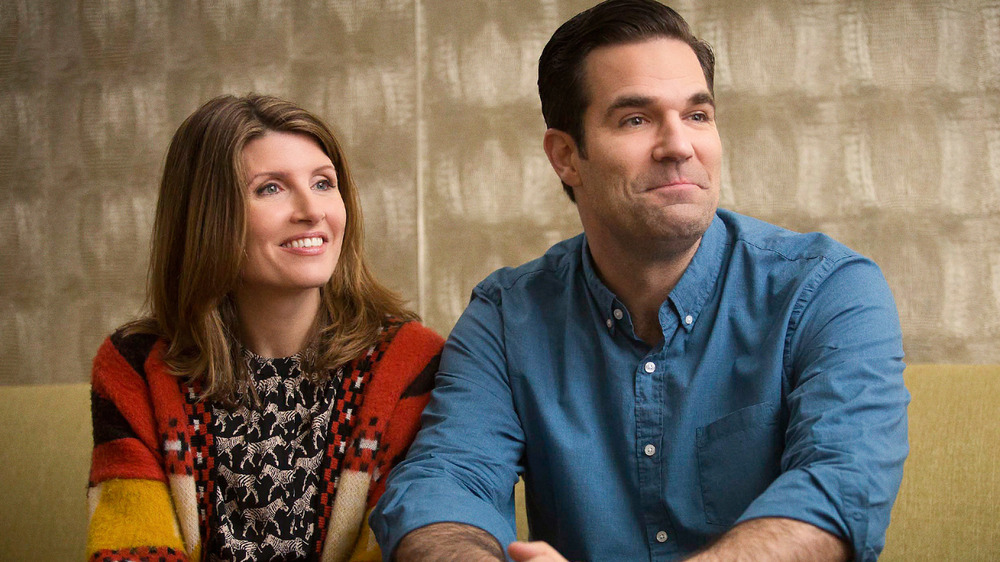 Channel 4
From 2015-2019, Catastrophe aired on Channel 4 in the U.K. and on Amazon Prime Video just about everywhere else. Delaney stars as an American man who gets an Irish woman pregnant while vacationing. He also created and wrote the series with co-star Sharon Horgan. In fact, he even got an Emmy nomination for his work on the pilot episode in 2016.
Delaney said the goal of the series was to show the nuances of marriage in a way that wasn't being portrayed on television shows. "Marriage is interesting — and it's richer, and more majestic, and magnificent, and terrifying than is often portrayed in sitcoms," Delaney told NPR. 
According to Radio Times, he moved to the U.K. for the show (appearing on many of the British panel shows) and even worked on the project through the tragic death of his two-year-old son from brain cancer. He said this work allowed him to "approximate normal behavior" despite his grief. Another death also rocked the set during the course of filming: that of Carrie Fisher, who played Delaney's mother, Mia. 
Somehow, amid all that tragedy, the team still managed to spin comedy gold.
Rob Delaney stole the show in Deadpool 2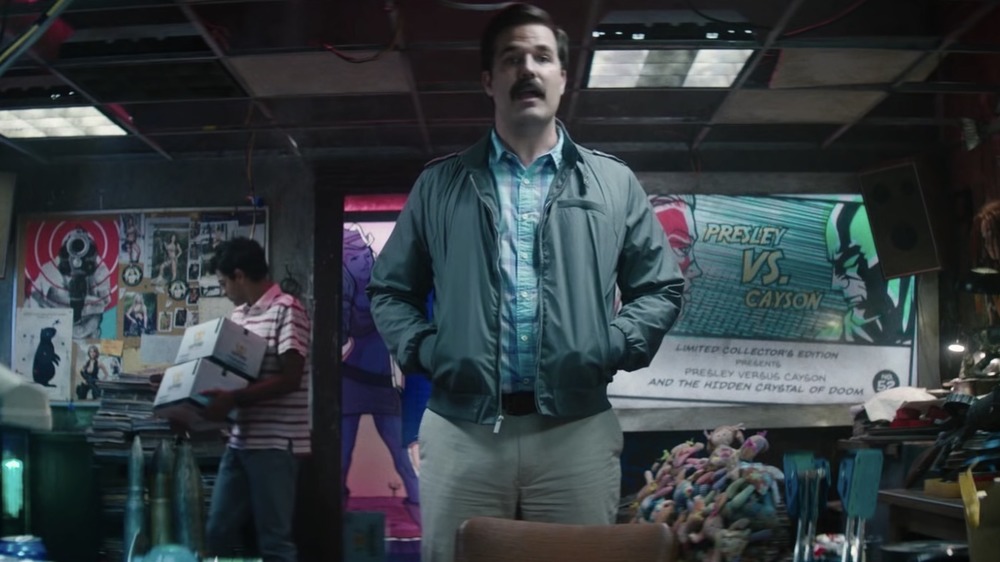 20th Century Studios
Do you remember that scene in Deadpool 2, as Deadpool and Weasel are recruiting people with powers for his X-Force group? Fans are introduced to Peter, a guy who, when asked about his superpower, said, "No, I don't have one. I just saw the ad." Peter does go on to confess that he has diabetes — both Type 1 and 2. And they let him in anyway. That part was played by Delaney, and he was pitch-perfect.
The character later dies while trying to save fellow X-Force member Zeitgeist, although in the time-honored tradition of the comics, his death isn't permanent. Apparently, the interview and helicopter scenes with Peter depended on a lot of improvisation, which ultimately led to Delaney stealing pretty much all the scenes he was in. 
David Leitch, director of Deadpool 2, explained that the character was written to be a "a guy looking for work in a contracting economy." Peter was written into the script as an "everyman, the wish fulfillment character." Ryan Reynolds suggested Delaney for the role. 
"Rob had this sort of dad persona in the picture," Leitch told Syfy Wire. "Adding a guy like Rob is like a force multiplier. You are not only getting a guy to service what's on the page. He's a talent. He transformed that thing and made it into how special it was."
He had a cameo as a CIA agent in Hobbs & Shaw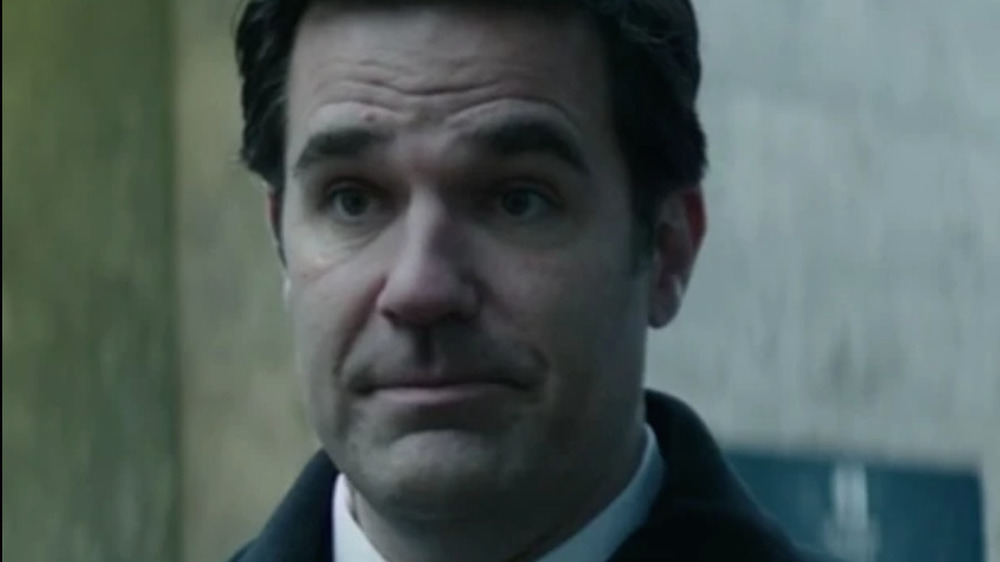 Universal Pictures
Hobbs & Shaw, the The Fast and the Furious spinoff that puts Dwayne Johnson and Jason Statham together in an action comedy super-spy film because it had to be done, features some fun cameos — including ones from Deadpool 2 co-stars Reynolds and Delaney. Delaney plays a CIA agent named Loeb, whose main role in the film is to tell Statham's character, Deckard Shaw, all about the virus that a cyber-terrorist (Idris Elba) is about to unleash on the world. 
In this, Loeb joins with Reynolds' Agent Locke in providing exposition and recruiting the movie's two main characters to do the right thing. Delaney also appears once later in the movie, talking with Locke over the phone to say he's successfully recruited Shaw for the mission. It turns out to be a nice little Easter egg for Deadpool fans, having the two coordinating a mission together in a totally different universe.
In case you were wondering, Leitch directed Hobbs & Shaw as well as Deadpool 2, which explains how he was able to get the band back together. Leitch told Collider he just wanted to add some fun to the "stuffy expositional dialogue about the virus," and adding Reynolds to the mix was part of that. Adding Delaney's appearance on top of Reynolds' was probably just the icing on the cake.