Perry Mason Season 2 - Everything You Need To Know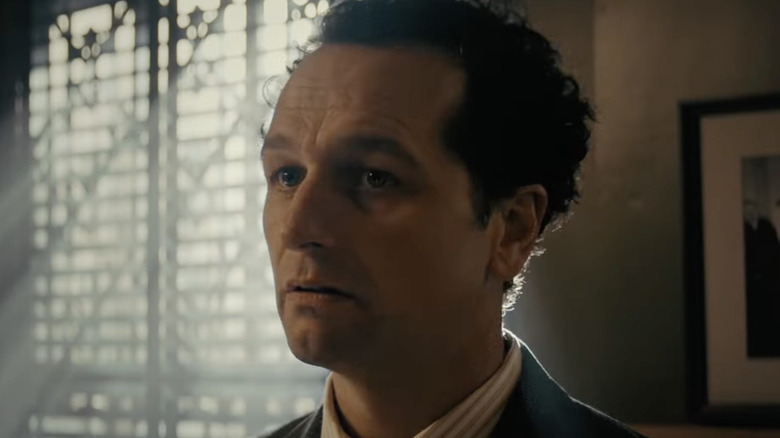 HBO
We may receive a commission on purchases made from links.
HBO's "Perry Mason" was one of the most intriguing shows of 2020. A reimagining of the popular and long-running CBS series that starred Raymond Burr as the imposing criminal defense lawyer who first appeared in novels by Erle Stanley Gardner, the new series is a Depression-era prequel that dives into the character's origin story.
Emmy Award winner Matthew Rhys ("The Americans") stars as the eponymous character, who at the beginning of the series is a down-and-out private investigator in 1932 Los Angeles. Grumpy, drunk, and wrestling with lingering trauma from the Great War and a failed marriage, he is about a foot away from hitting rock bottom when we first meet him. However, he's soon hired onto a sensational case involving the death of a young child, Charlie Dodson, which puts him on a new and different path. By the end of Season 1, Perry has become the suited-up defense attorney he was always meant to be and has launched Mason & Associates alongside Della Street (Juliet Rylance) and detective Paul Drake (Chris Chalk).
So, where does the show go next? Here's everything we know about what's coming in the second season of "Perry Mason."
When will Perry Mason Season 2 be released?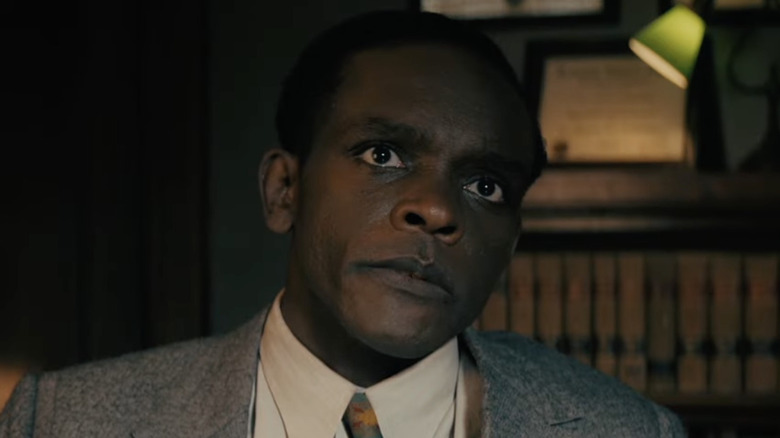 HBO
When HBO first announced it was producing a new "Perry Mason" show, it was described as being a limited series. However, that idea was soon tossed aside, and in July 2020 — as Season 1 was still airing — HBO announced the show would indeed be back for a second season, noting that it was the pay cable network's most-watched series premiere in almost two years.
"It has been an exciting journey to work with the immensely talented team behind 'Perry Mason,'" executive vice president of HBO Programming Francesca Orsi told Variety at the time. "Viewers have relished being transported back in time to 1930s Los Angeles each week, and we are thrilled to welcome the show back for a second season."
But when exactly can we expect to see ol' Perry back in action? Well, prepare to travel back to the 1930s very soon. "Perry Mason" Season 2 will hit HBO and HBO Max on March 6, 2023, airing at 9PM ET.
What is the plot of Perry Mason Season 2?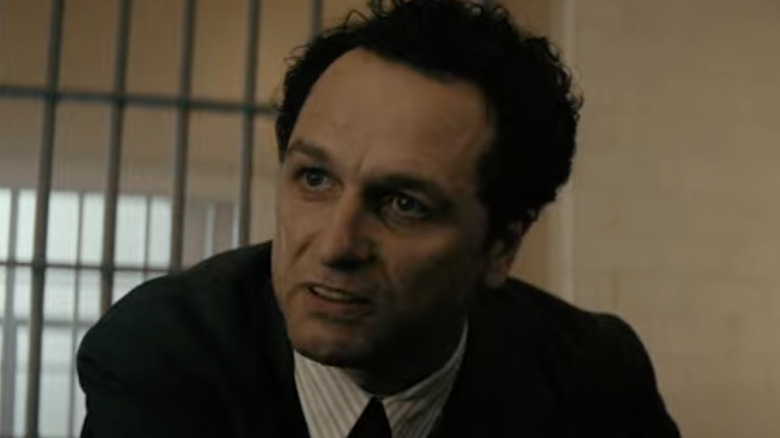 HBO
The first season of "Perry Mason" was meant to provide more depth to characters who'd never really been given backstories in previous iterations. Perry, Paul, and Della were all outsiders who took on the system over the course of the show's first season, and in doing so, they managed to find themselves or discover what they wanted from life. Now that Perry is an attorney and has shed a little of what was holding him back early on, the second season will see him fight for justice in a brand new case.
As the official plot synopsis reads, "Months after the Dodson case has come to an end, the scion of a powerful oil family is brutally murdered. When the DA goes to the city's Hoovervilles to pinpoint the most obvious of suspects, Perry, Della, and Paul find themselves at the center of a case that will uncover far reaching conspiracies and force them to reckon with what it truly means to be guilty."
Who is starring in Perry Mason Season 2?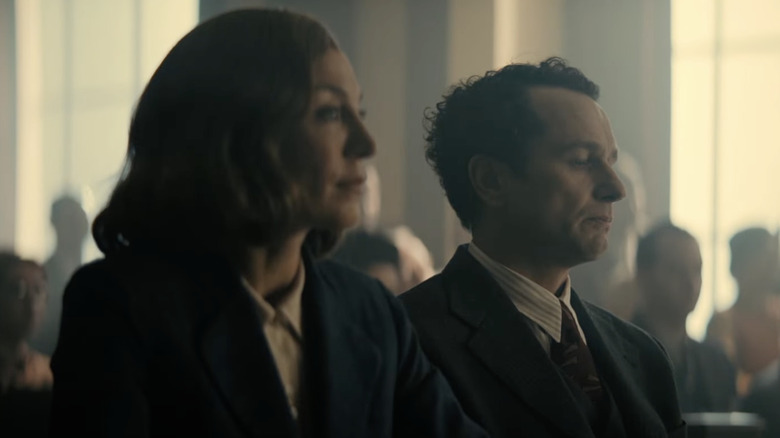 HBO
Matthew Rhys will return to "Perry Mason" in Season 2 as the title character, while Juliet Rylance will come back as fan-favorite Della Street, as will Chris Chalk as Paul Drake. Eric Lange and Justin Kirk, who appeared as recurring characters, Detective Holcomb and would-be district attorney Pete Strickland in Season 1, have been promoted to series regulars for Season 2 (via Deadline). Shea Whigham is also coming back as Pete Strickland, along with Diarra Kilpatrick as Clara Drake and Katherine Waterston as Ginny Ames.
Notable newcomers for the next round include "The Lord of the Rings" star Sean Astin, "Sound of Metal's" Oscar-nominated Paul Raci, and Jen Tullock of "Severance." They'll be joined by Fabrizio Guido ("Mr. Iglesias"), Peter Mendoza ("Dead Bullet"), Mark O'Brien ("Ready or Not"), Jon Chaffin ("Blindspotting"), Onahoua Rodriguez ("Hawaii Five-0"), Jee Young Han ("Superstore"), Tommy Dewey ("Casual"), and Wallace Langham ("CSI: Crime Scene Investigation"). According to TV Insider, three-time Emmy Award nominee Hope Davis will appear as business owner and Della's companion Camille Nygaard, while Jack Eyman could be portraying young Teddy Mason.
Sadly, there is one big actor who won't be returning for Season 2. Tatiana Maslany, who played Sister Alice in Season 1, was conflicted out of a second turn on the HBO period drama, according to a story broken by TVLine. Maslany was too busy to come back with her duties on a very different legal show, "She-Hulk: Attorney at Law" for Disney+.
Who are the showrunners for Perry Mason Season 2?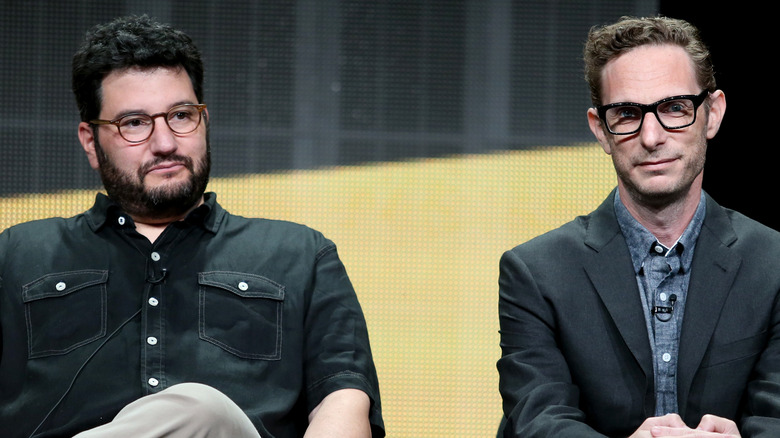 Frederick M. Brown/Getty Images
Ron Fitzgerald and Rolin Jones were the original showrunners of "Perry Mason" Season 1, shepherding the series during its initial HBO run. However, the duo have moved on to other projects — for example, Jones created AMC's "Interview with the Vampire" — and have been replaced by some heavy hitters: Michael Begler and Jack Amiel. These were the two creative minds behind Cinemax's "The Knick," the massively underrated medical drama starring Clive Owen. The two also worked together on shows like "Malcolm in the Middle" and the Kate Hudson rom-com "Raising Helen." Based on their "Knick" work, we're excited to see where they're taking "Perry Mason" next.
Is there a trailer for Perry Mason Season 2?
On February 8, 2023, just under a month before the show is scheduled to return, a trailer for Season 2 of HBO's "Perry Mason" reimagining hit the internet. It's 1933, and Perry Mason and his associates are still reeling from the events of Season 1, namely a controversial mistrial declaration. Los Angeles is beset by fear and racial tension, as city authorities loudly pin a string of murders on easy scapegoats — two young migrant workers from Mexico. Detective Paul Drake is convinced they're taking a fall for someone, and Mason also thinks the group of incarcerated men are innocent, and he boldly decides to act as their attorney, even though he might not be emotionally ready to handle a case of such magnitude. 
The trailer for "Perry Mason" Season 2 also promises scenes of fancy classic cars, steamy romance, secret love, dark humor, and kids on the beach wearing creepy masks. The question remains: Will Perry prevail this time around? Or will the conspirators he finds himself against get their way and get the best of Perry Mason?
Where to watch Perry Mason Season 1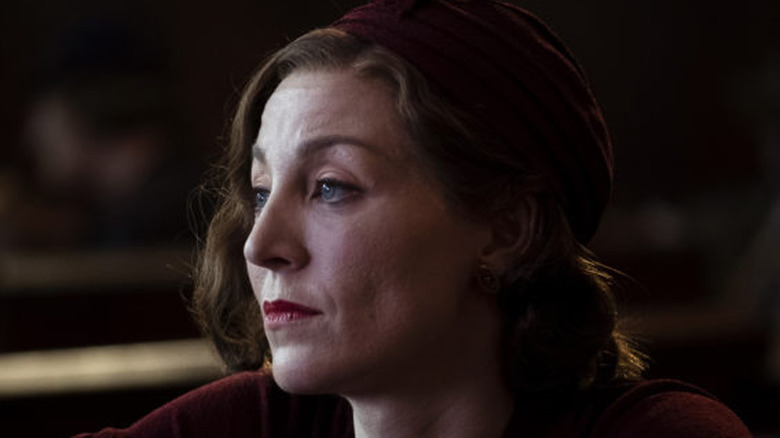 HBO
With Season 2 of "Perry Mason" on the way, it might be a good idea to see how our titular hero went from being a detective to a lawyer. You'll also want to brush up on the backgrounds of Della Street and Paul Drake. Or perhaps you've never seen the first season of the HBO period drama and want to watch the mystery unfurl for the first time. Whatever the reason, you can find Season 1 of "Perry Mason" on HBO Max. You can also buy the first season for $22.99 on Vudu, $27.99 on Google Play, $27.99 on Amazon Video, and $27.99 on Apple iTunes.