Why Wanda's Sugar Snaps Cereal Is More Significant Than You Think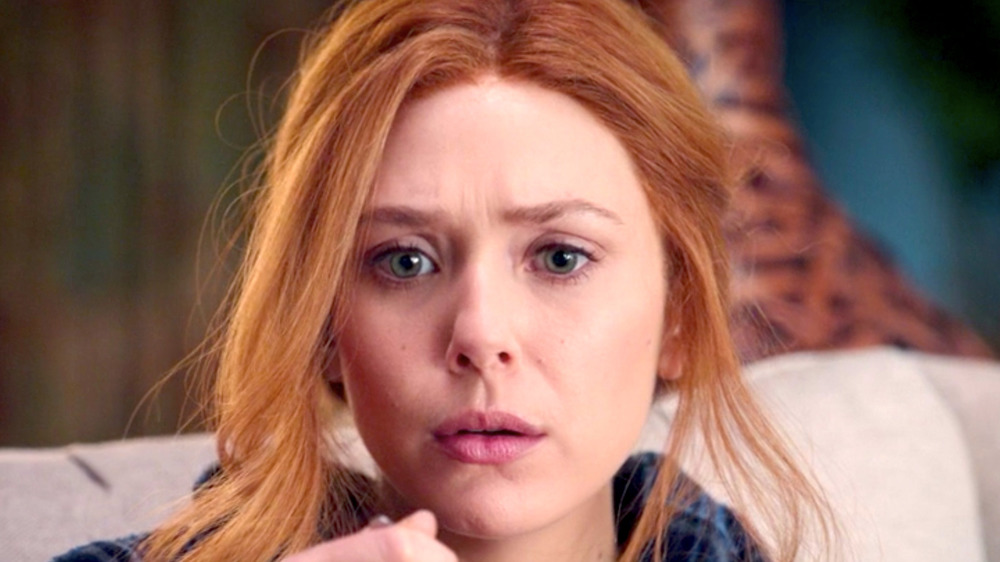 Disney+/Marvel
Contains spoilers for WandaVision. 
The newest episode of WandaVision, aptly titled "Breaking the Fourth Wall," certainly isn't short on excitement and new revelations, that's for sure. In the previous episode, Wanda Maximoff (Elizabeth Olsen) is forced to expand the Hex in order to save Vision (Paul Bettany), who begins to fall apart when he tries to leave Westview. In the process, the Hex absorbs a number of S.W.O.R.D. agents, as well as Dr. Darcy Lewis (Kat Dennings). 
With episode 7, Wanda has officially moved into the 2010s of sitcoms, featuring interviews breaking the fourth wall à la Modern Family. The new episode begins with Wanda waking up, looking a little worse for wear. All she wants is a day to herself stuck inside, but her kids — Tommy (Jett Klyne) and Billy (Julian Hilliard) — keep interrupting her. Thankfully, Agnes (Kathryn Hahn) comes to the rescue, taking them back to relax at her place. With WandaVision, it's never as simple as that, and there are secrets simmering just below the surface.
While all this is going on, Wanda remembers to eat some breakfast, starting the day off right. Heading into her kitchen, she grabs some strangely glitching milk and a box of cereal called "Sugar Snaps." Of course, just like with all the other details of WandaVision, the brand of cereal holds more significance to Wanda's life than you think.
Wanda's subconscious is trying to remind her of what happened with Thanos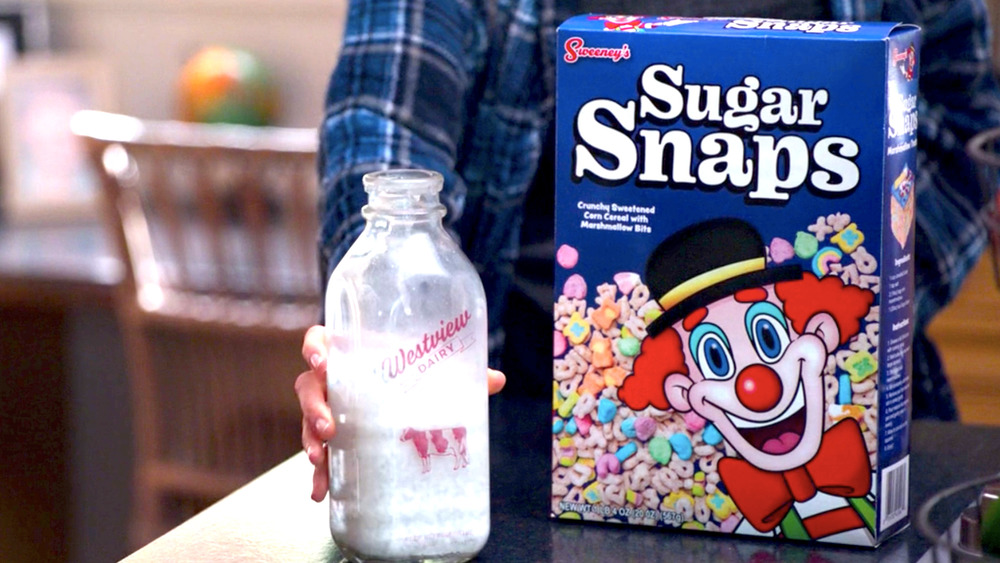 Disney+/Marvel
The Hex essentially presents, or tries to, the perfect life for Wanda. But things are bound to fall through the cracks, and Wanda's subconscious is fighting back, slipping in ties to her real life. The meaning of some past references are harder to pin down, but "Sugar Snaps" is pretty straightforward. The cereal comes from a blue box in Wanda's kitchen, with the front showing a picture of sugary cereal pieces, similar to Lucky Charms, and a huge cartoon clown next to it. While it's not totally clear who this image is calling a clown, the event that the name is referring to is obvious.
In one of the most damaging moments of her life, Wanda sees her love be destroyed, first by herself, then again by Thanos in Avengers: Infinity War. While there is some choice in Wanda using her power to destroy the Mind Stone before Thanos can get his hands on it, all that is taken away when Thanos uses the Time Stone. With a snap of his fingers, he reverses time, kills Vision, and destroys half the universe, all in a few moments. Considering Wanda seems to be ignoring the simple fact that Vision is dead, it makes perfect sense that she hasn't faced how it happened either.
Many of the other details in WandaVision, and in particular the commercials, appear to be showcasing the major events in Wanda's life. Starting from her parents' death at the hands of a Stark Industries missile, through Sokovia and Pietro's death, and now to Thanos and the Snap, the series is finally catching up to the present. Perfect timing, as everything in Westview appears to be coming to a boiling point, and there's no telling what will happen next on WandaVision.