Get A Sneak Peek At WandaVision Episode 7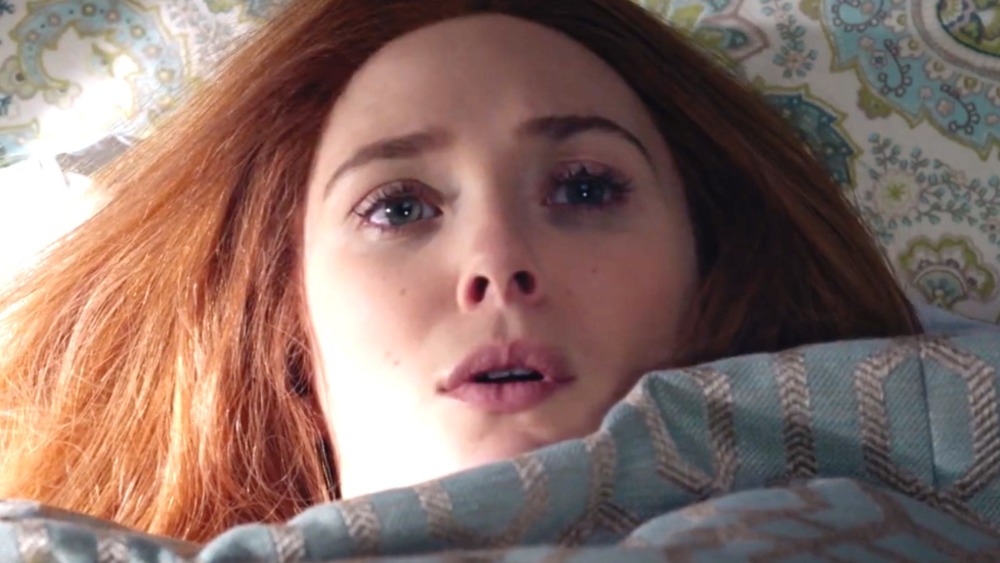 Marvel Studios/Disney+
Contains spoilers for WandaVision episode 6
WandaVision episode 7 is almost here. That will likely come as a big relief to fans, who have been anxiously waiting all week to dive back into the strange world of Marvel Studios' flagship Disney+ series. WandaVision's sixth episode ended on a massive cliffhanger, with Wanda Maximoff (Elizabeth Olsen) intentionally expanding the borders of the "Hex" surrounding Westview in order to save the life of her husband Vision (Paul Bettany). Her expansion did more than just save her synthezoid partner's life, though; it also sucked multiple S.W.O.R.D. agents into Wanda's strange town — including Kat Dennings' Dr. Darcy Lewis.
Thanks to the episode's game-changing final minutes, the internet has been understandably busy the past few days, engaged in holding discussions and crafting theories about how WandaVision will pick up where its sixth episode left off. Fortunately, fans don't have to wait until Friday to see some new WandaVision footage, as Marvel has just unveiled a brand-new clip from WandaVision episode 7. 
A brand new clip from WandaVision episode 7
As has been the case with the whole show, there's a lot to digest in this WandaVision clip. For starters, it confirms what many had already theorized: WandaVision episode 7 will see the series taking on the style and tone of 2000s-era sitcoms — namely, Modern Family.
The clip also shows that Wanda is having an increasingly hard time keeping her Westview facade going, as evidenced by the constantly changing nature of the game her twin sons Billy and Tommy are palying. It doesn't look like Wanda is handling any of this particularly well either — telling the audience that she's forcing herself to take a "quarantine-style staycation" (i.e., a day all to herself) as punishment for the "reckless evening" she had at the end of WandaVision episode 6.
It's unclear what a day to herself will really look like for Wanda (where's Vision going to be in all this?), but it's possible she may begin opening up more about what's really going on in Westview — especially since the episode is adopting Modern Family's fourth-wall-breaking mockumentary style. 
There are only three episodes left of WandaVision — counting this week's — so fans can hopefully expect to finally start getting some real answers to the show's many mysteries soon.