Why Hollywood Won't Cast Alyson Hannigan Anymore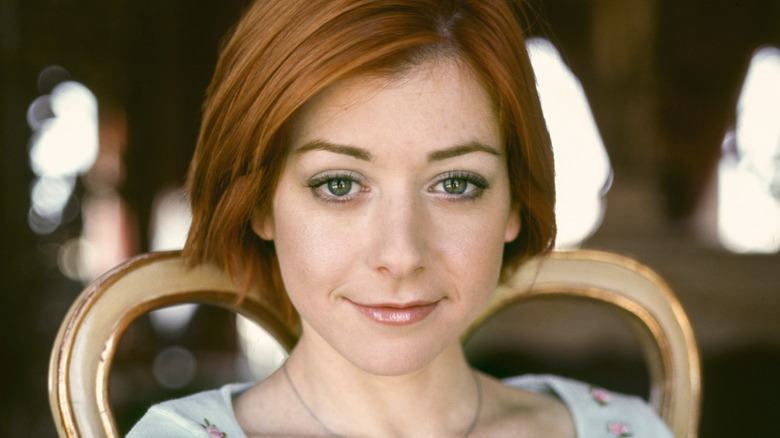 Tim Roney/Getty Images
It wasn't all that long ago when it seemed as if Alyson Hannigan was everywhere. After making her breakthrough on "Buffy the Vampire Slayer," she landed the role of Michelle in 1999's "American Pie," delivering one of the movie's most famous lines. During the following decade she became known for playing one of the main characters in the CBS sitcom "How I Met Your Mother." However, when "How I Met Your Mother" went off the air in 2014, Hannigan seemed to drop off the map.
Hannigan's oft-repeated line from "American Pie" still follows her about to this day, but we don't see the actor anywhere near as much as we used to. Big roles have been harder to come by in the years since she was a well-known face in Tinseltown, so what happened? Well, there are actually a number of factors that led to her all-but-vanishing. Here's why Hollywood won't cast Alyson Hannigan anymore.
Movies were never her strong suit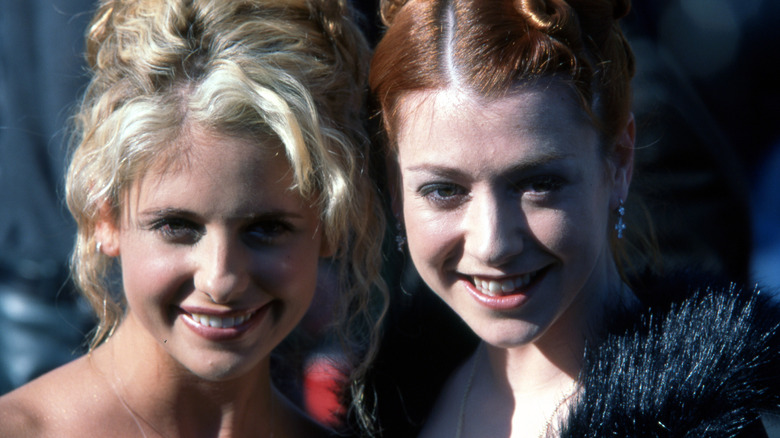 Mediapunch/Getty Images
Quick — think of an Alyson Hannigan movie not named after a patriotic dessert. Yeah ... we couldn't think of one either. No matter what else she does, Hannigan will always be remembered for "American Pie" in terms of her big screen contributions. However, while many people were introduced to her as the notorious "this one time, at band camp" girl in "American Pie," she's mostly known for being one of the main cast members in two highly popular television shows: "Buffy The Vampire Slayer" and "How I Met Your Mother."
In "Buffy," she played the role of Willow Rosenberg, a shy teenage computer geek who grows to become a confident witch with great powers (and not always great responsibility). In "How I Met Your Mother," she played Lily Aldrin, an artistic teacher whose relationship with Marshall Eriksen (Jason Segel) provides a foil for the perpetually looking-for-love Ted Mosby (Josh Radnor). Because of just how long she was in the spotlight as part of two highly prominent television shows, it may be hard to re-sell Hannigan to moviegoers as a movie star rather than as someone who shines best on television.
She hasn't showed off her range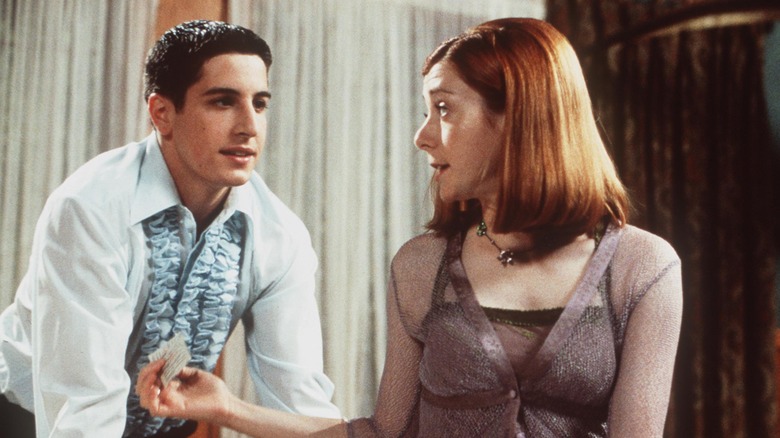 Getty Images
While the characters she played on "Buffy the Vampire Slayer" and "How I Met Your Mother" are quite different, they both provide amusing comic relief in their own way. As Willow Rosenberg, Hannigan often offered wry commentary on everything from the state of Buffy's latest relationship to the gender norms that she and girlfriend Tara (Amber Benson) helped redefine.
As Lily Aldrin, Hannigan eventually came to embody the humorous voice of a veteran spouse who could poke fun at the often-too-serious Ted's quest to find the future mother of his children. Her most prominent film role in "American Pie" is also comedic. She simply isn't known for dramatic roles, which makes the amount of parts on offer considerably smaller.
Her TV shows ran for way too long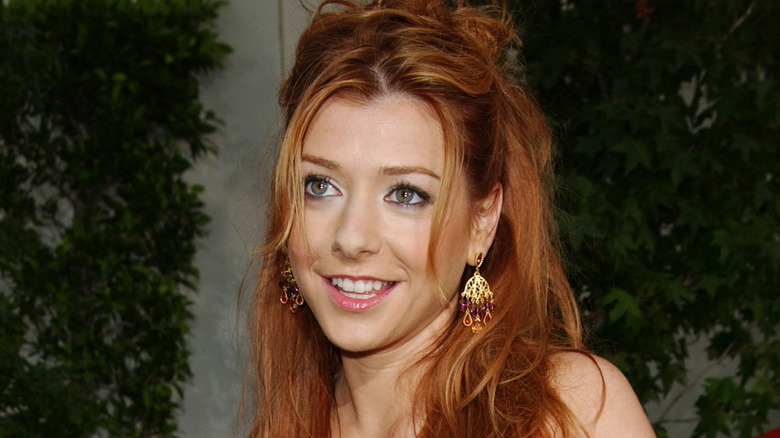 Jon Kopaloff/Getty Images
"Buffy the Vampire Slayer" ran for seven seasons and spanned two networks, while "How I Met Your Mother" lasted for a staggering nine seasons. While they are both beloved in their own right, even big fans of these shows would probably admit that they would have benefited from being wrapped up about two seasons earlier than they did.
Because the same two Alyson Hannigan characters got shoved down our throats for so many years on end, some execs in Hollywood probably feel as though it's going to be hard for audiences to see past Willow and Lily. Hannigan will forever be associated with those roles, which is a blessing and a curse — they made her famous and earned her a place in pop culture history, but they may have also held her back.
Her public image has completely changed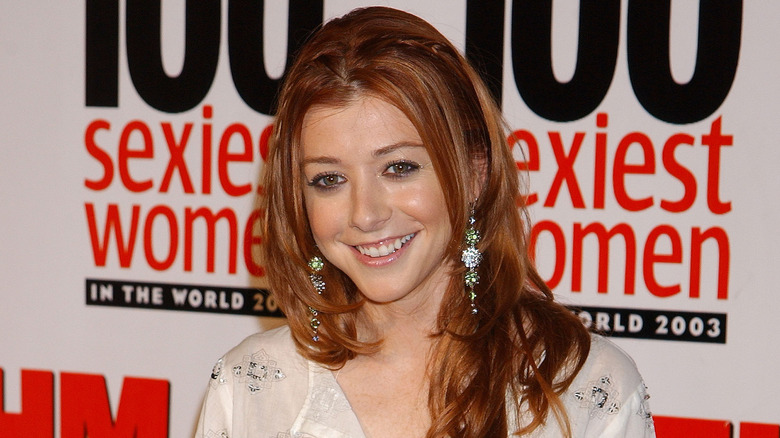 Gregg Deguire/Getty Images
Like many of her "Buffy" and "American Pie" castmates, Hannigan was packaged as something of a sex symbol during her initial rise to fame. But while she gamely posed for a handful of cheesecake photo spreads, that really wasn't an aspect of her personality she ever appeared all that enthusiastic about playing up in public.
In fact, all that attention likely played into the way Hannigan overhauled her image after becoming a real-life mom. No one lounges in lingerie in front of the cameras forever, of course, but for fans who remember Hannigan for her geeky sex appeal in those early hits, her more grown-up image might be a bit of a tough sell.
She spoke out against the How I Met Your Mother finale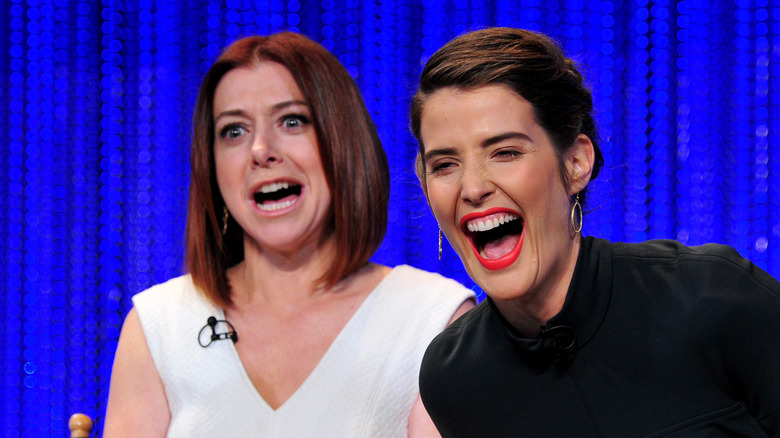 Frazer Harrison/Getty Images
While the "How I Met Your Mother" series finale wasn't exactly a total disaster, fans were left scratching their heads at the perplexing decision to make perpetual bachelor bro Barney get married to Robin, only to divorce three years later so she and Ted could finally, inevitably, get together. Apparently, the confusion was shared by Alyson Hannigan.
Speaking to news.com.au, Hannigan said that she wishes they had done a two-hour series finale, so they could have included many "vital" cutscenes which she thought were "all this stuff that I think the audience needed." She added, "They needed that time to process that information, instead of having it slap them in the face."
Of course, Hannigan also gushed about her experience with the show, saying she would "do it again in a heartbeat," and that it was "just pure, lovely fun." She even broke down in tears on The View when asked what she'll miss about working with Jason Segel.
She's still milking her old roles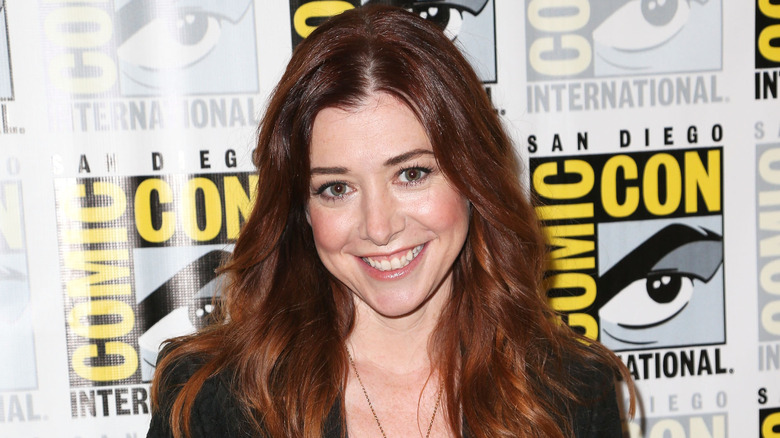 Imeh Akpanudosen/Getty Images
Another reason Alyson Hannigan is still associated with those old roles is because of the timeless quality of fandom. While "Buffy the Vampire Slayer" went off the air in 2003, fans have kept the show alive with fan fiction and comic conventions throughout the world.
Both Hannigan and her husband are very popular stars on the sci-fi convention circuit, appearing at events such as the Phoenix Comicon to fans eager to get autographs and pictures with their favorite "Buffy" characters. This further cements Hannigan with her genre roots, making it harder to sell her as a character in other roles, like a traditional drama or other non-genre films.
Her next big thing after How I Met Your Mother never happened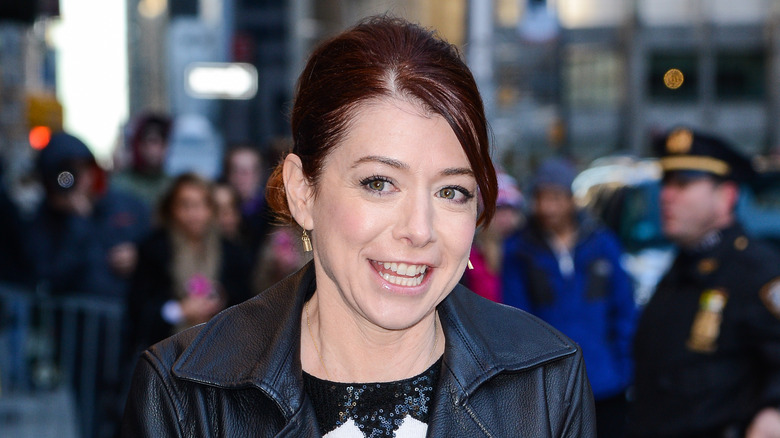 Ray Tamarra/Getty Images
Starring in a TV pilot that doesn't get picked up isn't great, but it's not the end of the world for an actor. In fact, it happens every season; people just move on to the next project. However, in the case of "More Time with Family" — a sitcom pilot penned by Ben Affleck and Matt Damon — it was apparent that Hannigan really wanted it to happen.
"I was fully prepared to take a break, until I read the script and it was too good to pass up," Hannigan told Variety, adding, "I just loved it so much." The show was even shot on the old "How I Met Your Mother stage" — but in front of a live studio audience, which Hannigan told Maximo TV was "what this stage wanted all these years." Ultimately, the network passed on the show, which had to have been a massive disappointment for her.
Two more TV pilots got rejected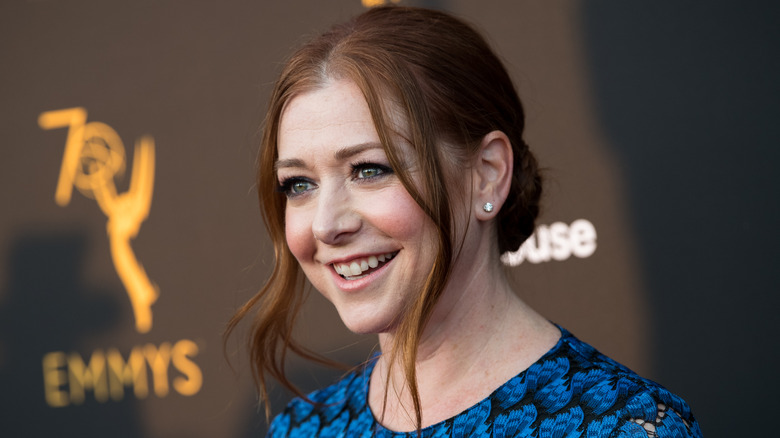 Emma Mcintyre/Getty Images
Two years after "More Time with Family" got shelved, another TV project started being widely promoted as Hannigan's first big gig since "How I Met Your Mother." This was TV Land's small screen adaptation of the popular '90s film "First Wives Club," which stars Diane Keaton, Bette Midler, and Goldie Hawn. The remake cast Hannigan alongside "Smash" star Megan Hilty and Vanessa Lachey, who would go on to star in "NCIS: Hawaii" years later. Sadly for Hannigan, the "First Wives Club" series got canned.
Filming went ahead, though nobody really knew what to expect from the show. Paparazzi images of Hannigan being dragged from the Ocean by her two co-stars while filming a scene in Malibu seemed to confuse the press. "She's been known for her comedic chops since 'American Pie,'" said the Daily Mail. "But it wasn't clear if the scene Alyson Hannigan was shooting on Friday was actually supposed to be comedic."
TV Land passed on the show and instead moved forward with an adaptation of "Heathers," leaving Hannigan high and dry once more. Two years later, Hannigan was cast in another ill-fated pilot, this one titled "Man of the House." She was set to play recently divorced social worker Jessie in the comedy, which was based on the life of co-writer Frank Pines. The news piqued the attention of all the Hollywood trades, but the show never materialized and Hannigan seemed in danger of vanishing into obscurity.
She's too busy with her real-life family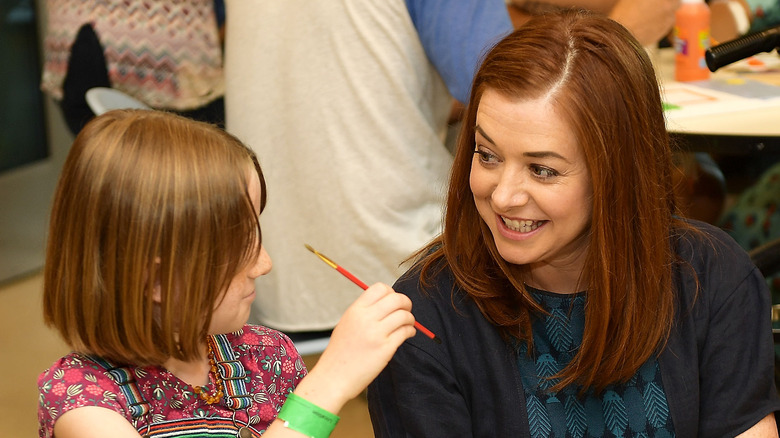 Matt Winkelmeyer/Getty Images
One of the happier reasons Hollywood is probably hesitant to cast Alyson Hannigan is that she's very busy as a parent. Hannigan married Alexis Denisof — who played Wesley Wyndam-Pryce on "Buffy" and "Angel" — back in 2003. Since then, she has given birth to two daughters. She is known for being very active and engaged with her family and has understandably felt the pressure of balancing family life and life as an actor.
However, Hannigan's kids aren't that young anymore. Her first child, Satyana Marie Denisof, was born on March 24, 2009 (adorably, the pair share a birthday), and Satyana's sister, Keeva Jane Denisof, was born on May 23, 2012. Hannigan is still very involved in their lives (in 2023, she shared an adorable photo of the whole family making memories at a Disney park), but they don't need as much attention as they did as toddlers. The older they get, the more free time Hannigan will have for her career.
She's also too busy building her real estate portfolio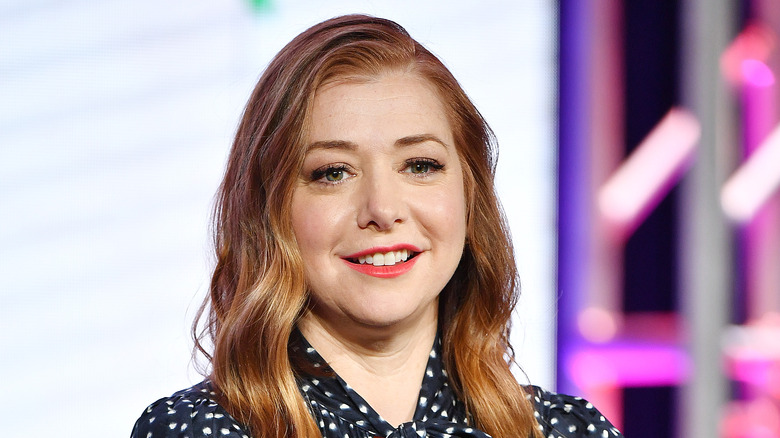 Amy Sussman/Getty Images
Why spend all that time learning lines and going on auditions when you can make a killing with real estate? Hollywood is notoriously fickle, but property is almost always a solid investment — as evidenced by Alyson Hannigan's growing portfolio, which made headlines in 2016 after she and her husband, Alexis Denisof, picked up a place worth nearly $8 million. "Time to paste another big-ticket property into Alyson Hannigan's real estate portfolio," said Forbes at the time.
The new addition (which was featured in the Anthony Hopkins/Ryan Gosling movie "Fracture" because of its distinctive architecture) is just part of a list of properties that includes a home in Atlanta and a rental property in nearby Santa Monica. Nothing against any of her best-known characters, but it sounds like Hannigan may have found the role of a lifetime.
She's been a supportive spouse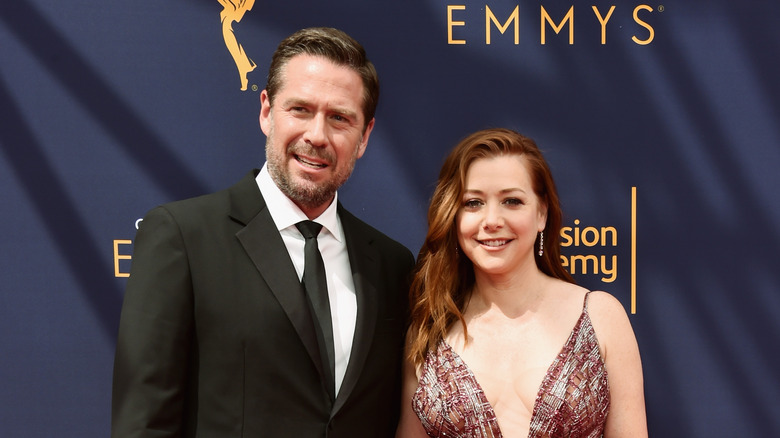 Getty Images
In addition to devoting a precious portion of her time and energy to raising her children, Hannigan may also be stepping away from the spotlight a bit to allow her husband and former "Buffy the Vampire Slayer" co-star Alexis Denisof his turn to shine. Denisof had a recurring guest role on "Buffy," which is where he met Hannigan, before achieving regular status on its spinoff series, "Angel." But he's only recently begun to achieve the kind of fame and recognition Hannigan has enjoyed.
After guest-starring in "How I Met Your Mother" with Hannigan and earning a small role as the villainous Other in "The Avengers," Denisof went on to star in a few other TV shows, one of which, "I Love Bekka & Lucy," earned him his first Emmy nomination. Of course, Hannigan was happy to arrive as his plus-one for the big event this time, especially since she's always credited him with being greatly supportive of her work when she got to attend awards shows as a nominee.
She's found success in non-scripted work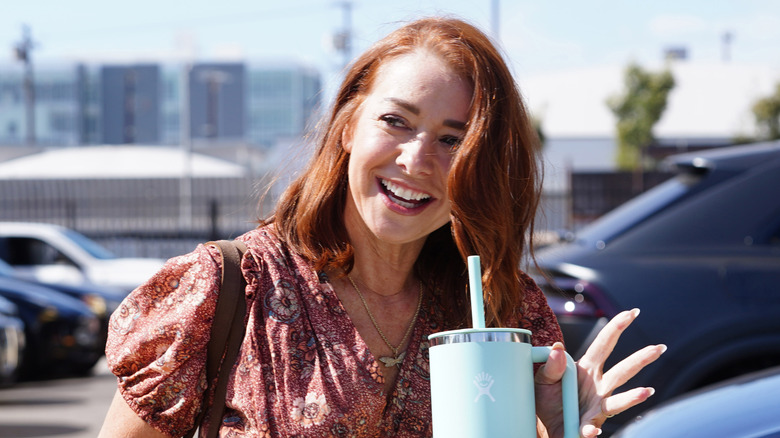 Hollywood To You/star Max/Getty Images
Although Alyson Hannigan experienced something of a slowdown on the acting front since her nine-year run on "How I Met Your Mother," she's also had a lot more luck in the TV competition series department. In 2016, she was announced as the incoming host for the CW's magician reality show "Penn & Teller: Fool Us," aiding as the title magicians welcome their budding peers to try and trick them to earn a spot on their live shows.
For Hannigan, the gig was a good match for her lifestyle; as she said in a statement (via Entertainment Weekly), "I am so excited to be hosting a program our whole family can watch together." As a bonus, she also got to watch her little ones learn their first magic tricks from the pros. The show, which is filmed in Las Vegas, featured her as its host between the third and ninth season, with Brooke Burke taking over for Season 10 in 2023. That same year, Hannigan joined "Dancing with the Stars" for Season 32 of the long-running ballroom competition show, joining forces with Sasha Farber. "It's a roller coaster of everything because it is so hard, but it's so rewarding," she told UPI. "It's one of my favorite jobs that I've ever done."
She's getting back into the game as Disney's resident mom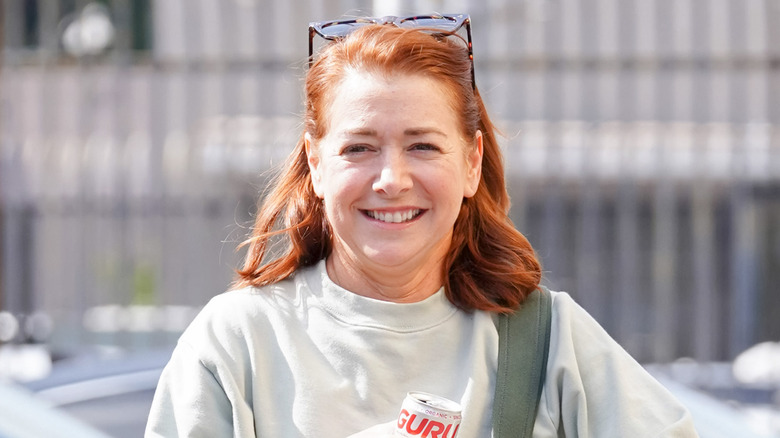 Joce/bauer-griffin/Getty Images
The show is far from over for Alyson Hannigan. Although her first few new adventures in television may not have panned out the way she hoped, she hasn't given up on the small screen yet. After the disappointment of "Man of the House" not going ahead, Hannigan bounced back with the true crime TV movie "Abducted: The Mary Stauffer Story," in which she played the lead role, and a two-episode arc on WGN America's "Pure."
In the years since, Hannigan has laid the groundwork for the next phase of career, taking on her first batch of mother roles. One of the reasons she was out of the spotlight for so long after her heyday is that she wasn't quite old enough to play the mom yet, but in 2019, she did just that in the Disney Channel Original Movie "Kim Possible." Hannigan played Kim's mother Dr. Ann Possible in the live action, made-for-TV flick.
In 2021, she appeared as a mother in another Disney production, this one made for Disney+. Hannigan plays romance novelist Phyllis Buckman, the mother of comic book-obsessed kid Flora Buckman (Matilda Lawler), in the superhero dramedy "Flora & Ulysses," which scored a respectable 72% on Rotten Tomatoes. She's also the voice of Claire Clancy, the mother of the titular six-year-old in the animated Disney series "Fancy Nancy." If the Mouse House needs a mom, it's Hannigan they call.