DOTA: Dragon's Blood - What We Know So Far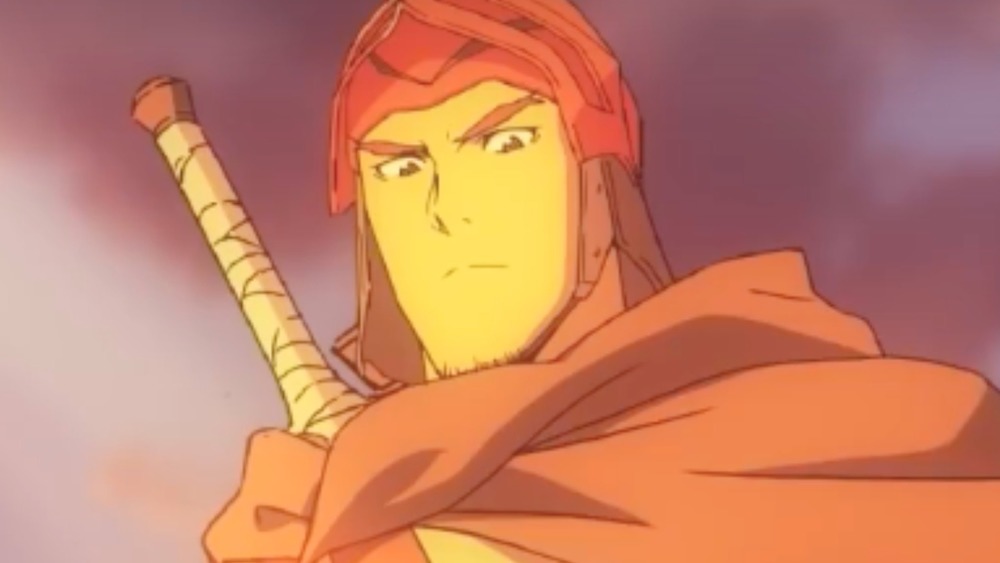 Netflix
Many video game companies want to expand their properties to more mainstream audiences. One way to do that is with a movie that adapts the game's story and characters, which is the route Gearbox is taking with the forthcoming Borderlands film. But if you want to give your video game story room to breathe and develop, you might instead opt for a television series. Such is Valve's plan with DOTA: Dragon's Blood.
Netflix gave anime and MOBA fans the best news when it announced it was teaming up with Valve to bring the beloved DOTA 2 to the small screen in the form of DOTA: Dragon's Blood — which might confuse newcomers, since "DOTA" is a Warcraft 3 mod completely unrelated to DOTA 2. Valve is apparently taking a page from Castlevania's book with Dragon's Blood's serialized episode structure and its anime aesthetic, both of which are bound to please current fans of the franchise and could even attract some new ones.
Netflix recently revealed a trailer for Dragon's Blood, which was the first the general public got to hear about this highly secretive project. Who will bring the show's characters to life? What story will the show tell? When will it come out? We did some digging, and here's everything we know so far.
When will DOTA: Dragon's Blood air?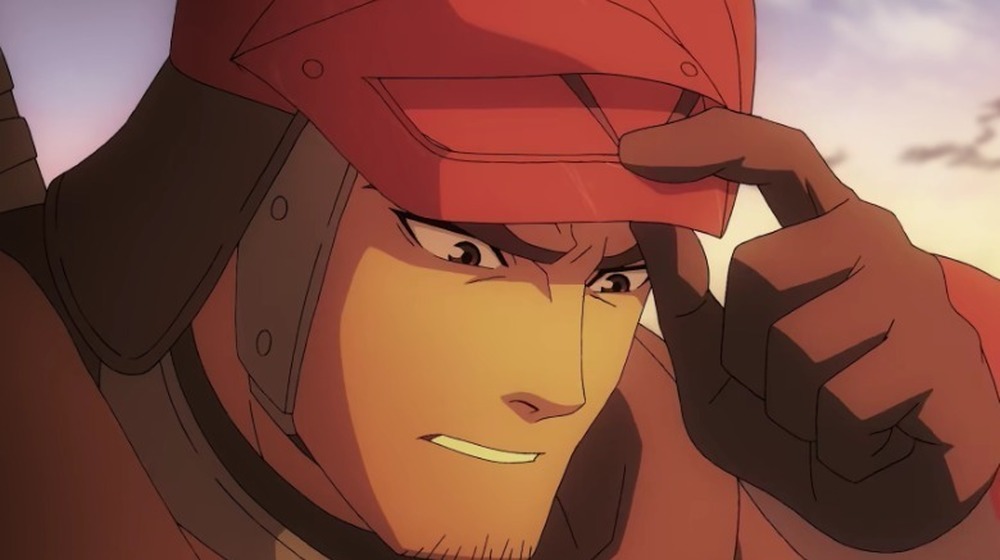 Netflix
When Netflix teased Castlevania, audiences had to wait one month and change for the show to air on the site. Good news: DOTA: Dragon's Blood follows the same pattern, as the trailer's description clearly states that the show will be available March 25, exclusively on Netflix.
Unlike shows like The Mandalorian that stagger episode releases one week at a time, Dragon's Blood will commit to a binge-friendly schedule. All eight episodes will launch globally and simultaneously, so no matter where you are you won't need a VPN to watch the show as soon as it drops.
If DOTA: Dragon's Blood proves successful (or if the showrunners plan for an extended story), Netflix might greenlight a second season. While such a possibility seems likely given DOTA 2's popularity, the world of video game adaptations can be fickle. The ingredients of a successful video game don't always translate into a successful show and vice versa. We'll have to wait until March to discover if audiences want more DOTA 2 anime, and if Netflix is willing to oblige.
Who will star in DOTA: Dragon's Blood?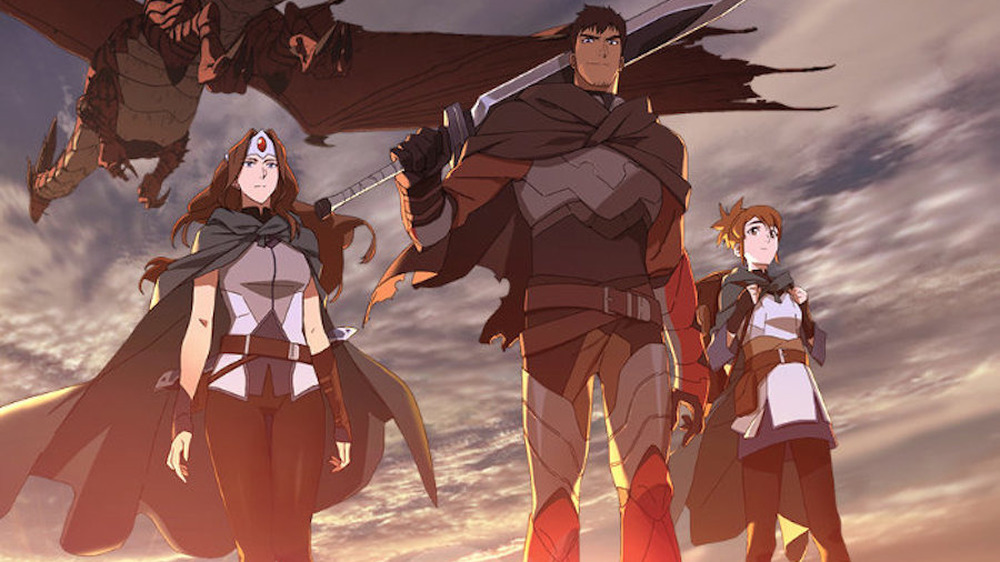 Netflix
While the DOTA: Dragon's Blood trailer features a few audible lines, it doesn't list any names to go with the voices. Moreover, the show's IMDb page keeps a tight lid on cast members to avoid spoilers. Fortunately, Twitter has the answers we seek.
Ashley Miller, who serves as Dragon's Blood's executive producer, writer, and showrunner, recently teased the show's main cast on his Twitter page. According to Miller's official leak, Yuri Lowenthal, Lara Pulver, Tony Todd, Troy Baker, Freya Tingley, Alix Wilton Regan, Kari Wahlgren, Stephany Jacobsen, and Anson Mount will provide the voices behind Dragon's Blood's characters.
Judging by the trailer, Yuri Lowenthal (Peter Parker in Spider-Man, Marth in Super Smash Bros. Ultimate) will receive top billing as Davion, the Dragon Knight. The other actors' roles remain a mystery. Still, audiences and gamers are sure to recognize many of their voices no matter which animated mouth they turn up in. Horror and comic fans mostly know Tony Todd as the titular Candyman in The Candyman and Darkseid in recent DC movies and video games. Meanwhile, Alix Wilton Regan has numerous video game credits to her name, including Samantha Traynor in Mass Effect 3 and Sebille in Divinity: Original Sin 2. Kari Wahlgren has lent her distinctive voice to a number of children's series like Big Hero 6 and Looney Tunes, while Lara Pulver is a BBC darling, having appeared on the British spy drama Spooks and the popular detective series Sherlock.
It's an eclectic mix, to be sure, but an exciting one, nonetheless.
What is the plot of DOTA: Dragon's Blood?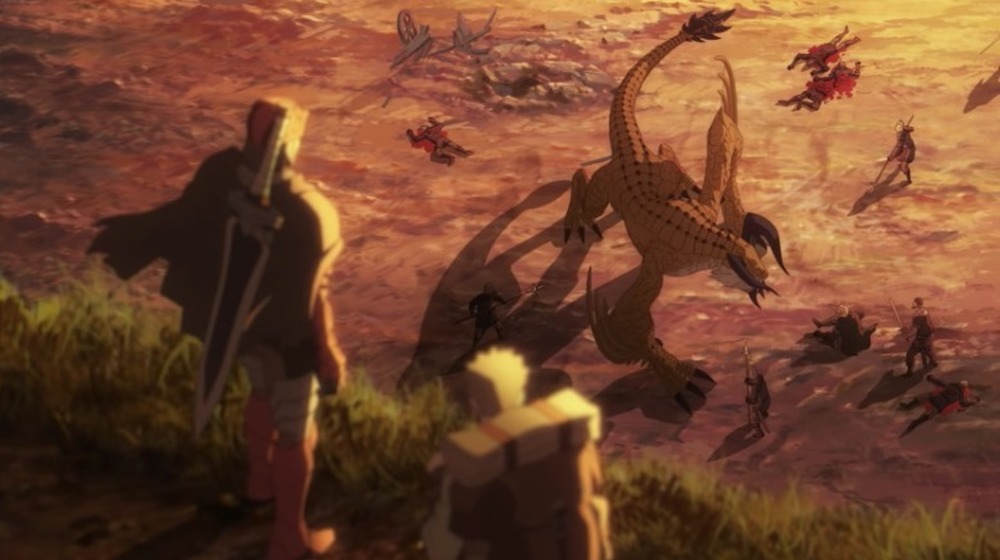 Netflix
Before we can explore the plot of DOTA: Dragon's Blood, we must first understand the plot of DOTA 2. The game revolves around humans, elementals, demons, spirits, and other creatures teaming up to take on opposing teams made up of allies, enemies, complete strangers, and the occasional dopplegangers, all with the goal of destroying an opposing base. Each time a match starts, new and unrelated teams form. Ok, so maybe DOTA 2 doesn't have a concise narrative for Dragon's Blood to adapt, but each hero in the game has a backstory, and DOTA: Dragon's Blood aims to tell the histories of several choice characters.
According to the show's press site, Dragon's Blood will revolve around Davion, the Dragon Knight. His adventures will pit him against an eldwurm (a very powerful and old dragon), as well as bring him into contact with Princess Mirana. Ashley Miller claims Dragon's Blood will feature DOTA 2's biggest fan-favorite characters, so audiences can expect a who's who of faces from the game as the party sets out to hunt some nasty flying lizards. 
Fingers crossed said party includes Pudge and Yurnero.