The Scene Ozark Fans Think Calls Back To Bateman And Linney's Careers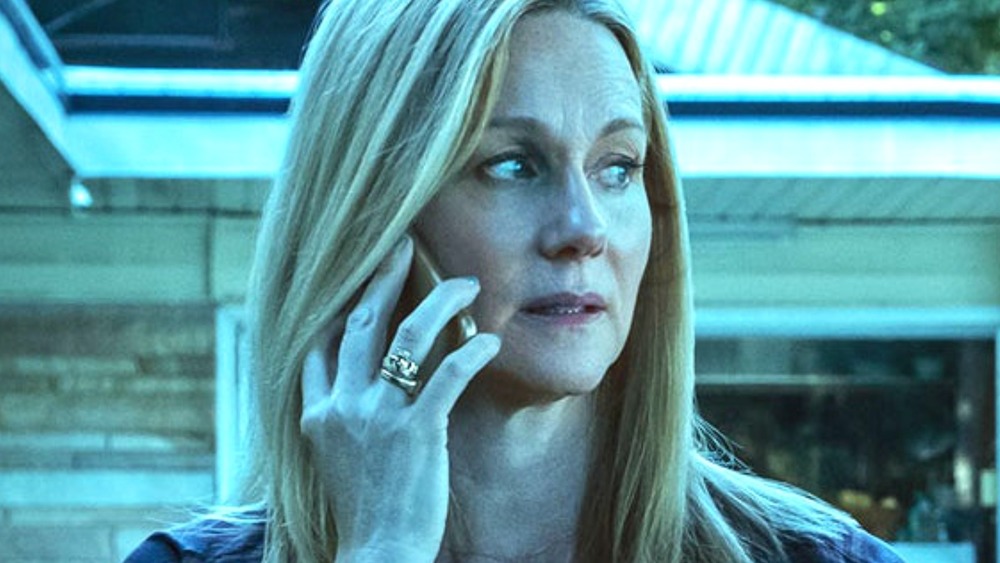 Netflix
From the characters' actions to the lighting, everything in Ozark is dark and grimy. Even in the first episode, there's no light at the end of the tunnel, as we're introduced to Marty Byrde (Jason Bateman), who's involved in a money laundering operation for the Navarro cartel. Things aren't much better at home for the financial advisor as his wife, Wendy (Laura Linney), is having an affair. This is a show that drops you right in the muck of it, and you're left wondering what exactly is going to happen to these damaged people, especially after that explosive season 3 finale. 
Still, it's not all doom and gloom. Ozark knows how to manage levity as well, often showing the inherent ridiculousness of getting caught up in a criminal organization, like when Marty and Wendy have their kids help them physically launder money. It's also been clear that those working behind the scenes have a sense of humor, too, as evident from a seemingly innocuous reference to the Jason Bateman-starring film, Horrible Bosses. 
However, keen viewers of Ozark seem to think they've picked up on another reference. If you look at the clues, just one scene connects to both Bateman and Linney's careers.
Spoilers ahead for season 3 of Ozark!
The Burger King scene in Ozark references both The Truman Show and Arrested Development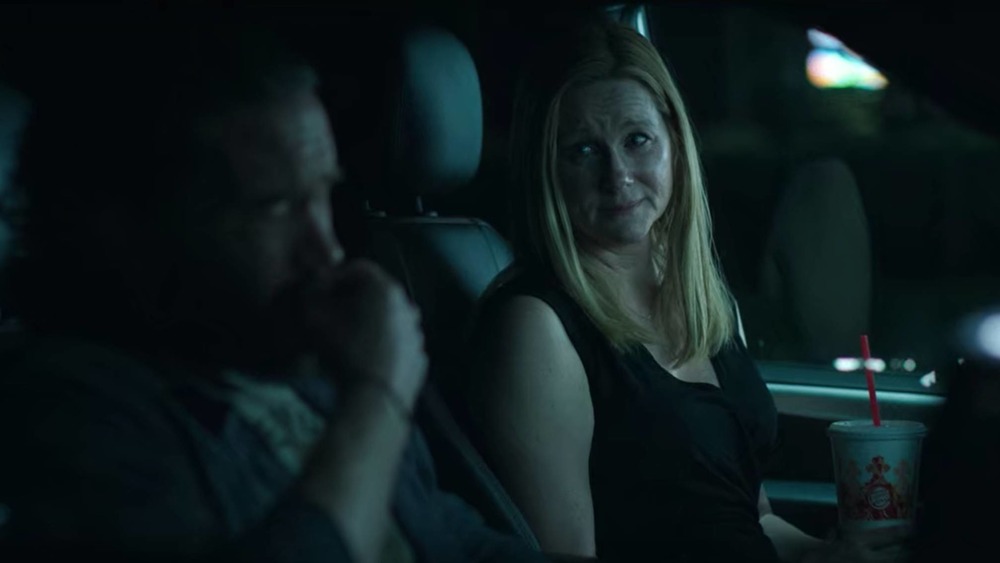 Netflix
Season 3, episode 9 of Ozark, "Fire Peak," features an emotional scene between Wendy and her brother, Ben (Tom Pelphrey), as they share a final meal before she sacrifices him for the good of the cartel. The meal isn't exactly filet mignon, as Wendy holds a Burger King cup throughout the scene, and fans couldn't help but draw a parallel between the moment and a prominent film from Laura Linney's career, inadvertently as it may be. 
Fans on Reddit noticed a similarity when user Detzeb wrote, "About that blatant product placement in S3 E9 that felt like an ironic homage to The Truman Show," which includes two images from each project. Linney played the wife of Truman Burbank (Jim Carrey), a man whose life is a TV show, and she frequently comes into the frame with some new product to try to sell the audience at home, much to the confusion of Truman. Given the prominent placement of the Burger King cups, it certainly feels like Ozark received some money to display the products, especially with the restaurant's logo facing directly toward the camera. 
Then again, the Burger King placement could also be a callback to Jason Bateman's career, as user dan9938 pointed out: "I figured it was an homage to Arrested Development." The sitcom features a moment where Tobias (David Cross) and his acting coach Carl Weathers (Carl Weathers) are at a Burger King, and Tobias exclaims, "It's a wonderful restaurant!" Similarly to The Truman Show, it's a beat making fun of product placement, and the cherry on top would've been if one of the characters on Ozark had said the same line.  
Ozark may not try to break the fourth wall with the moment, and it's deathly serious, especially when viewing the scene in the context of what happens to Ben not too long after. Ultimately, it's just fun to connect to dots to Linney and Bateman's long and storied careers.