Why Tom Holland Considers Cherry The Hardest Role Of His Career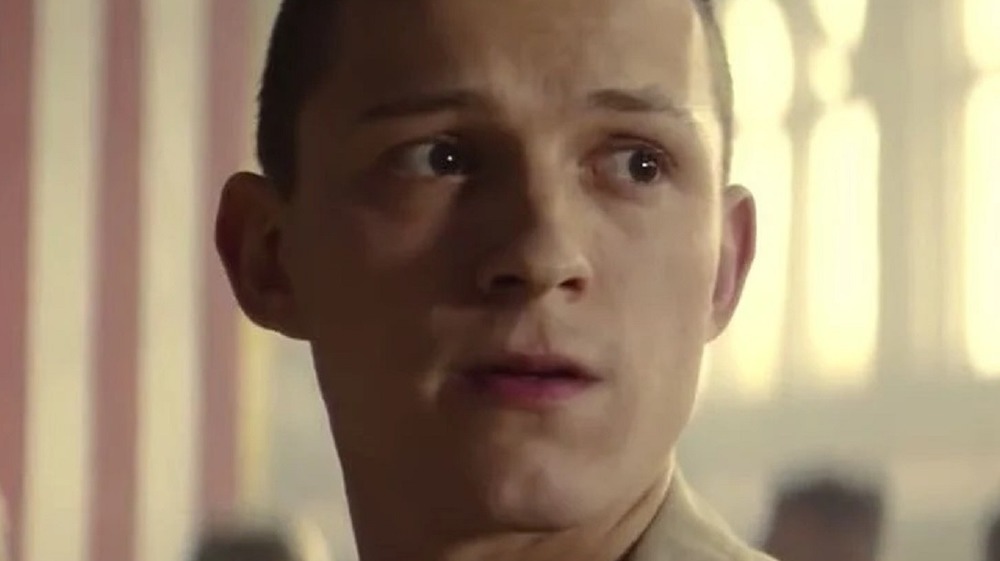 Apple TV+
If you've seen a Marvel movie, you already know they're physically demanding for the actors — not to mention time-consuming to film. But Tom Holland, most famous for playing the latest live-action version of Spider-Man, revealed that all those fight scenes, stunts, and even emotional goodbyes were nothing compared to the movie that might just shift the world's perspective on him.
Peter Parker has a lot to deal with, like frequent brushes with imminent and actual death on top of high school and the constant need to defend New York from superpowered threats. Holland's character Cherry, from the 2021 movie of the same name, faces issues of a different scope, though no less daunting, including post-traumatic stress disorder (PTSD) and opioid addiction. He's also a bank robber.
Released to theaters on February 26, 2021 and to Apple TV+ on March 12, Cherry is based on a novel by Nico Walker and directed by Anthony and Joe Russo of Avengers: Infinity War and Endgame fame. The movie is already promising to show a side of Holland that his Spider-Man fans might not have seen, and which the actor hasn't had much of an opportunity to explore until now. Perhaps thats's why Holland considers Cherry the hardest role of his career so far.
Tom Holland found playing the same character across 18 years daunting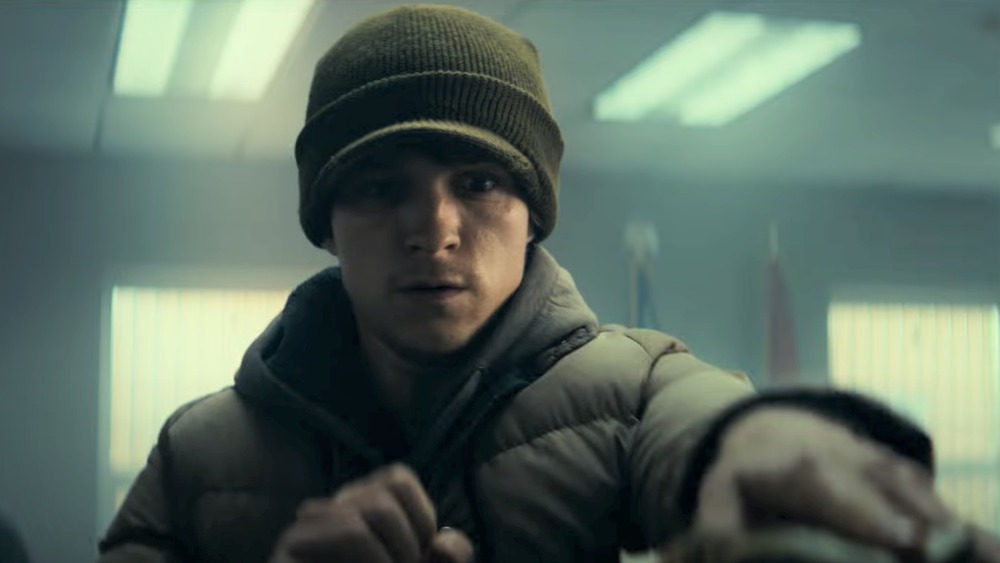 Apple TV+
Despite the fact that Holland likes to stay out of the limelight, he's become mega-famous for playing one of the Marvel world's most exciting teenagers. Cherry finds him playing a character who ages 18 years during the course of the movie. As Holland explained to Deadline, this was one of "loads of reasons" that he found this "easily the hardest role I've ever had to take on." He elaborated, "Trying to convey that [passage of time] in two-and-a-half hours is quite a daunting task."
The content of the movie — "love, despair, PTSD, substance abuse, bank robbery and prison," as he summed it up — also contributed to the challenge for Holland. He added that he saw the role as "the golden ticket for an actor, because it's a role that keeps on giving ... There was no limit to how far we could push ourselves."
Holland admits that he might have pushed himself a little too far in particular in one scene, when he started banging his head on a car seat. "I'm pretty sure I gave myself a concussion," he said. It wouldn't be the first time he's taken a hit in the name of art. Tom Holland broke his nose for the third time on the set of Chaos Walking, an upcoming sci-fi drama.
Tom Holland has taken multiple challenging roles outside the MCU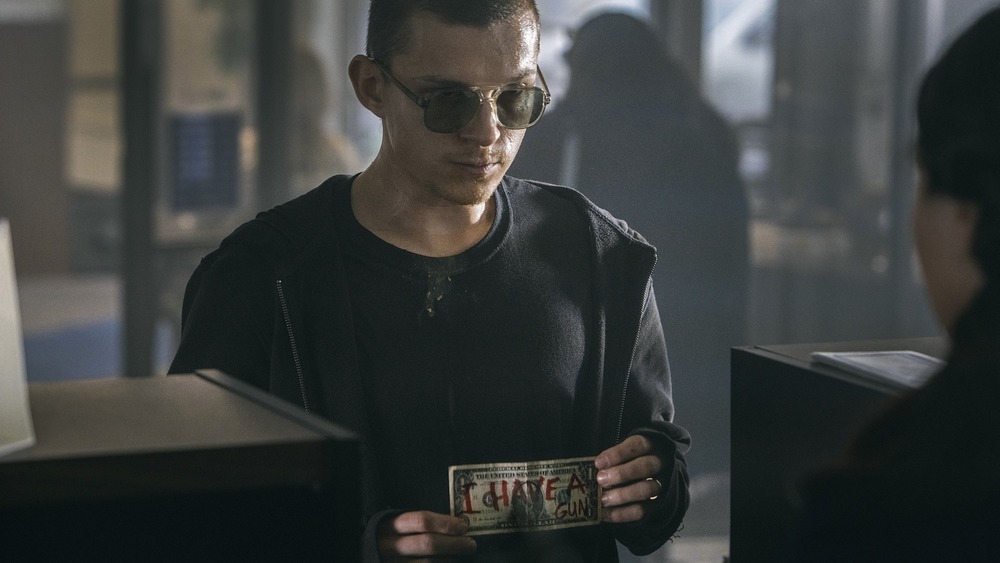 Apple TV+
Even though Holland told Deadline that Spider-Man was the part he'd always wanted, it's understandable that he also wants to remind everyone that he can play a broader range of characters. If you look at what Tom Holland was doing before he became Spider-Man, it was already clear that he could handle dramatic roles. For example, he played the son of Henry VIII's advisor Thomas Cromwell in popular historical drama Wolf Hall, opposite basically every other esteemed British actor you've ever seen on screen. And that was after he'd played ballerina Billy Elliot on the West End, which is basically British Broadway.
Cherry isn't Holland's first foray into more adult roles. In 2020 he appeared in The Devil All the Time, a gritty thriller in the tradition of the Southern Gothic. As its director Antonio Campos hinted in an interview with Looper, it's a 'parade of grotesquery' you'll want to watch.
Tom Holland was perfect for The Devil All The Time, and the Russos feel that he's just as perfect for Cherry, partly because he's "so likeable," as Anthony Russo told Variety in a joint interview. He explained, "The book is dark ... We wanted to do a version of the movie that was palatable ... [Tom]'s such an appealing actor ... he was our road to an accessible, exciting, enjoyable version of a difficult film."