WandaVision: The Norm Detail That Makes No Sense In The Timeline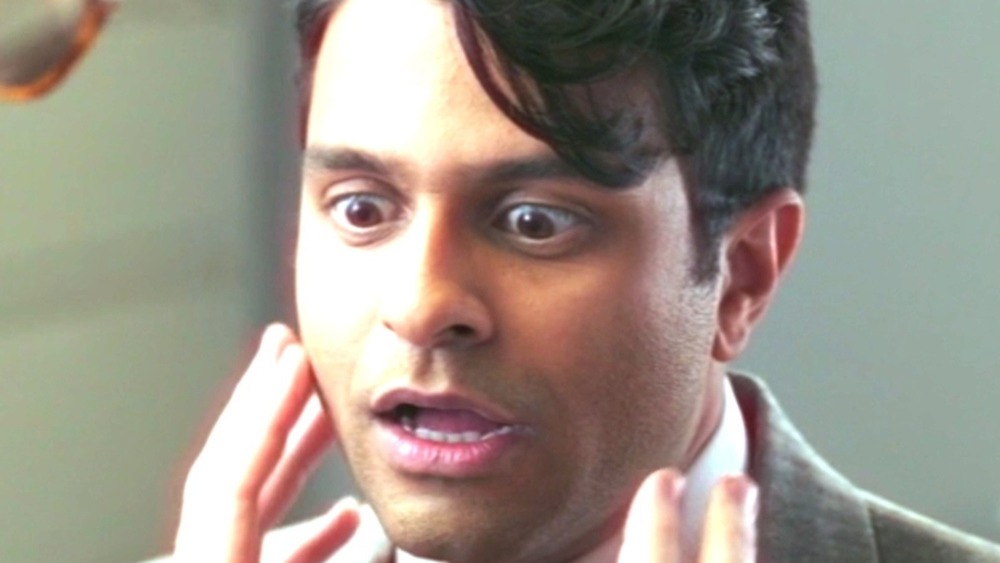 Marvel Studios/Disney+
Contains spoilers for WandaVision
It wouldn't be underselling things to say that WandaVision has single-handedly flipped everything fans thought they knew about the Marvel Cinematic Universe on its head. As if its sitcom-esque aesthetic wasn't enough, the Disney+ series continues to move further away from its predecessors with each passing episode, thanks to Wanda Maximoff's (Elizabeth Olsen) reality-altering abilities. As revealed in WandaVision episode 4, titled "We Interrupt This Program," S.W.O.R.D. believes that Wanda is controlling everything in Westview, New Jersey (or at least that's what it looks like). That includes its many residents, who are trapped in Westview but lack the mental agency to do anything to stop it. It's a nightmare of a situation to be in, but hopefully help is on the way.
In the show's most recent installment, "On a Very Special Episode...," Vision (Paul Bettany) continues to suspect that his new home isn't all that it appears to be. After a handful of odd interactions with his neighbors, his realization of Agnes' (Katheryn Hahn) constant presence, and the lack of any children in Westview (apart from his twin sons Billy and Tommy), Vision begins to poke around in an attempt to uncover the truth. This leads him to his co-worker Norm (Asif Ali), whom Vision awakens from the town's trance and inadvertently sends into a panic. 
Thanks to where and how this scene plays out, WandaVision ends up with a confusing kink in its timeline.
We've seen this before ...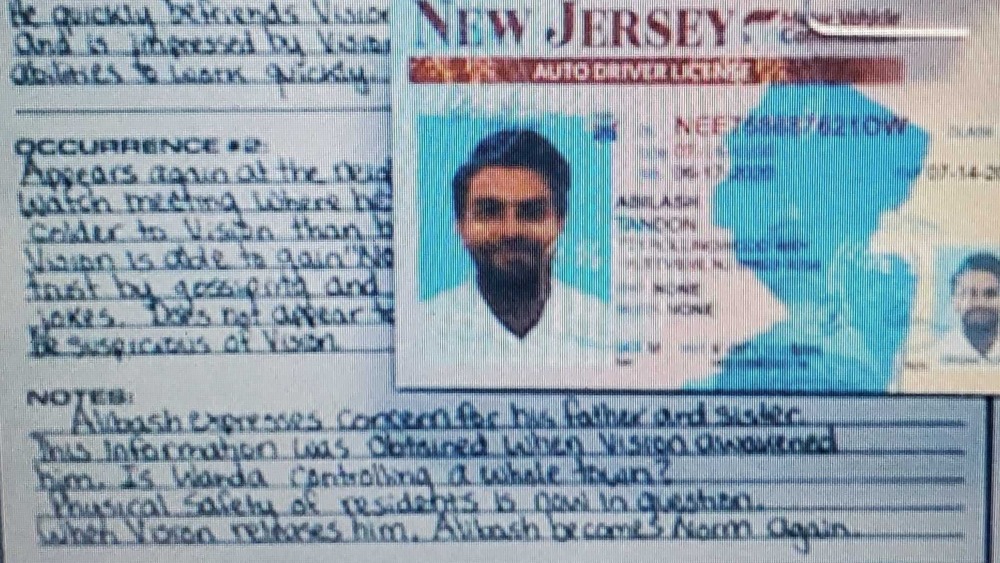 Marvel Studios/Disney+
To figure out what's really going on with Wanda and her new home, S.W.O.R.D. launches an investigation into the town. As a part of their research, the likes of Dr. Darcy Lewis (Kat Dennings) and FBI Agent Jimmy Woo (Randall Park) look into the backgrounds of the townspeople. In WandaVision episode 4, we see "files" for the primary residents of Westview. The files reveal the residents' actual identities — in Norm's case, he's really a man named Abilash Tandon — as well as things they do and say in Westview, along with some other notes.
Now, the aforementioned interaction between Norm and Vision takes place in WandaVision's fifth, 1980's-themed episode, and reveals a bit about this minor character. When Norm is "woken up" from the Westview-induced trance, viewers learn that Norm's father is very sick; he freaks out and express a need to contact his sister. To ease his worry, Vision places Norm back under Westview's spell so he remains blissfully ignorant to his dilemma. 
The content of the scene causes no real issues on its own, but there's something strange about it in comparison to what happens during episode 4. In that episode, we see that Norm's file says he "expresses concern for his father and sister" — information that "was obtained when Vision awakened him." The notes section of his file concludes, "When Vision releases him, Abilash becomes Norm again." This is exactly what happens in WandaVision episode 5, but we saw these details in WandaVision episode 4, making the series' timeline all the more confounding.
The easy answer here would be that "On a Very Special Episode..." takes place after "We Interrupt This Program," but that theory doesn't check out. Captain Monica Rambeau (Teyonah Parris) was trapped in Westview for the events of the latter, 1970s-themed installment, and didn't get ejected from it until the very end. She's present for the entirety of S.W.O.R.D.'s investigation in "On a Very Special Episode...", so it couldn't have been a prequel.
Therefore, the only conclusion one can draw from this particular Norm moment is that there was a behind-the-scenes slip-up somewhere along the line. But then again, a future WandaVision episode may explain this discrepancy.