What Is The Song In The 2021 RAM TRX Commercial?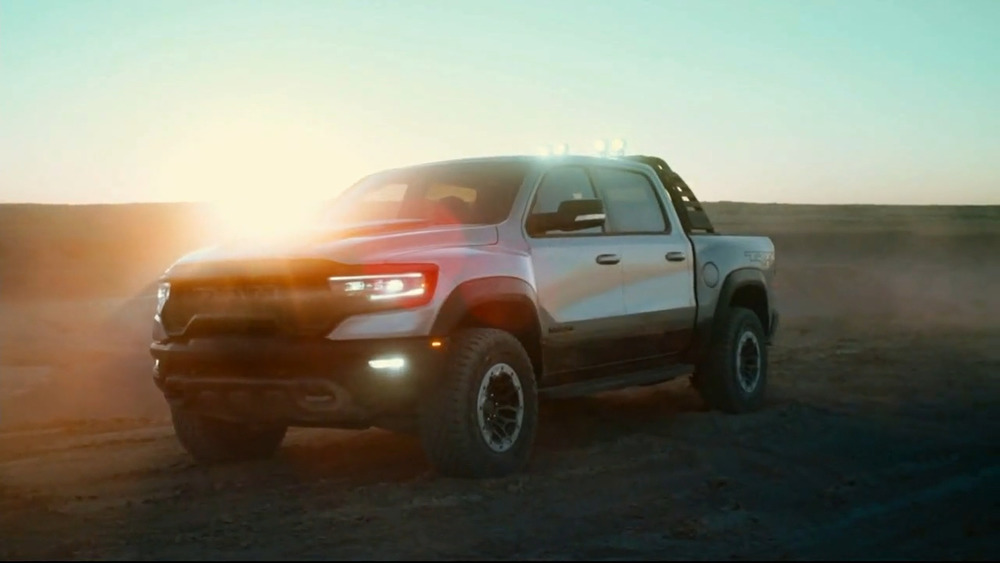 Ram Trucks
It's 2021 and everyone is still isolating — even trucks! Ram Trucks' commercial for the 2021 RAM TRX began airing recently, and the truck spends the 30-second runtime of the ad tearing around not a highway, not a local street or even an airstrip, but in the middle of the desert.
The commercial takes full advantage of the location by having the RAM TRX kick up as much sand as possible as it blazes up sharp inclines and over dunes, spinning around in circles until there's something almost magical about the entire affair.
And naturally, since the 702-horsepower vehicle is in the middle of the desert, there's a very carefully selected cover of just the perfect song for the occasion: "Mr. Sandman." This newer, dreamier version of the classic 1950s tune comes courtesy of recording artist Brian Fennell, a.k.a. SYML. Let's talk about the classic tune's long history and how SYML came to record his own version of it.
The long history of Mr. Sandman bringing us dreams
Universal Pictures
"Mr. Sandman" was originally composed by Pat Ballard in the 1950s and first performed by Vaughn Monroe. The tune is one of those songs that's been covered by so many different artists it's almost impossible to keep count. In fact, it was recorded by seven different artists or groups within its first year of composition.
"Mr. Sandman" hit the top spot on the Cash Box Top 50 in December of 1954, thanks to recordings by Vaughn Monroe, the Chordettes, Buddy Morrow, the Four Aces, the Song Singers, the Lancers, and Les Elgart. The Chordettes had the most success in 1955 with their version of the single hitting number one on three different Billboard charts, but these days most of us remember the Four Aces version thanks to its appearance when Marty McFly (Michael J. Fox) finds himself in 1955 in the movie Back to the Future.
As for the SYML version, Brian Fennell revealed in an interview with Atwood Magazine back in 2017 that his cover of "Mr. Sandman" had a specific intention. "I was asked to make this cover for a TV show, but it never ended up getting used," he explained. "I thought it was an intriguing choice because of the bubblegum-happy feel of the original. When I was working on it, I was moved by how desperate and dark the lyrics actually felt when you slowed things down and gave it a minor feel overall."
Thanks to Ram Trucks, the SYML version of "Mr. Sandman" finally has our ears, and it's absolutely stunning.