Han Solo Spinoff Film Will Have A 'Heist' And 'Western' Vibe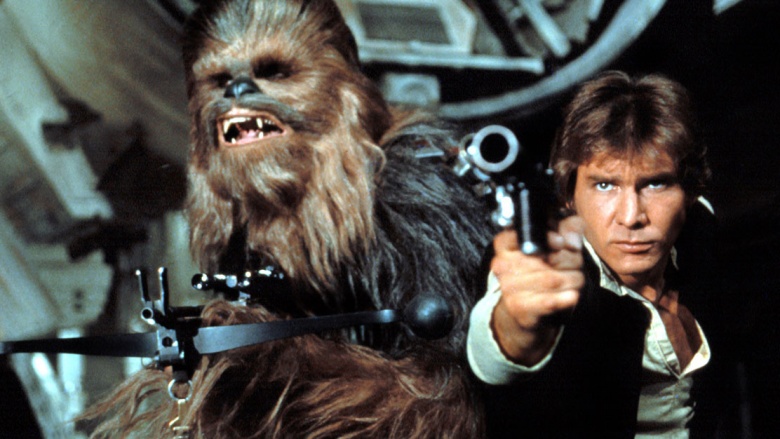 Disney is already looking to diversify the Star Wars film lineup with the wartime story of Rogue One, and it sounds like the next spinoff will take its own unique direction.
Lucasfilm chief Kathleen Kennedy told Variety the upcoming Han Solo prequel film, directed by Phil Lord and Christopher Miller, will move closer to "a heist or Western type feel." She went on to say they're using the paintings by Frederic Remington, a late 1800s artist famous for his depictions of the old west, to inform the "look and feel" of the project. The world of Star Wars has always had a bit of a wild west feel to it, and Remington's work actually does fit with the aesthetic and vibe of the original Star Wars trilogy. As Disney looks to differentiate these films with additional spinoffs, sequels and prequels, finding a unique angle for each project will be more important than ever. Turning Han Solo's story into a big ol' space western? Not the worst idea.
The Han Solo project stars Alden Ehrenreich (Beautiful Creatures) as young Han Solo, Donald Glover (Atlanta, Community) as young Lando Calrissian, and Emilia Clarke (Game of Thrones) in a mystery role. Lord and Miller were interesting choices to direct, coming off The LEGO Movie and 22 Jump Street, but they should certainly bring a snarky tone that could be a good fit for a younger, more brash version of Han Solo. They've also shown off some action chops with the 21 Jump Street reboot, though slapstick gun battles are a bit of a leap to a full-on sci-fi tentpole.
Looking to the future of Star Wars, Kennedy told Entertainment Weekly the Han Solo spinoff is only the beginning. The studio has basically set up Rogue One: A Star Wars Story as a test case for the expanded Star Wars universe on the big screen, and Lucasfilm is already planning to map out the next few films in early 2017, once they have a feel for how Rogue One performs at the box office (it's currently tracking to be a hit). One potential option is a Boba Fett prequel, which was days away from being announced in 2015 with Josh Trank (Fantastic Four) at the helm. Trank had a falling out with Disney amidst (true) reports that Fantastic Four was turning out to be a train wreck and the project was shelved, but there's apparently already been some brainstorming and development in regards to where a Boba Fett film could go.
What do you think of shaking up the Star Wars universe with a western-esque Han Solo story? Do you think it's the right tone for the spinoff?