Why Raya From Raya And The Last Dragon Is A Different Kind Of Disney Princess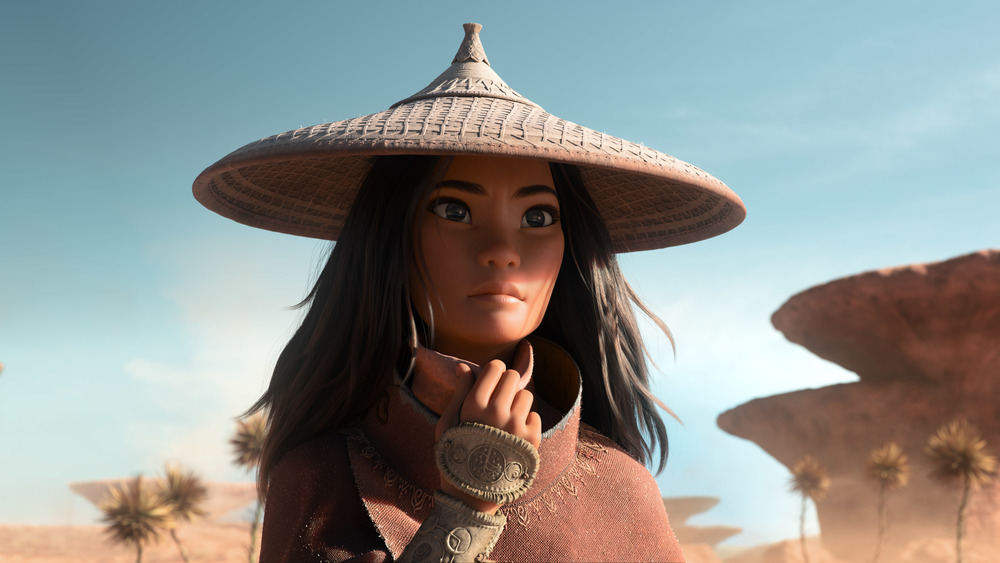 Walt Disney Animation Studios
When Raya and the Last Dragon is released on March 5, a new Disney princess will emerge: Raya, voiced by Kelly Marie Tran of Star Wars: The Last Jedi and The Rise of Skywalker fame, a lone warrior who must embark on a journey to save humanity.
In Raya's world of Kumandra, humans and dragons once co-existed. But when malicious monsters threatened to destroy the land, the dragons sacrificed themselves in order to save humankind. Five hundred years later, the monsters return, and Raya is tasked with tracking down the last dragon in existence in order to maintain peace. In addition to Tran, Raya and the Last Dragon stars Awkwafina as Sisu, the last dragon; Daniel Dae Kim as Raya's father, Benja; Benedict Wong as formidable giant Tong; and Gemma Chan as Raya's nemesis Namaari.
During a recent press conference attended by Looper, the filmmakers — including co-directors Don Hall and Carlos Lopez Estrada, producer Osnat Shurer, and writers Adele Lim and Qui Nguyen — discussed what makes Raya a different kind of Disney princess.
Raya is 'unlike any other Disney heroine you've ever seen'
Walt Disney Animation Studios
Raya of Raya and the Last Dragon is Disney's first Southeast Asian princess, with much of the film's look and storylines being inspired by countries like Thailand, Indonesia, Malaysia, and Vietnam. (1998's Mulan depicted the first East Asian princess with the title character.) Certain folklore from Southeast Asia helped shape the character and story, including the Hindu- and Buddhist-inspired Naga dragons, according to writer Lim.
"In Southeast Asia, there's a great tradition of female leaders, military leaders, and warriors," Lim said during the press event. "In Malaysia, in particular, we have the warrior Tun Fatimah, and stories of Naga Tasik Chini, the dragon of Chini Lake. So [Raya is inspired by] a lot of cultures in Southeast Asia."
Added Raya writer Nguyen, "In Vietnamese culture, there's this really famous story of the Trung sisters, who were these famous Vietnamese warriors that I definitely thought of. Without a doubt, I think Adele and I drew inspiration from our parents, specifically my mom for me, because I know what she had to go through when she came to this country, and to have that kind of fighting spirit. It was important for us to show the real spirit of Southeast Asia and the kind of energy that our people have that you don't always get to see on screen."
It's a perspective that the filmmakers hope resonates with viewers and gives a certain demographic a new idol to look up to.
"A lot of people are super-excited about Raya being Disney's first Southeast Asian princess, but for me personally, it is such a big deal for her to be my kids' new favorite superhero," said Nguyen. "It's something that I didn't get to see growing up, someone that really represented me, our voice, our culture. And to be able to have that for my children is an amazing moment."
Lim then shared, "Growing up in Southeast Asia, we're very proud of our culture and our history, but you don't really ever see it on the Hollywood big screen. I had lots of action heroes growing up, but it was like Hong Kong action kung fu. And now, the idea to be part of a Disney movie that really can celebrate everything that's beautiful about our culture and how strong our women are is great. I feel that it's so much of the spirit of a lot of the women I grew up with."
That groundbreaking aspect of a Disney princess created excitement within the production, which the filmmakers believe will translate to the audience.
"Disney has actually a long legacy of pushing the envelope in terms of the power and the strength of our female protagonists, and I felt like we did that here," said producer Shurer. "With Raya and the Last Dragon, we just took it to a whole new level and pushed it exactly where we wanted it to be."
Added co-director Lopez Estrada, "When we were making the movie, people in our crew would be reviewing shots and say, 'I can't believe this is a Disney movie — it doesn't feel or sound or look like anything Disney has done before.' And that's amazing. Still, if you think about Raya in context with the rest of the movies from Disney, it belongs to the family, but it also stands out in a way that it is just super-exciting. She is going to be unlike any other Disney heroine you've ever seen."
Raya and the Last Dragon will be released simultaneously in theaters and on Disney+ with Premier Access on March 5.