Walking Dead's Biggest Stars Just Renegotiated Their Contracts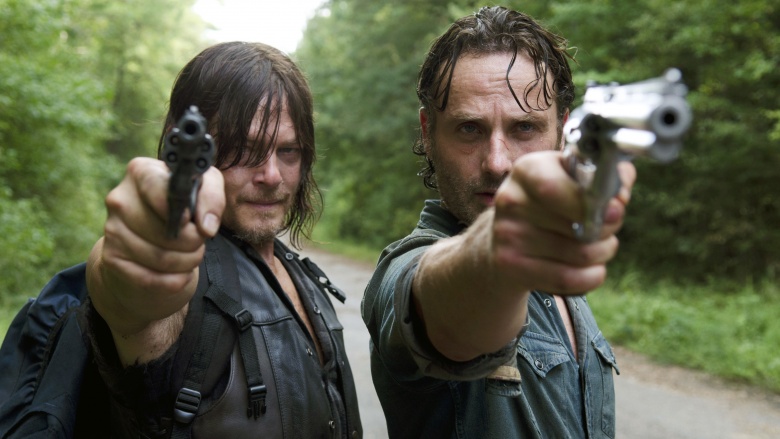 No one is ever safe on The Walking Dead, but some new contract negotiations might've just revealed who will be sticking around through at least next season.
According to The Hollywood Reporter, two of the show's biggest stars have signed lucrative new contracts to up their pay per episode through the current season and the next—the series' eighth—in 2017. Norman Reedus (who plays Daryl Dixon) and Andrew Lincoln (who plays Rick Grimes) recently renegotiated to make $550,000 and $650,000, respectively—which is obviously a lot of money, but for the sake of reference, still pales in comparison to the $1 million or more stars of hit shows like The Big Bang Theory and Game of Thrones are pulling in per episode these days.
The Walking Dead has built its reputation on the idea that anyone can die at any time, and fans love it: the series remains one of the highest-rated shows on television seven years into its run. But despite the gutsy approach to killing off characters, the show doesn't axe original cast members very often. A death to kick off the current season marked the first original cast member to be written off in several seasons. Yes, the show kills a lot of characters, but at this point, the writers don't typically mess with the folks who've been there since the early days.
Rick and Daryl have been with the series since it began, and both characters are among the most popular on the show (see the popular "If Daryl dies we riot" refrain for proof). Both characters faced a harrowing experience to open the season, and the characters are currently on very different tracks. Rick is trying to lead the Alexandria community despite Negan's control, while Daryl has spent the season as a prisoner of Negan's group the Saviors. It looked liked Daryl's days might have been numbered a few times this season, but if the negotiations pan out, we know Daryl should at least survive into next year.
Lincoln's extended contract is even less of a surprise. Rick is the star of Robert Kirkman's The Walking Dead comic that inspired the series, and his story remains at the center of both the live-action and comic saga. The show could continue on without a lot of characters making up the supporting cast, but the creative team would be hard pressed to tell this story without Rick Grimes at the heart of it all.