The Chris Farley Classic That's Dominating The Charts On Hulu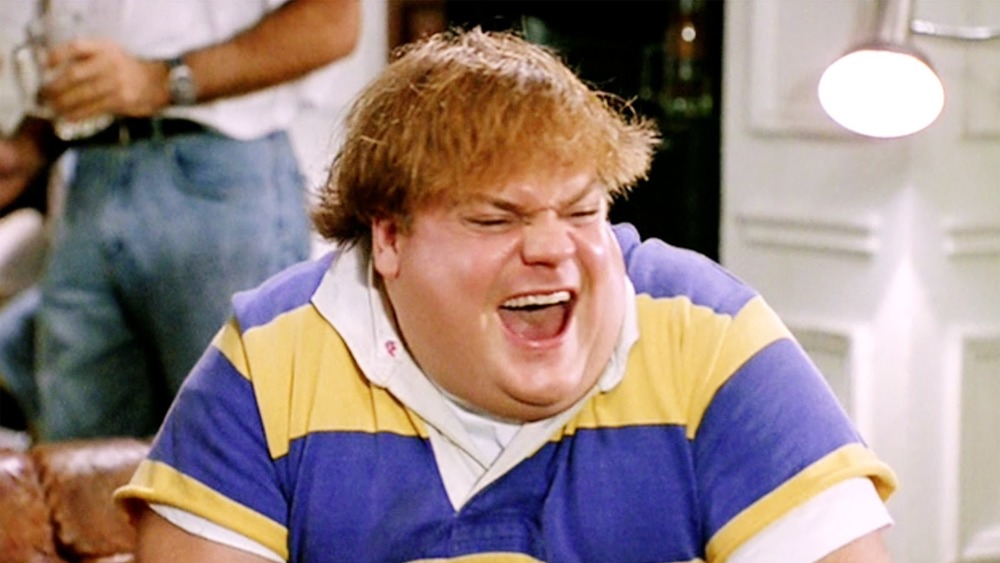 Paramount Pictures
In the 1990s, Chris Farley was able to take any role handed to him and turn it into comedic gold. He became beloved by millions after joining the cast of Saturday Night Live and starred in some of the funniest sketches the variety show has ever seen. Comedy isn't exactly known for aging well, and yet watching Farley as motivational speaker Matt Foley yelling at people about how he "lives in a van down by the river" will never not be hilarious. It was just one of the many iconic moments Farley created during his tenure on the show, before he was abruptly fired in 1995. 
Luckily, the comedic actor didn't have any problems finding more work, as he went on to star in some of the best comedies of the nineties. Sadly, Farley was taken away from the world too soon, when he died in 1997 at the age of 33. The last year of his life was filled with pain he kept hidden from much of the world, leaving behind a short but legendary filmography. 
Today, it appears as though modern audiences have never forgotten about the hilarious actor, as they've been watching arguably his most famous film on Hulu with the SHOWTIME add-on, according to FlixPatrol. Get ready to put on your little coat, because now is the perfect time to view Tommy Boy. 
Tommy Boy is a raucous comedy that gave Chris Farley the perfect showcase for his talents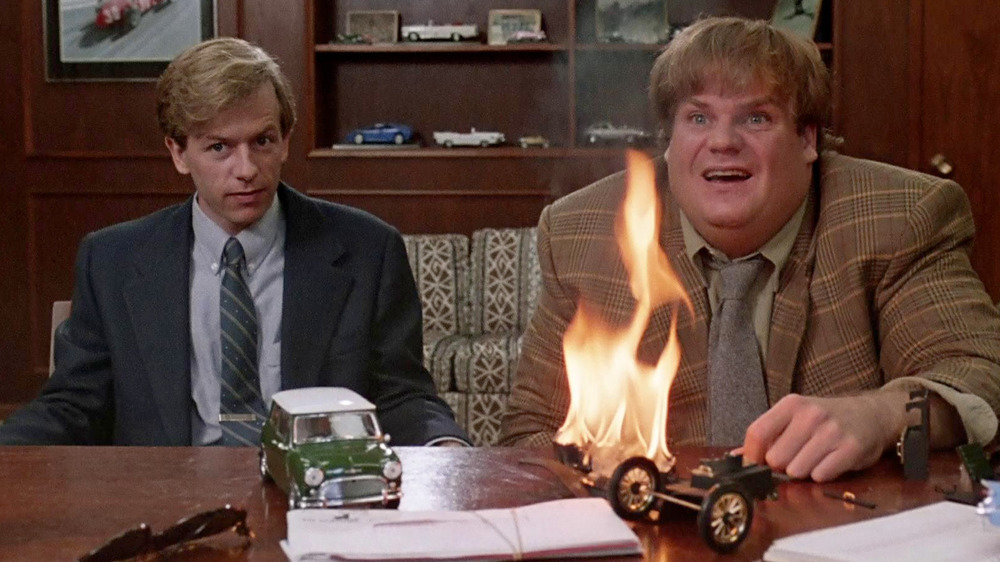 Paramount Pictures
Tommy Boy is one of those films that's packed to the brim with amazing quotes you can sprinkle into everyday conversations, like "Holy schnikes!" The movie is also, quite likely, responsible for creating the Mandela Effect of people thinking the original Darth Vader line in Star Wars: Episode V – The Empire Strikes Back is, "Luke, I am your father" as opposed to the actual, "No, I am your father" (via The Hollywood Reporter). In Tommy Boy, Chris Farley speaks the infamous misquote into a desk fan, and it seems to have confused movie enthusiasts for the rest of time. 
It's just one of the many moments that endeared the titular Tommy Callahan (Farley) to moviegoers as he struggles to follow in his father's footsteps, upon his passing. Tommy isn't exactly what you'd call the brightest bulb in the box, but when he inherits his dad's auto parts factory on the verge of bankruptcy, he grows up (at least a little bit) to keep the workers employed. He hits the road with his father's assistant, Richard (David Spade), to try to find clients who can keep the factory in business. The cast also includes Rob Lowe, Bo Derek, and Dan Aykroyd. 
Various hijinks ensue, resulting in classic bits you need to watch at least once in your life. From the two leads trying to act like they don't both love "Superstar" by The Carpenters, to pretending their car is filled with bees to avoid trouble with the police, the film finds humor in all kinds of places. Farley was a comedic force to be reckoned with, who left this world too soon, but at least we still have his hilarious films to remember him by.