The Internet Thinks The Simpsons Predicted Kamala Harris At The Inauguration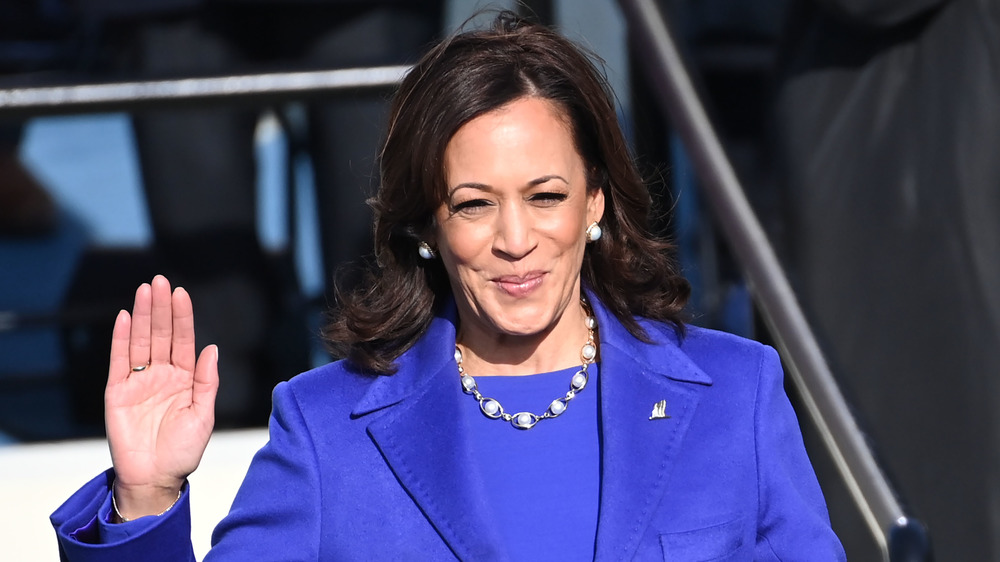 Pool/Getty Images
The Simpsons, which became the longest-running primetime scripted series in 2018, has a knack for "predicting" the future, and fans think they may have done it again.
On January 20, 2021, a new Presidential administration took the reins in the United States when President Joe Biden and Vice President Kamala Harris were sworn into office on the steps of the Capitol, after triumphing in the November 2020 election. Right from the beginning, Vice President Harris' nomination was poised to be historic; upon her swearing in, she became the first Black woman, the first Asian-American, and the first female politician to ever be elected to national office in the history of America.
In the aftermath of the 2021 Inauguration, after Vice President Harris donned a bright purple suit and coat by Black, Louisiana-based designer Christopher John Rogers — alongside a pearl necklace crafted by Puerto Rican jeweler Wilfredo Rosado — fans took to the Internet, comparing her real-life outfit to one depicted in the Simpsons years ago. Here's why Simpsons fans think the series predicted Vice President Harris' 2021 inaugural outfit.
The Simpsons featured a Presidential outfit very similar to Vice President Harris' look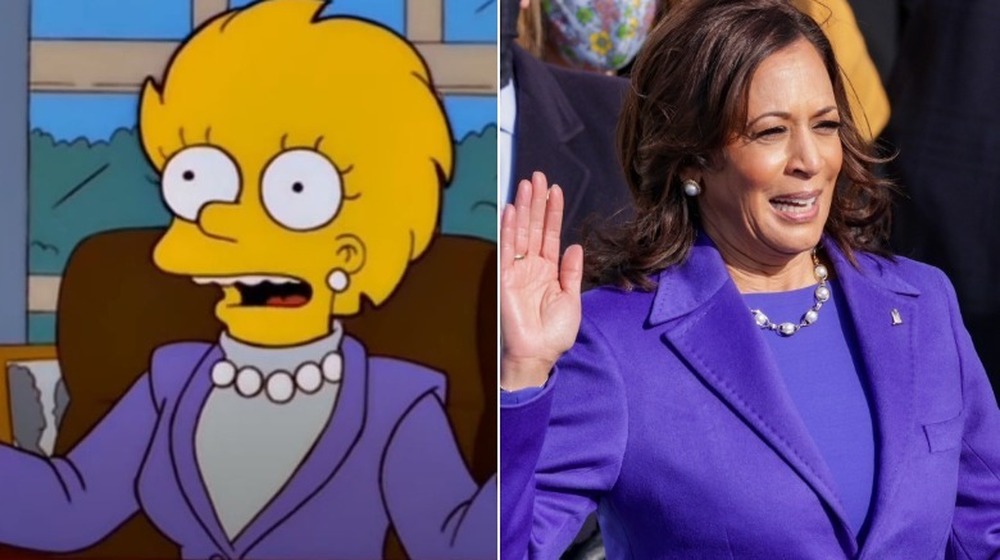 Fox, Alex Wong/Getty Images
On March 19, 2000, The Simpsons aired an episode called "Bart to the Future," which imagined what would happen if Lisa Simpson (voiced by Yeardley Smith) became President of the United States. As President Simpson addresses her cartoon Cabinet, she tells them that they have to deal with "quite the budget crunch" inherited from "President Trump," referring to Donald Trump — who, at the time, was a real estate mogul and reality television star. In the scene, Lisa wears a purple suit and string of pearls that look shockingly like Vice President Harris' outfit.
Of course, the show couldn't have possibly predicted that, sixteen years later, Donald Trump would win the 2016 election and become President of the United States in January of 2017, but the coincidence is pretty uncanny... as is the similarity between the cartoon outfit and the real one. Ultimately, after one term, the incumbent President Trump was defeated in the 2016 election, paving the way for President Biden and Vice President Harris to take office.
In fact, Vice President Harris' outfit was likely an ode to Shirley Chisholm, the first Black woman in US history to run for Vice President in 1972; former First Lady Michelle Obama and former Secretary of State Hillary Clinton also wore purple, which could be a nod to Chisholm as well as a call for unity that blends the blue of the Democrat party and the red of the Republican party.
In any case, the outfit similarity between Vice President Harris and the fictional President, Lisa Simpson, is nothing more than a coincidence, but it's a pretty striking one all the same. You can stream The Simpsons, including "Bart to the Future," on Disney+ now.