WandaVision Episode 1 Features A Spider-Man: Homecoming Connection You Completely Missed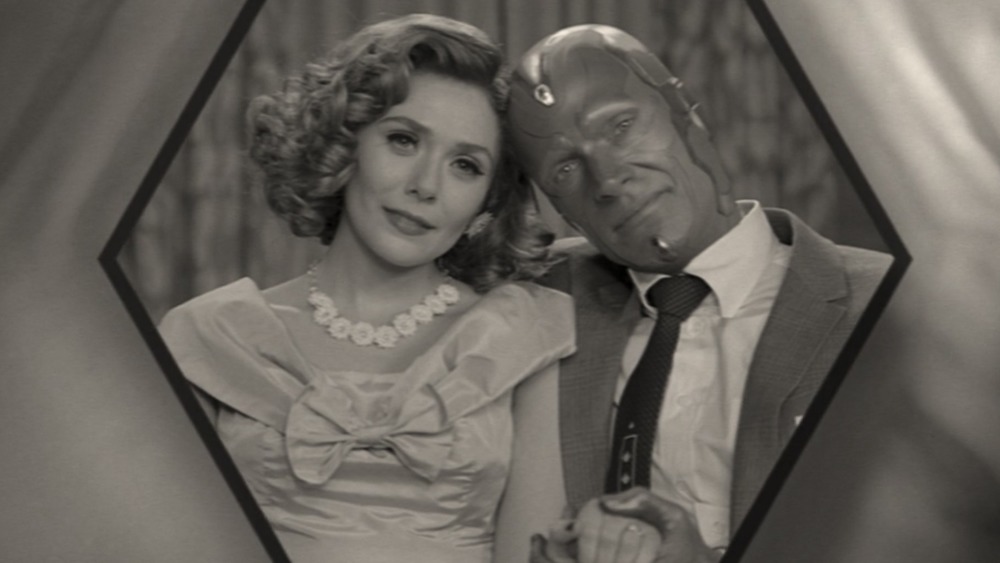 Marvel Studios/Disney+
Contains spoilers for WandaVision
Finally, the day has come and WandaVision has officially premiered. With fans rushing to Disney+ to watch the first two episodes available now, there's probably a lot that they're missing on the first watch-through. Marvel is known for including many Easter eggs and small details into nearly every scene, either setting up for events to come or merely referencing Marvel history and mythology. Of course, WandaVision is no exception to this standard, and there are plenty of hidden Easter eggs for eagle-eyed fans to find.
In the opening episode of the series, viewers are taken into a black-and-white sitcom modeled after 1950s hits like I Love Lucy. Happily married and moving into a new neighborhood, Wanda Maximoff (Elizabeth Olsen) and Vision (Paul Bettany) begin living a normal everyday life — or at least as normal as life can be for a super-powered woman and her android love. While the first episode of WandaVision recounts a disastrous yet still surprisingly successful dinner with Vision's boss Mr. Hart and his wife (Fred Melamed and Debra Jo Rupp), there are a surprising amount of important details in the credits of the show within the show.
If you weren't paying close attention, you might have missed a sneaky reference to a character from Spider-Man: Homecoming.
The important name included in the sitcom's fake credits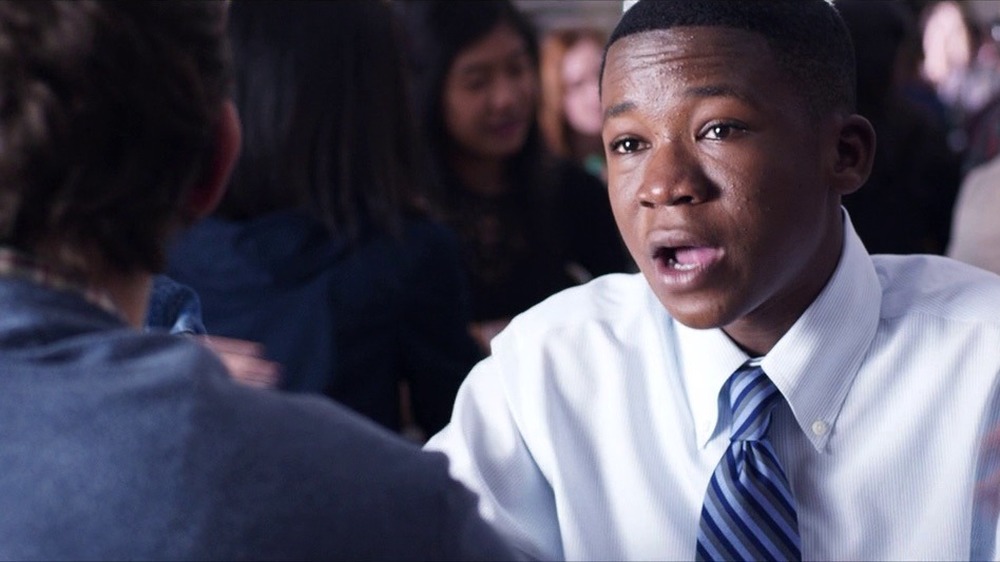 Marvel Studios/Sony Pictures
After Wanda and Vision successfully make it through the work dinner, they sit their couch and lament about missing the trademarks of a normal relationship. The "episode" of the WandaVision sitcom comes to an end and the camera zooms out, revealing that it's playing on a strange monitor in what looks like a decked-out observation room. An unknown person is writing down notes, as multiple monitors track other variables. Along with that, there is a clear S.W.O.R.D. logo in the corner of one screen. 
But that's not all. In the fake sitcom's credits, there's a list of seemingly random names for director, production manager, director of photography, and other expected roles. However, not all of the names are meaningless. The name of the supposed director, Abe Brown, is actually a character from Spider-Man: Homecoming.
Played by Abraham Attah, Abe is a member of the Midtown School of Science and Technology's decathlon team, alongside Ned Leeds (Jacob Batalon), Michelle Jones (Zendaya), and Peter Parker (Tom Holland). He appears at the decathlon event in Washington D.C., as well as in the Washington Monument when Peter has to rescue everyone. Abe works together with teammate Cindy Moon (Tiffany Espensen) and his other friends, and appears to be friendly with Peter.
Abe Brown's role as Black Tiger in the comics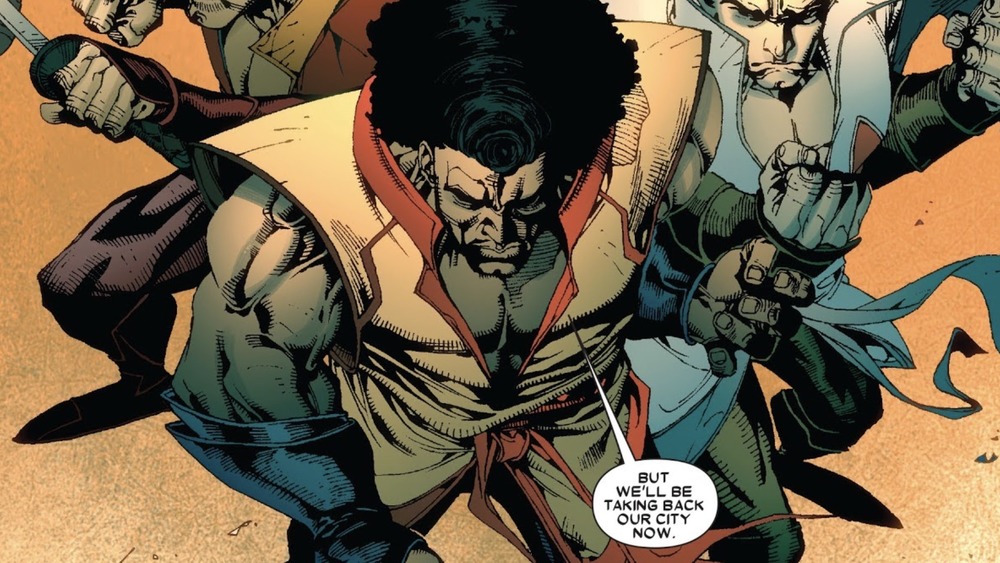 Marvel Comics/Stephen Segovia, Paco Diaz Luque
Spider-Man: Homecoming depicted multiple characters with significant roles in the Marvel comics as Peter's classmates. This includes Tiffany Espensen as Cindy, known as Cindy Moon in the comics, who becomes the superhero Silk, and decathlon teammate Betty Brant (Angourie Rice), who's a reporter at the Daily Bugle in the comics. 
Then there's Abe Brown, whose Marvel history goes back to 1974 with his first appearance in Deadly Hands of Kung Fu #1. Growing up in Harlem, Abe takes up martial arts as a form of defense. Through kung fu, he becomes friends with Lin Sun and Bob Diamond, and together, they form the Sons of the Tigers. Later on, Abe is given the title of Black Tiger, an important hero for the Muslim people of Murkatesh (via Comic Vine). Despite having no superpowers, Abe is so skilled that he can catch a bullet with his bare hands. 
The character also has a significant connection to another superhero: the Prowler, aka Hobie Brown, who is his younger brother. Though initially a thief, the original Prowler quickly changes his ways and becomes a key ally to Spider-Man. A later iteration of the Prowler named Aaron Davis, a petty criminal, also shows up in Spider-Man: Homecoming played by Donald Glover. 
Looking at WandaVision, it's likely that the inclusion of Abe Brown's name in the sitcom's credits is only there as a callback to the character. But who knows? It could turn out to be a surprisingly important detail in the rest of the season.