Why Kyler From Cobra Kai Looks So Familiar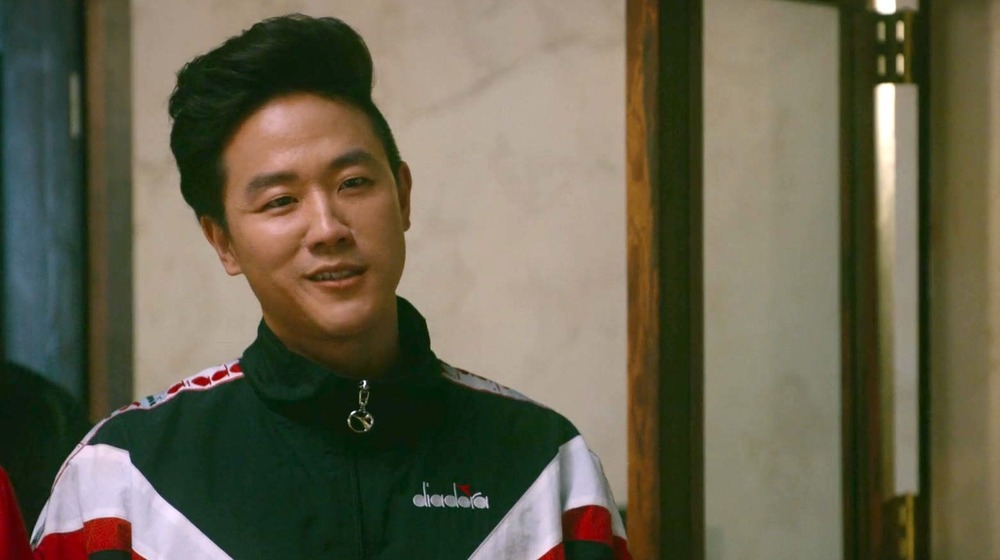 YouTube/Netflix
A television series spin-off of the beloved The Karate Kid film franchise that began in 1984, Cobra Kai premiered its first season on YouTube Red in 2018. After receiving a ton of praise from critics and audiences alike, the show continued for another season on YouTube before Netflix acquired it. A long wait later, and the third season of Cobra Kai finally dropped on the streamer on January 1, 2021, and a fourth is already on its way. 
With Ralph Macchio and William Zabka reprising their roles as Daniel LaRusso and Johnny Lawrence, respectively, Cobra Kai focuses on a new generation of karate kids, trained by the rivals. Xolo Maridueña plays a teenager named Miguel Diaz, who convinces his neighbor Lawrence to train him at a reopened Cobra Kai Dojo so that he can learn to defend himself from bullies.
One of those bullies is a character named Kyler, played by actor Joe Seo. The main antagonist of Cobra Kai's first season, Kyler loves attention and appreciation and will put others down to get it. He is also very manipulative and good at lying. For a while, he dates Samantha LaRusso (Mary Mouser), the daughter of Daniel LaRusso, but she quickly discovers his true nature. Returning as an antagonist in season 3, Kyler is now training at the Cobra Kai Dojo, under the new leadership of John Kreese (Martin Kove).
Think you recognize Seo from another role? Here are the actor's biggest parts before joining Cobra Kai.
Joe Seo gave an amazing performance as David Cho in Spa Night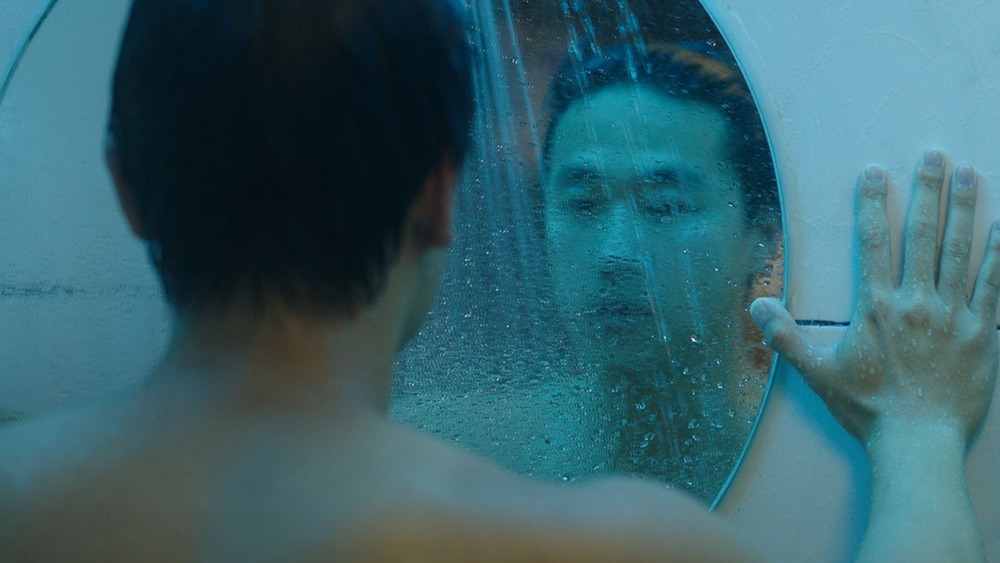 Sundance/Andrew Ahn
In 2016, Seo led the cast of the hauntingly emotional LGBTQ+ drama, Spa Night, directed by Andrew Ahn. Seo plays a Korean-American teenager named David Cho who hates seeing his family struggling to pay for his education, so he takes a secret part-time job at a Korean all-men's spa in Los Angeles.
As a closeted gay man, David faces no outside bullying or other factors pressuring him. His main obstacle is his family, who he loves and believes are good people, but given a traditional upbringing, David is unsure of whether they will accept him. Additionally, the stress of financial costs is already weighing them down. At his workplace, David finds freedom to explore his sexuality and self-expression when he discovers that after hours, the spa becomes a safe haven and hot spot for gay men in the area.
Seo was praised for his earnest performance in Spa Night, with both the film and Seo winning awards, including the Special Jury Prize for Breakthrough Dramatic Performance at Sundance for Seo's role as David.
Seo played the character Sam in the Netflix film Message from the King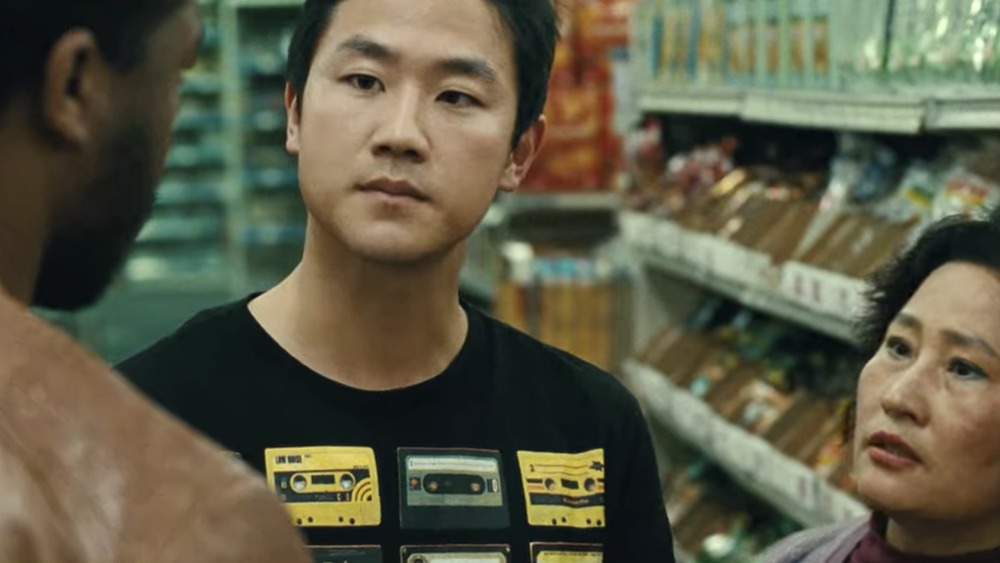 Netflix
In the same year, Seo played a small role in the Chadwick Boseman-led crime drama for Netflix, Message from the King. In the film, Boseman's character, Jacob King, travels from South Africa to Los Angeles after he gets a message from his little sister saying she's in trouble. Upon arrival, King goes to his sister's address to find her missing, with her young son also nowhere to be found. With little to go on, King begins to travel around the area she lived in and ask people if they've seen his sister, from her landlord to random shoppers at the grocery store.
This is where King meets Sam, played by Seo, a Korean-American shopping with his mother. After trying to ask Sam's mother if she's seen his sister and nephew, Sam steps in, taking over the conversation. Looking at the pictures King has of his missing family, Sam says that he saw the boy in the store a couple weeks prior, but not his sister. Talking to his mother in Korean, King questions Sam about what the woman is saying. Unfortunately, it's not good, as she was wondering if King had checked the morgue yet. While it's a short role for Seo, it's quite important for King's journey, as it leads him to the sad discovery of his sister's death.
Seo took on the role of Tikaani in The Vampyr Resistance Corps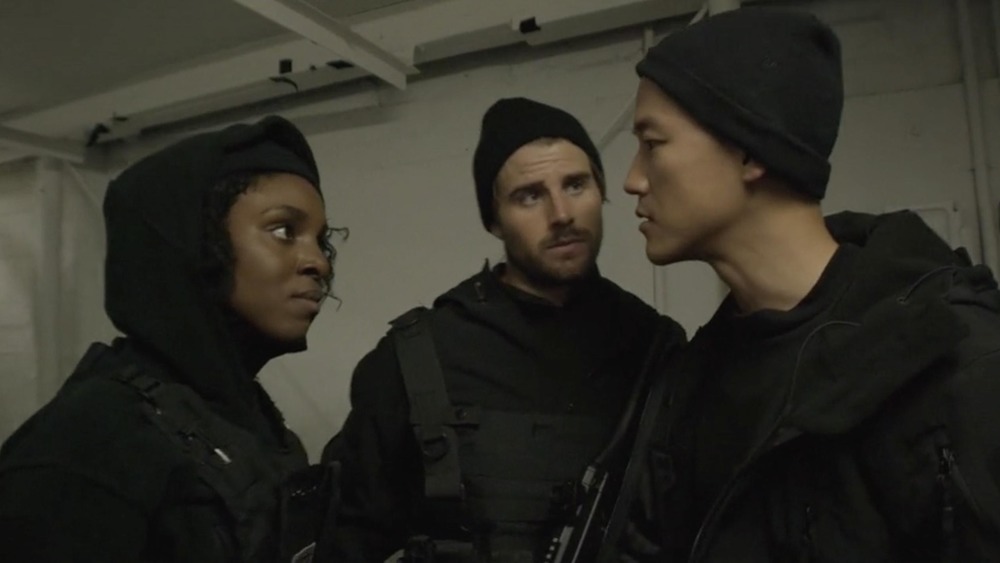 Terence Johnson
After a small appearance in season 8 of Hawaii Five-0, Seo's most recent major role is that of Tikaani in The Vampyr Resistance Corps, an independent web series set in a post-apocalyptic world infested with vampires. Three members of the resistance army leave their safe home base, fighting through vampires to rescue a high-ranking officer. Alongside Seo's Tikanni, the other two resistance fighters that lead the series are Lucien, played by Hollis W. Chambers, and Demetria, played by Karen Obilom. All episodes of the show are available to watch on The Vampyr Resistance Corps YouTube channel.
The project, created by Terence Johnson, was started as a part of the Film Independent Incubator Lab, a program that began in 2013 in partnership with Loyola Marymount University's School of Film and Television (via Indiewire). It is a year-long program that helps young alumni develop their first projects, which for Johnson, was The Vampyr Resistance Corps, a new diverse take on the horror and fantasy genres. One main focus of the series is Seo's character, Tikanni, and his romantic relationship with the main protagonist, Chambers' Lucien, as they work together with Demetria to save their friend and colleague.