Netflix Is Losing These Networks' Shows At The End Of This Year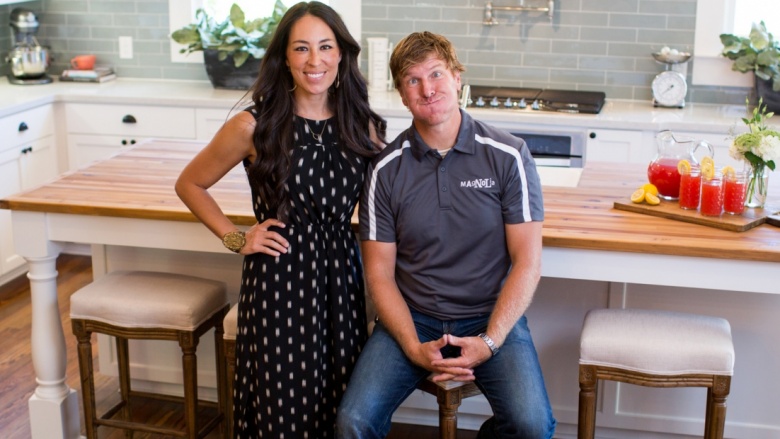 Netflix has spent the past few years building a diverse lineup to offer pretty much whatever you want to see at any given time. But as a 2014 deal draws to an end, the streaming service might be losing a few of your favorite shows. From Property Brothers to Cupcake Wars, there's a whole lot of reality TV-esque entertainment about to vanish from your Netflix queue.
Netflix cut a deal with Scripps Networks Interactive in the fall of 2014 (via /Film) to offer up programming from the company's various networks, which include HGTV, Food Network, Travel Channel and DIY Networks. That deal expires at the end of 2016, and it seems the companies have reached an impasse in negotiations that means it won't be renewed. For viewers who like to watch other people househunt, or learn how to cook the perfect meatloaf, that'll be a problem.
Those networks control several popular shows, and here's a breakdown of some of the most popular that will be affected: HGTV's Fixer Upper, Property Brothers, House Hunters, Flip or Flop, and Love It or List It will all be gone; Food Network's Cupcake Wars, Diners, Drive-ins and Dives, Chopped, Food Network Star and Cutthroat Kitchen; and Travel Channel's Man v. Food and Expedition Unknown as well as DIY Network's Kitchen Crashers will also be dropping off.
So why will all these shows be leaving Netflix's lineup? Long story short, it all comes down to money. In a recent earnings call, Scripps COO Burton Jablin said the company believes its agreement with Netflix "really is not the kind of dual-revenue model that best monetizes our content over the long term," meaning they want to find a way to levearage that content in a way that also allows them to sell advertisements around it (Netflix is, of course, famously ad-free).
There's no word yet on where these shows might resurface for fans looking to binge-watch them without actually dropping the cash on a full-fledged cable package, but you have to think Scripps will find a new streaming partner eventually. If the company wants to find a way to combine ads with their programming, you'd think Hulu could be one option, or perhaps even creating TV and streaming apps for their networks and selling ads themselves.
There's proven to be a huge audience for these franchises and types of shows, and the short, self-contained episodes are perfect for streaming audiences looking to throw something on to watch in a short amount of time without a major commitment. It's also indicative of the streaming business as a whole, and how increased competition (i.e. Amazon Prime, Hulu, CBS All Access, etc.) is creating a more fragmented—and expensive—landscape for viewers.
What do you think of the deal? Will you miss being able to watch Fixer Upper and Man v Food on Netflix?