Why The Bully In Cobra Kai Season 3's Flashback Scene Looks So Familiar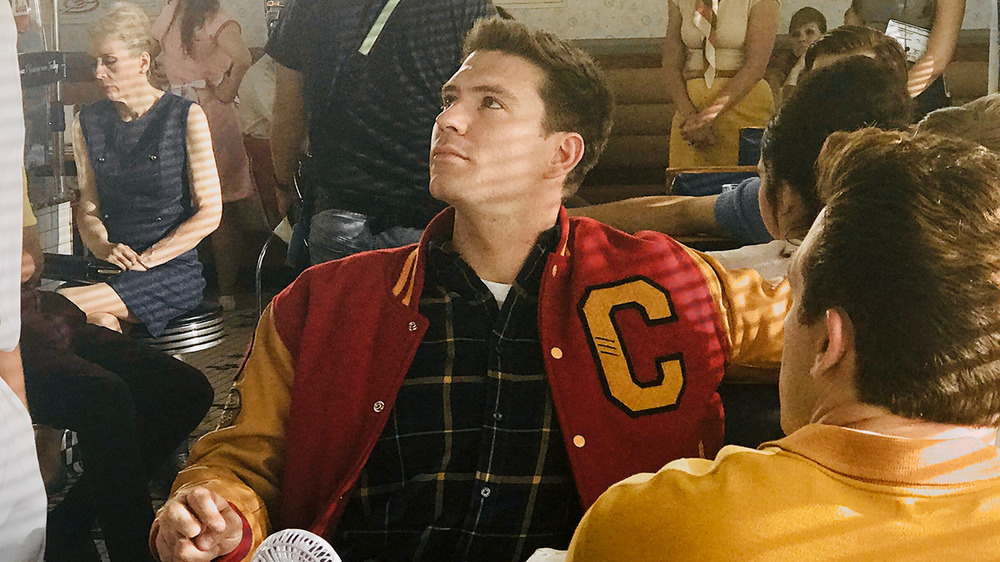 Jesse Kove/Netflix (via Entertainment Weekly)
The Karate Kid, slice of '80s nostalgia that it is, makes it very clear who the good guys are and who the bad guys are. Daniel LaRusso and his sensei Mr. Miyagi are the heroes. Johnny Lawrence, played by William Zabka, and John Kreese, played by Martin Kove, are the villains.
Cobra Kai is more complicated. There are no real heroes or villains, but the show is focused primarily on Johnny, how his life went wrong as a result of Kreese's teachings, and how the key to Johnny's salvation lies in creating a more merciful Cobra Kai dojo. The YouTube-turned-Netflix series spent its first two seasons focused on humanizing both Johnny and Daniel in ways that surprised and excited Karate Kid fans.
Cobra Kai season 3 takes the show's ethos and extends it someplace you might not expect — toward humanizing generational villain John Kreese. Prior to the second season of Cobra Kai, we don't really know much about Kreese. We know he's a Vietnam war veteran, we know Cobra Kai dojo was created by fellow vet Terry Silver, and we know that Kreese doesn't believe in ever showing an opponent mercy.
What Cobra Kai does is explore the time in Kreese's life that took him to Vietnam and made him the man he ultimately becomes. In the process, they introduced someone very unexpected and very familiar looking — Martin Kove's real-life son, Jesse Kove.
Martin Kove's son plays a surprising part on Cobra Kai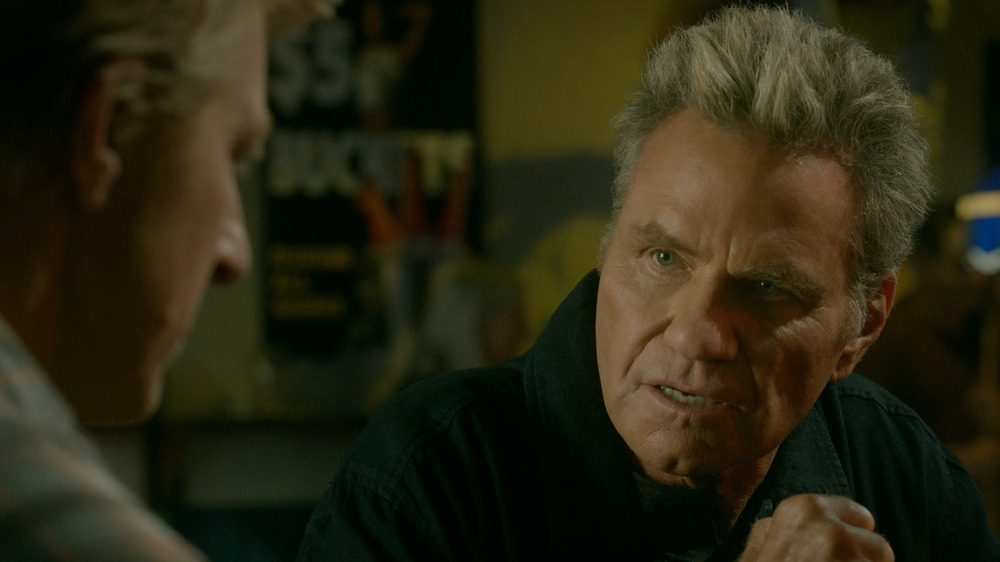 Netflix
So much of Cobra Kai relates to the trauma of youth. Unsurprisingly, Cobra Kai handles the nuance of John Kreese by exploring his youth and the times that led him to join up with the army and to deploy to Vietnam.
You might expect the young Kreese to be played by Martin Kove's son, Jesse. However, in a twist that makes perfect sense on Cobra Kai, Jesse Kove plays the guy who bullies young John Kreese, played by Barrett Carnahan. In the scene, Kreese is a poor bus boy at a diner who doesn't really have any direction in life. Kreese's mother suffered from severe depression and committed suicide — so naturally, the other high school kids torment him about it. At the top of the torture hierarchy seems to be a varsity captain named David, played by the younger Kove.
In an interview with Entertainment Weekly, Martin Kove showered Jesse with praise over his performance, and pointed out how happy the Cobra Kai crew was with his work. "As soon as I walked in, the writers are in media village and they're all watching this scene that Jesse is in because he had an earlier call time than me," says Martin Kove. "They stopped me and said, 'Your son is just killing it!' I hadn't even had a chance to say good morning yet. I felt like a million bucks."
Jesse Kove was similarly excited about joining the team of Cobra Kai. "It felt like I was joining this legacy of The Karate Kid universe but it also felt like this dream experience," he said. "How could I ever be in this universe? And these flashbacks were a perfect vehicle for that. I hope I made my dad proud."
Martin and Jesse Kove have worked together before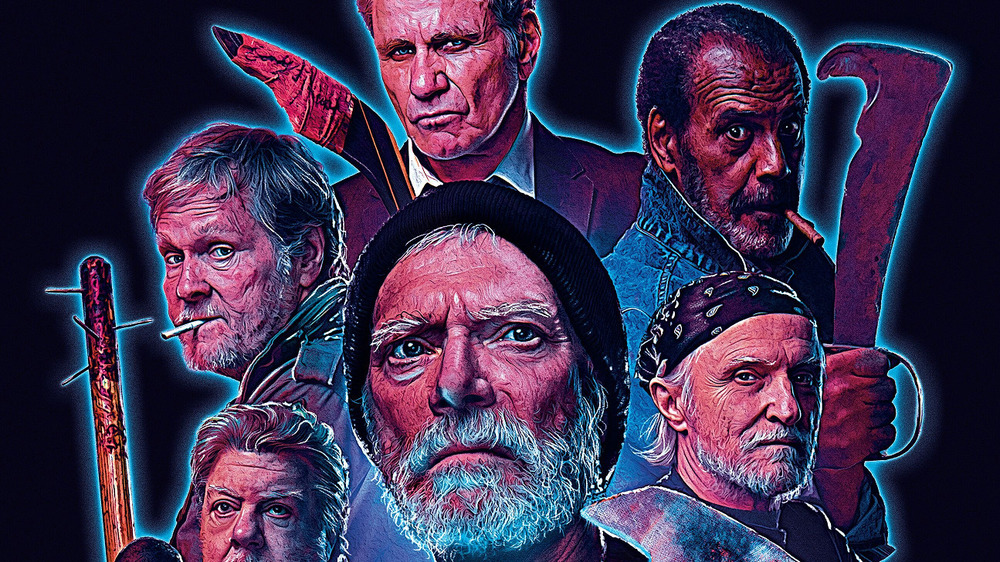 RLJE Films
While it's entirely possible that the primary reason you recognize Jesse Kove is because of the father-son family resemblance, the young actor has been working, and there are some other roles you might recognize him from.
Jesse Kove starred in the 2016 film On Wings of Eagles. This project is pretty notable in that it is about Olympic gold medalist Eric Liddell. Liddell was famously portrayed by Ian Charleson in the 1981 classic film Chariots of Fire. On Wings of Eagles is a kind of sequel to Chariots of Fire in that it picks up after Liddell won the gold and during the time he lived in China as a missionary. Joseph Fiennes stars as Liddell, but Jesse Kove plays opposite him as Hugh Johnson.
However, if you're a big Martin Kove fan then there is a more obvious reason why you recognize Jesse — he already starred with his father in a movie once before. In 2019, Martin Kove took on the role of an army vet once again alongside George Wendt, Stephen Lang, and William Sadler in VFW. VFW is part of a crop of throwback movies featuring classic action-horror stars. It's a little like The Expendables meets Death Wish. The plot is simple: A young woman on the run from a drug dealer takes refuge in a local VFW where a group of hardened army veterans back her up. Martin Kove has a starring role in the film as Lou Clayton. And, if you keep an eye out, you'll also see Jesse Cove as Ravenous Hyper.
So if you looked at that bully in the diner during Cobra Kai season 3 and thought he looked familiar, you know exactly why now. Cobra Kai season 3 is currently kicking the competition on Netflix.