The Office Promotion That Puts You In A Dunder Mifflin Employee's Shoes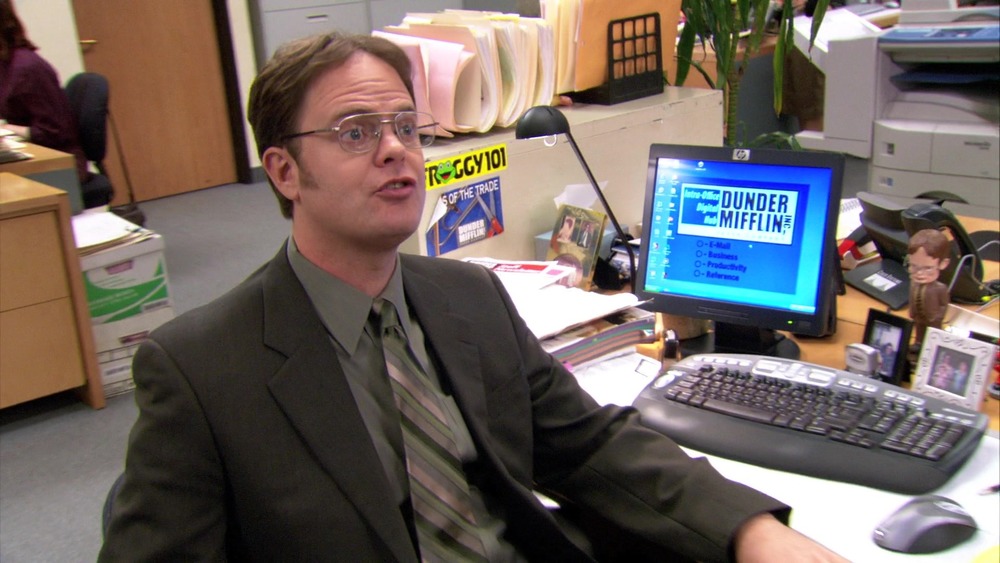 NBC
Anyone who wanted to ring in 2021 by binge-watching The Office on Netflix was in for a rude awakening. The show departed the streaming platform at the end of last year to move to its new home: NBC's streaming service — Peacock. While it's bad news for Netflix subscribers who wanted to return to Scranton, Pennsylvania every so often to check in with their favorite paper company, it's great news for executives over at Peacock. 
In the streaming wars, it's all about who has access to the best content, and with the exclusive streaming rights to one of the most popular sitcoms of all time, Peacock just made a major move. Unlike Netflix, which only controlled streaming rights, Peacock's parent company owns the whole Office IP shebang, which opens up some interesting promotional opportunities. The streaming platform's latest flex was to release a never-before-seen cold open that was originally supposed to air with the series finale. If you already watched that, and find yourself needing more Dunder Mifflin in your life, then you're in luck.
You can really feel what it was like to work behind a computer with Michael Scott supervising you with the latest Office promotional feature. Peacock recently debuted a fake employee desktop that allows you to peruse all kinds of Office goodies, and there are even a few surprises if you click in the right spots. 
Any Office fan will love the basketful of Easter eggs hidden on the site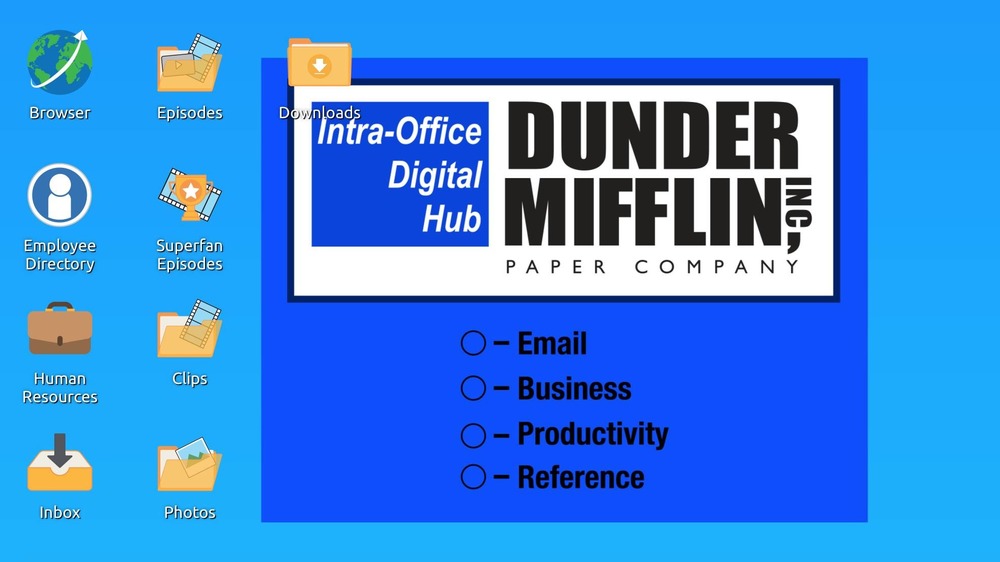 Peacock
While the goal of the website (not unlike another online relic from Dunder Mifflin Scranton) is undoubtedly to get people to sign up for a Peacock subscription, there's plenty of fun to be had just on its own. You can look through the Dunder Mifflin employee inbox to review various emails sent throughout the workplace over the years, including an invitation to Michael Scott's fun run as well as a notification of the annual free pretzel day. 
The "Episodes" folder allows you to access all 201 episodes of The Office (provided you sign up with Peacock). You can watch the first two seasons free (with ads), but anything beyond that will require a paid subscription starting at $4.99 a month. You'll also need a subscription to access the "Superfan Episodes," which includes extended cuts featuring deleted scenes of some of the best Office episodes ever like "Beach Games" and "The Job."
There's a lot of what you'd expect, but if you click around enough, you can find a fair share of fun Easter eggs. If you click on the "Recycle Bin" tab, then you can rotate through various clips of Dwight Schrute as Recyclops wreaking all kinds of environmental havoc on his co-workers. We'd also highly recommend checking out the "Human Resources" tab. We don't want to ruin the surprise, but suffice to say it accurately sums up Michael Scott's attitude toward HR. 
It's clear from the attention to detail that went into this site that Peacock is ecstatic to have The Office back in its roster. Will it be enough to drive legions of Office fans to the streaming service? Only time will tell.