The Surprising Way This Karate Kid Actor Was Convinced To Appear On Cobra Kai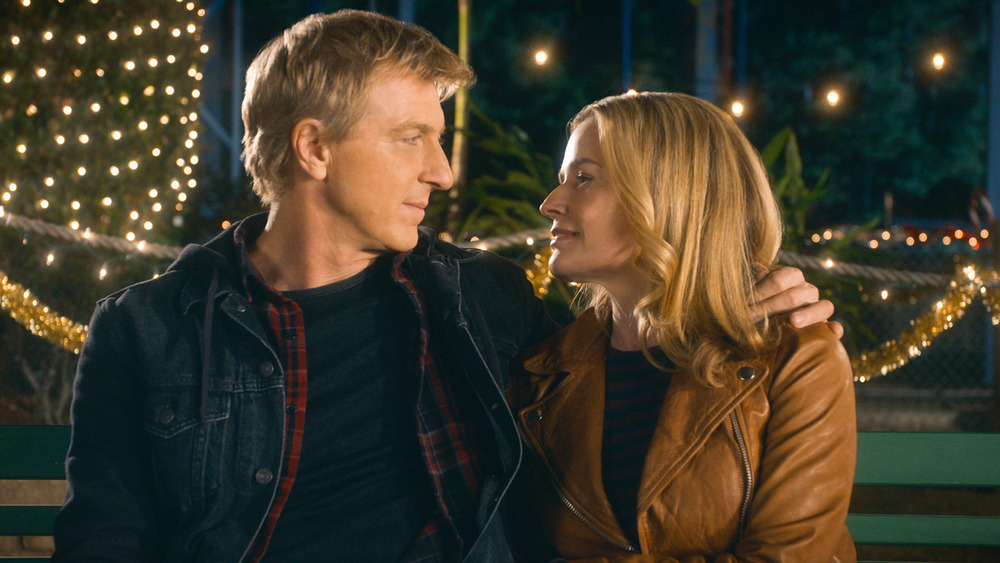 Netflix
Spoilers for Cobra Kai season 3 ahead
Cobra Kai season 3 is fresh out of the Netflix oven, and the newest ten-episode batch of bittersweet nostalgia-tinged martial arts comedy-drama is every bit as awesome as its predecessors. With franchise mega-villain John Kreese (Martin Kove) now in charge of the titular dojo while Daniel LaRusso (Ralph Macchio) and Johnny Lawrence (William Zabka) deal with their various (often karate-induced) problems, the third season is happy to go all in with its references to the original movie trilogy. 
Fans of Karate Kid Part II are no doubt delighted to see Daniel return to Okinawa and reunite with his old flame Kumiko (Tamlyn Tomita), his old nemesis Chozen (Yuji Okumoto), and even Yuna, the girl he rescued from the typhoon back in the day... and who this time returns the favor by saving his business. However, the absolute MVP of the season's returning characters has to be Ali Mills (Elisabeth Shue), who returns to Johnny and Daniel's lives for one glorious December day. 
While Ali's potential return was teased back in the season 2 finale, and she exchanges Facebook messages with Johnny throughout the third season, it's amazing to see her back in the flesh. After all, Shue is easily the biggest name to come out of the original Karate Kid movies, and one could have been forgiven for thinking that a production like Cobra Kai might find it difficult to secure an appearance by an Academy Award-nominated actress. Indeed, it turns out that Shue was convinced to appear on Cobra Kai in a very surprising way.
A director on The Boys showed Elizabeth Shue how important Cobra Kai is to fans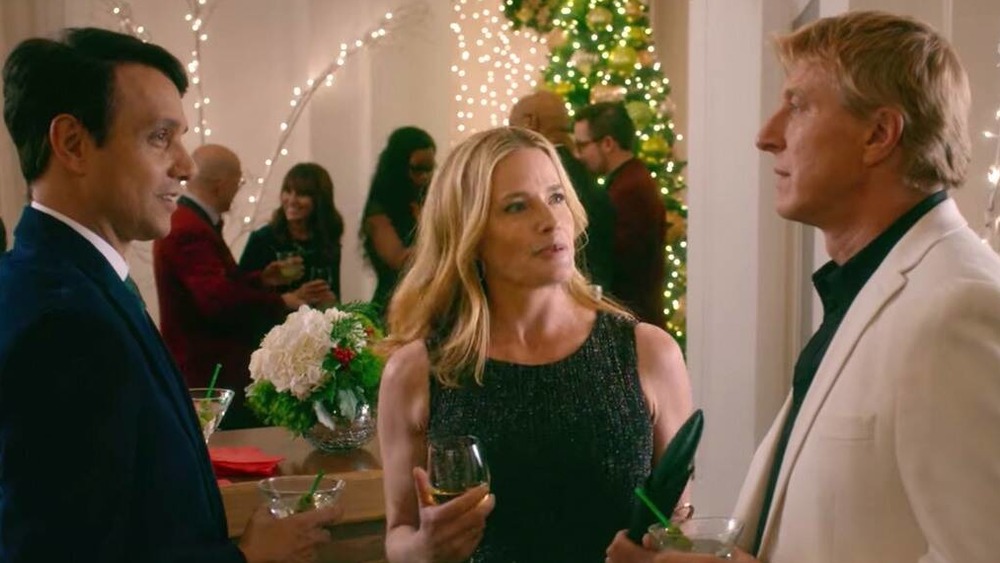 Netflix
Fans of Amazon Prime Video's excellent superhero show The Boys will no doubt remember Elisabeth Shue as Madelyn Stillwell, the nefarious vice president of Hero Management at Vought International. However, you might be surprised to find out that the set of The Boys also played a major part in her Cobra Kai appearance. 
In a recent interview with Entertainment Weekly, Shue revealed that she hadn't really thought about a potential Cobra Kai appearance until she started working on The Boys, and director Dan Trachtenberg started pestering her about it. "When I showed up on the set for the first day, Dan came right over and said, 'You're doing Cobra Kai, right?'" Shue said. "I was like, 'What? I don't know... Do you think that's a good idea?' He goes, 'Is that a good idea? You have to be on Cobra Kai!' I said, 'Why, why do you care so much?' He said, 'You have no idea how important The Karate Kid is in my life.'" 
Trachtenberg's boundless love of The Karate Kid and Cobra Kai made Shue realize how important the franchise is for the fans, and it convinced her to sit down with Cobra Kai co-creators Jon Hurwitz, Josh Heald, and Hayden Schlossberg. After she realized that they were just as excited about The Karate Kid as Trachtenberg, she committed on the spot. 
However, she does have one minor, joking gripe about the experience. "I would have been up for a kiss," she laughingly complains about Ali's almost-but-not-quite moment with Johnny. "Are you kidding me? I'm bummed! They could have had a kiss!"