Exclusive: Love And Monsters Deleted Scene Sees Dylan O'Brien In Danger
Time to add "possibly getting attacked by a creepy monster clawing its way through the backseat of your car" to your list of fears. 
That admittedly implausible-in-real-life worry is very much a legitimate concern for Joel Dawson, the protagonist of Paramount Pictures' Love and Monsters who's played by Teen Wolf and The Maze Runner alum Dylan O'Brien. Ahead of the film's January 5 release onto 4K Ultra HD, Blu-ray, and DVD through Paramount Home Entertainment, Looper is thrilled to share an exclusive deleted scene that finds O'Brien's Joel freezing up in a moment of sheer panic. 
Love and Monsters follows Joel in a post-apocalyptic world overrun by monsters that were once Earth's cold-blooded animals, mutated into dangerous creatures thanks to chemical fallout from the destruction of an asteroid. At the outset of the apocalypse, as Joel is evacuating from Fairfield, California, he and his girlfriend Aimee (Jessica Henwick) become separated, and his mother and father die. Joel promises that he'll find Aimee again — and seven years later, now living in a colony of survivors in an underground bunker, Joel is still determined to reunite with his love. That determination only grows in intensity when a mutant ant kills a member of Joel's colony during a terrifying breach. It's up to Joel to push his fears aside — and overcome his tendency to become terror-stricken in the face of danger — if he wants to not only find Aimee, but also survive in the world.
The deleted scene, featured above, shows Joel taking refuge inside a car amid a field of tall grass. When he notices that the car's passenger-side window is slightly open, he panics, stretching himself across the seat to manually shove the window back up into its frame. Joel has a good reason for getting worked up: As soon as the window is closed, an unseen monster wipes its gooey hand across the glass, then scuttles up and over the top of the car. For a moment, it seems like the monster might try to enter the car by ripping off the driver-side door — but when it doesn't, Joel breathes a sigh of relief. That feeling of safety doesn't last more than a few seconds, though, as Joel hears the monster tinkering with the trunk. When he turns over his shoulder, Joel is met with the sight of the monster's claw tearing through the fabric of the car's backseat panel. 
Sink your teeth into Love and Monsters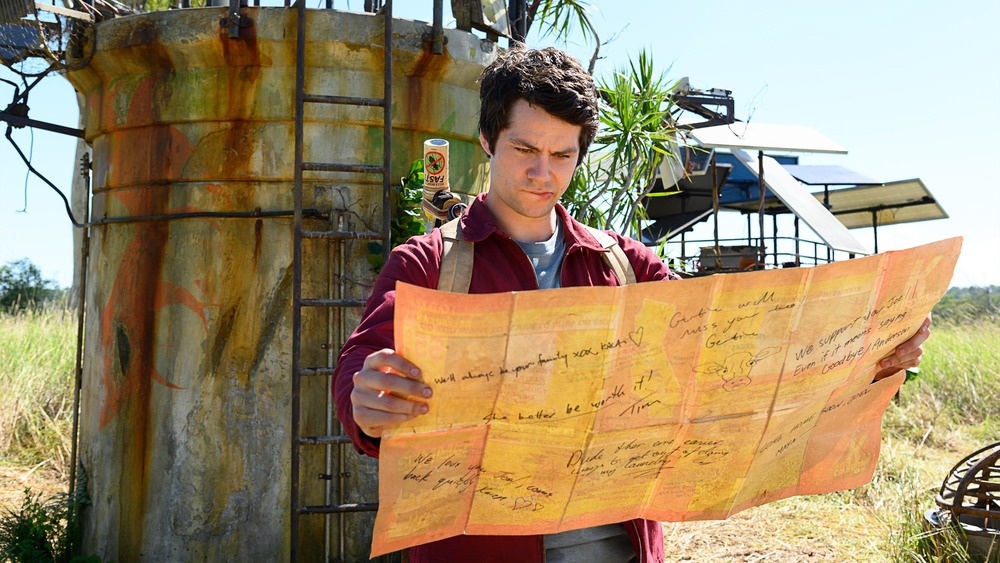 Paramount Pictures
Of course, this deleted scene is just a taste of the kind of adventure Love and Monsters offers, a mere teaser of what the official cut of the movie itself is like. The film, directed by Michael Matthews and co-produced by Stranger Things' Shawn Levy, captivated critics and swept up audiences when it hit select theaters and arrived via vide on demand on October 16, 2020. Common points of praise amongst reviewers and fans alike have been O'Brien's magnetic performance as Joel, the film's exploration of post-apocalypse life, the dazzling special effects, and the story's emotional weight. 
"[The] Hollywood debut of South African director Michael Matthews, post-apocalyptic sci-fi/action romance Love and Monsters is a pleasant fall surprise, with whiz-bang special effects and an affably weird delivery of a familiar story. Co-written by Brian Duffield and Matthew Robinson (from a spec script by the former), the picture also reaffirms Dylan O'Brien as a formidable action star with solid comic chops," wrote Samuel R. Murrian of Parade Magazine. The critic even argued that Love and Monsters "proves Dylan O'Brien should be the next Indiana Jones," and "should be remembered for its visual effects throughout awards season."
In other words, there's a whole lot to love about Love and Monsters. Heck, we even consider it one of the best action movies of 2020 – and you likely will too. Check out Love and Monsters when it arrives on 4K Ultra HD, Blu-ray, and DVD on January 5, 2021 from Paramount Home Entertainment.