Wonder Woman 1984 Features Some Meaningful Cameos You Definitely Missed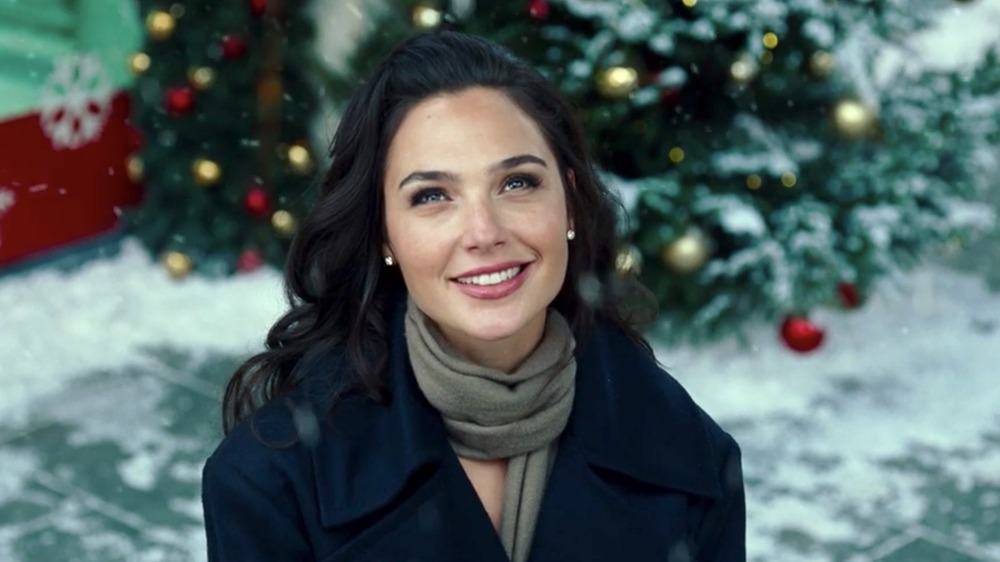 Warner Bros./DC Entertainment
Contains major spoilers for Wonder Woman 1984
A gift for the holiday season, Warner Bros. released Wonder Woman 1984 on Friday, December 25, 2020 in U.S. theaters and on HBO Max — a hybrid release strategy that the company intends to utilize for all of its upcoming 2021 releases, including the Dune remake, The Matrix 4, and many more. Finally arriving to the masses after a string of delays — and more than three years after 2017's Wonder Woman – Wonder Woman 1984 continues on from the original film in an exciting way: It jumps forward 66 years into the future to place our hero, Diana Prince, right in the middle of the 1980s. 
Gal Gadot returns as the title character, who's no longer the fish out of water in the world of man. To everyone around her, Diana is a senior anthropologist at the Smithsonian Institute in Washington, D.C., but when trouble arises, she springs into action to become the crime-fighting Wonder Woman. Things change for Diana when the FBI busts up a jewelry store that acted as a front to hold stolen ancient artifacts — one of which is called the Dreamstone, which Diana investigates alongside her new co-worker Dr. Barbara Minerva (Kristen Wiig). Maxwell Lord (Pedro Pascal), a smarmy businessman aiming for extreme success, has nefarious plans for the Dreamstone; meanwhile, Barbara wishes to become just like Diana, and Diana wishes for her long-dead love Steve Trevor (Chris Pine) to be at her side once more.
Obviously, there are a lot of moving parts in Wonder Woman 1984: a new time setting, a new physical setting, new characters, new stakes, and Easter eggs and secret details incorporated into basically every scene. One would certainly be forgiven if they missed a few hidden references while trying to keep up with all the superhero action present in the sequel movie. However, for one detail in particular – a series of cameos in the film — it's likely that almost everyone missed them, until Gadot and director Patty Jenkins pointed them out themselves. These cameos have a personal connection to the two women, and can be spotted in one particular scene at the end of Wonder Woman 1984.
Gal Gadot and Patty Jenkins' families cameo in Wonder Woman 1984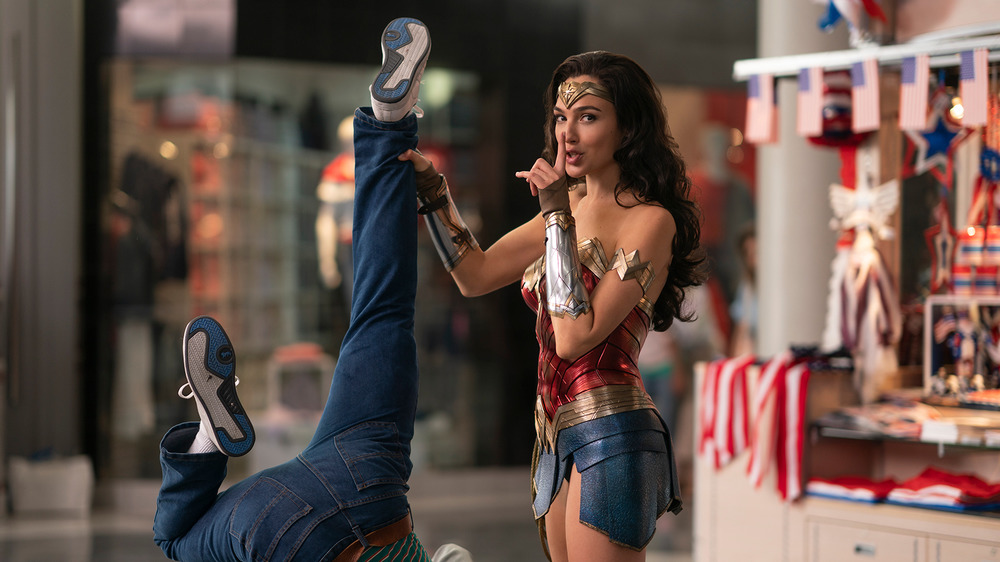 Warner Bros./DC Entertainment
While there has been a lot of chatter about the big cameo in Wonder Woman 1984's post-credits scene, which sees famed Wonder Woman actress Lynda Carter appearing as the mythological goddess-slash-Titaness-slash-warrior Asteria, and the sneaky inclusion of original Wonder Woman character Etta Candy (Lucy Davis) through a photograph Diana keeps in her apartment, there are a bundle of other cameos in one of the film's last few scenes that most everyone missed. 
Speaking with entertainment reporter Kevin McCarthy for his #GoodDayDC series (via Twitter), Gadot revealed that her two daughters and her husband, Yaron Versano, all appear in Wonder Woman 1984. The three pop up in a scene at the end of the film, when Diana walks around a snowy street through what looks like a little Christmas fair — Merry-Go-Round and all. As Diana walks, she gets hit with a stray snowball, thrown by a young girl and a young boy who are playing together. The two kids in question are Gadot's oldest daughter, Alma, and Wonder Woman 1984 director Patty Jenkins' son, Asa. Later on in the scene, the camera moves through the celebration, showcasing a toddler and her father on a carousel. This little girl happens to be Gadot's other daughter, Maya, with Gadot's husband watching over her.
In her discussion with McCarhty, Gadot opened up about how meaningful both the film and the family cameos are to her and Jenkins. 
"It meant a lot [to have my family in the movie], and especially in that very special scene," she began. "I have two daughters — both of them appeared. My oldest one appeared with Asa, Patty's son, and my youngest one — whom I was pregnant with during the reshoots for Wonder Woman, the first one — was there with my husband." 
Gadot continued, sharing that Wonder Woman 1984 is "more than just a movie" for her and Jenkins. "It completely changed my life, and the amount of labor and thought and emotions that we put into the movie is a lot. And I couldn't have done [the] movie without the support of my amazing family. And to have them captured in the film with me — because they are a part of it — meant a lot. And it's an amazing, amazing souvenir that we will forever cherish."
During a Wonder Woman 1984 digital watch-party that she live-tweeted, Jenkins shared in a tweet that the Christmas scene holds a special place in her heart. "Here we are. Christmas scene, and my beloved son with Gal's daughters and husband was amazing. Seeing them when we recounts the things that [truly] make life worth living felt so right." The filmmaker added that her husband was "out of town," explaining why he didn't appear alongside Gadot's husband. However, Jenkins did tease that he cameos in another place in the movie: "You can find him elsewhere if you try."
Sounds like yet another viewing of Wonder Woman 1984 is required.