Doctor Strange Is Marvel's 14th Consecutive No. 1 Movie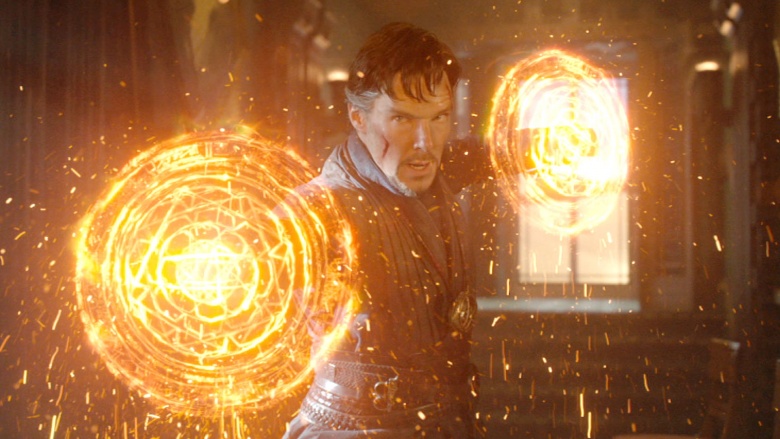 Surprise, surprise: Doctor Strange is a hit—no magic spells or tricks required.
Expanding into the mystical side of the Marvel Cinematic Universe was a fairly risky undertaking for Doctor Strange, but like pretty much every movie before it, Marvel's latest is yet another hit in a growing chain of blockbusters.
The opening weekend numbers are in, and Doctor Strange scored a magical $85 million, which was actually above projections for Marvel's new origin story. Along with the U.S. opening, the film has also grossed more than $240 million internationally. For a superhero movie about a character with little name cache outside the comic book realm, that's one heck of an accomplishment. It's worth noting Doctor Strange is now riding a wave of excellent reviews, and it stands to reason positive word of mouth should give the flick some staying power to keep making money over the next several weeks.
Doctor Strange's $85 million puts the film at No. 1 for the weekend, well ahead of fellow newcomer Trolls' $45.6 million opening. It also marked Marvel Studios' 14th consecutive No. 1 debut, dating all the way back to Iron Man in 2008. That's a record that will be hard for any other franchise to rival, and with a Guardians of the Galaxy sequel, Thor sequel (featuring Mark Ruffalo's Hulk in a supporting role), and new Spider-Man film on the way next, it's doubtful that trend will change anytime soon.
For the sake of comparison, Doctor Strange's $85 million in the U.S. puts it above the debuts of The Incredible Hulk ($55.4 million), Thor ($65.7 million), Captain America: The First Avenger ($65 million), and Ant-Man ($57.2 million). That's a solid box office debut no matter how you slice it, especially for a lesser-known here, but still well below something like The Avengers ($207 million) or Captain America: Civil War ($179 million).
One interesting factor in Doctor Strange's success was the fact that 51 percent of the weekend's box office spending was on IMAX, 3D and PLF screenings—as opposed to typical 2D screenings—which are more expensive tickets. Doctor Strange featured some eye-poppingly surreal visuals that were perfectly suited to the IMAX and 3D technology. Disney distribution chief Dave Hollis told Deadline that success was a "testament to the real artistry here, as the movie uses every ounce of available technology to introduce something that hasn't been seen."
Doctor Strange is open now in theaters nationwide.