Why Cyn From The Expanse Looks So Familiar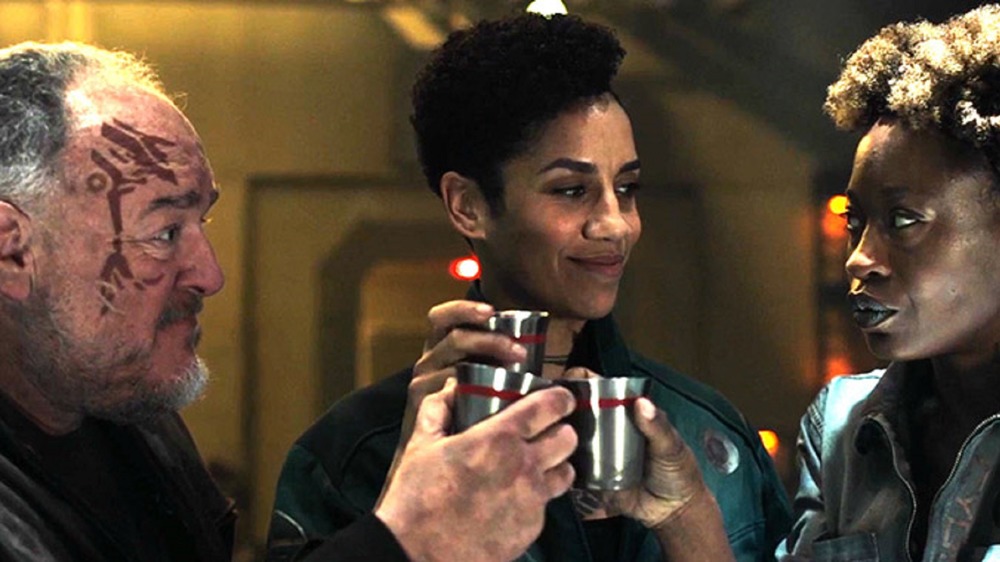 Amazon Studios
Amazon Prime Video's The Expanse may be coming to an end after its upcoming season 6, but fortunately, we still have the ongoing season 5 to contemplate upon before worrying about that. The plot of The Expanse has been, well, expansive from the very beginning, but the fifth season pulls out all the stops by separating the core characters to lead their own stories. As is the show's custom, the season also introduces the fans to a number of cool, new characters. One of the more visually striking newcomers of the season is the Belter called Cyn, a crafty Outer Planets Alliance operative who knows both Naomi Nagata (Dominique Tipper) and her ex-lover, the extremist Marco Inaros (Keon Alexander).   
Some fans may have noticed that behind his extensive facial tattoos, Cyn seems somewhat familiar. This is because The Expanse is far from the first rodeo for the actor playing the role, even if you might not be quite sure exactly where you've seen him before. Worry not — here's a handy explanation of why Cyn from The Expanse looks so familiar.
Brent Sexton is Harry Manning on Deadwood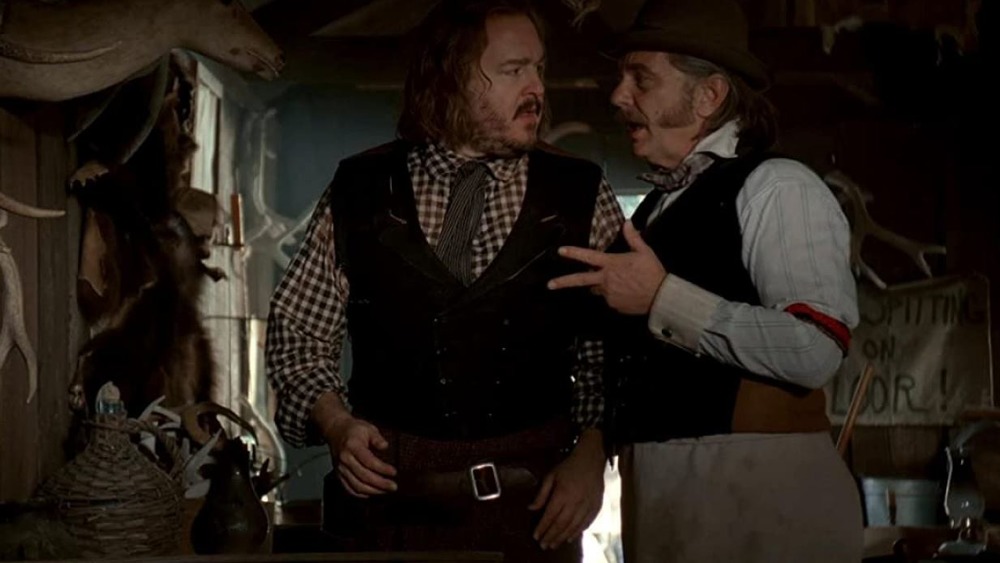 HBO
You might find veteran TV actor Brent Sexton familiar from any number of places. After all, his first acting credit is from 1990, and he's appeared on shows ranging from Walker, Texas Ranger and 3rd Rock from the Sun to The X-Files and 24. However, if one had to pinpoint a role in which he started truly turning heads, it would almost certainly be his stint as Harry Manning on HBO's legendary western, Deadwood. Manning enters the show's season 3 as the nice, affable bartender of the No. 10 Saloon, but eventually becomes involved in sheriff shenanigans and turns out to be an irredeemable, corrupt and murderous figure. This is a bit of a problem due to his role as sheriff Seth Bullock's (Timothy Olyphant) deputy, and eventual opponent for the sheriff's position. 
Deadwood being a veritable treasure trove of juicy roles and well-known actors, Sexton's Manning may have not gone down in history as the show's best-known character. Still, he did an excellent job with the role, and as his career has shown, it certainly managed to turn some heads. 
Brent Sexton is Stan Larsen on The Killing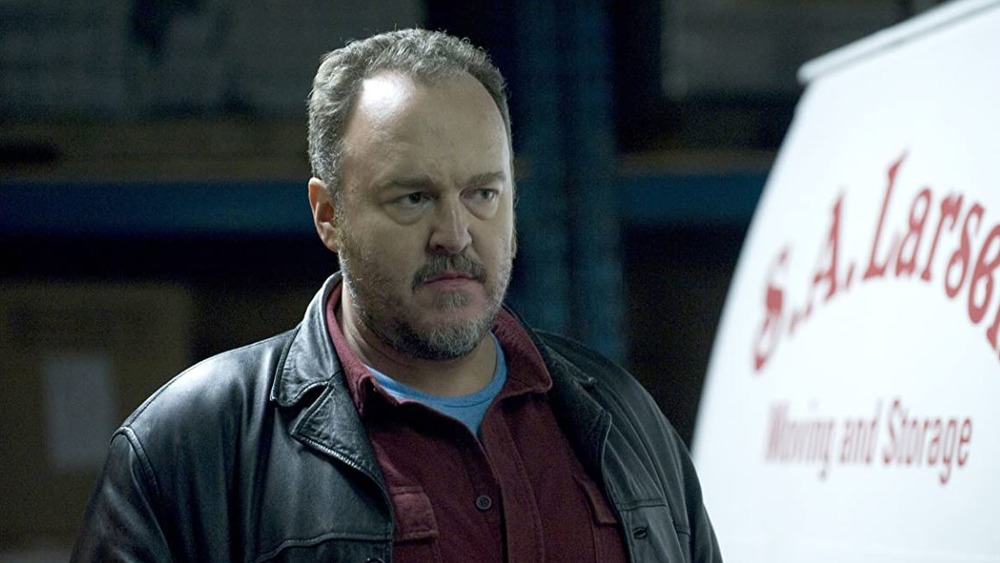 AMC
From 2011 to 2012, Sexton portrayed Stanley "Stan" Larsen on AMC's The Killing, the American crime drama based on the Danish Nordic Noir police procedural Forbrydelsen. The show follows the investigations of detectives Stephen Holder (Joel Kinnaman) and Sarah Linden (Mireille Enos), and Sexton is part of the main cast for the first two seasons.
Larsen is the owner of a moving and storage company — and secretly a former criminal who used to run with the Polish mob and struggled with gambling and alcohol. His largely reformed life is thrown into disarray when his daugter, Rosie (Katie Findlay), is murdered. As a result of this shocking turn, Larsen struggles to maintain his composure and tries to avoid giving in to his inner darkness. As he tells his wife, Mitch (Michelle Forbes), "I don't want to be that man again." Unfortunately, he ends up beating a suspect halfway to death, and upon learning that the guy was innocent, he turns himself in to the police — and ends up losing his freedom, reconnecting with his old criminal accomplice, and ultimately losing Mitch as well.  
In a 2012 interview with Vulture, Sexton revealed how he approached the conflicted, tortured Larsen. "Stan is just trying to keep everything afloat: allow the wife to have what she needs, try to keep the business afloat, try to take care of the boys, and it's just way too much. It's wearing him down." Later in the interview, he summed up the role in one, concise sentence. "It's a guy with limited choices but still just trying the best he can."
Brent Sexton is Hunter Mosley on Justified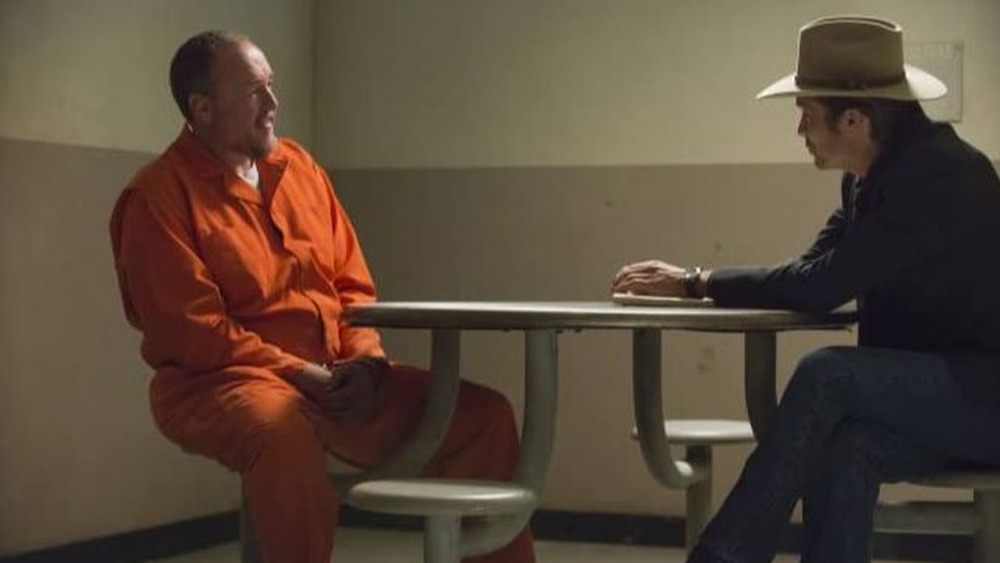 FX
Fans of the FX's gritty Western crime drama Justified might instantly recognize the man under Cyn's facial tattoos as Hunter Mosley, the extremely corrupt former sheriff of Harlan, Kentucky. The recurring character upholds what passes for law in Harlan back in the day, but he's not exactly a shining beacon of morality. Thanks to his grudge against the unseen Henry Crowder, who had assaulted and killed his young niece, he becomes affiliated with the Miami drug cartel, which helps him to catch Henry in exchange of being able to run drugs through the area. Mosley ultimately ends up in prison for his various crimes, and spends the rest of the series in an orange jumpsuit. 
In true Justified fashion, despite being a thoroughly immoral character, Mosley can be surprisingly sympathetic. He has his own, honor-based code, and he's a fairly likable dude who gets some genuinely awesome lines. As such, while he only appears in a handful of episodes, Sexton's role is extremely juicy and memorable — and since Justified just so happens to feature Timothy Olyphant, it also provides a cool reunion of the two Deadwood lawmen.