That Big Hero 6 TV Series Just Got Even Better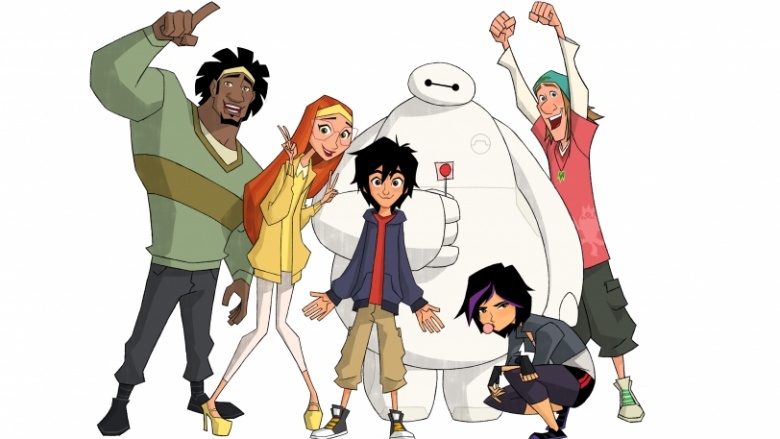 Instead of a big-screen sequel, Disney is turning its award-winning superhero film Big Hero 6 into an animated series—and now the small-screen adaptation has gotten a major boost.
The Big Hero 6 TV series is currently in development at Disney XD, and Deadline reports that several of the original voice actors have been booked to return. Maya Rudolph (Aunt Cass), Jamie Chung (Go Go), Ryan Potter (Hiro), Scott Adsit (Baymax), Alan Tudyk (Alistair Krei), Genesis Rodriguez (Honey Lemon), David Shaughnessy (Heathcliff) and even comics legend Stan Lee (Fred's dad) are reprising their roles—yes, that Stan Lee (see the film's post-credit scene for details on that one).
Though several Big Hero 6 alums will be back for the TV version, a few members of the core cast weren't able to return. The character of Wasabi, originally voiced by Damon Wayans Jr. in the film, will now be played by Khary Payton (The Lion Guard). Wacky fanboy Fred, originally played by T.J. Miller, will now be voiced by Brooks Wheelan (Saturday Night Live). It's obviously a shame not everyone could return, but it's great to see Disney score this many original stars.
The Big Hero 6 animated series will pick up immediately after the events of the 2015 film, as the team has finally come together as heroes and set off to protect their home of San Fransokyo. The show's format will follow the team as they take on a variety of different scientifically enhanced baddies. Considering the original film featured just one central villain, the weekly series will provide the opportunity for Big Hero 6 to build up its own rogues' gallery. Along with the superhero-ing, the show will also follow Hiro as he works his way through school and makes new friends at San Fransokyo Institute of Technology.
In addition to the core cast of characters, the Big Hero 6 series will also introduce several new supporting players. The series will feature comedian Andy Richter as the character Globby; Andrew Scott (Sherlock) as the new villain Obake; Jenifer Lewis (Black-ish) as Professor Granville; Diedrich Bader (American Housewife) as new character Bluff Dunder; Susan Sullivan (Castle) as Fred's mother; Sean Giambrone (The Goldbergs) as new character Richardson Mole; Haley Tju (Bella and the Bulldogs) as the group's classmate Karmi; and John Ross Bowie (Speechless) as new character Mel.
Big Hero 6 was a box office hit, earning more than $657 million worldwide in 2015. The film also won as Oscar as the best animated film of the year. The Big Hero 6 series is set to premiere in 2017 on Disney XD.