The Sad Criminal Minds Episode That No Fan Should Skip On Rewatches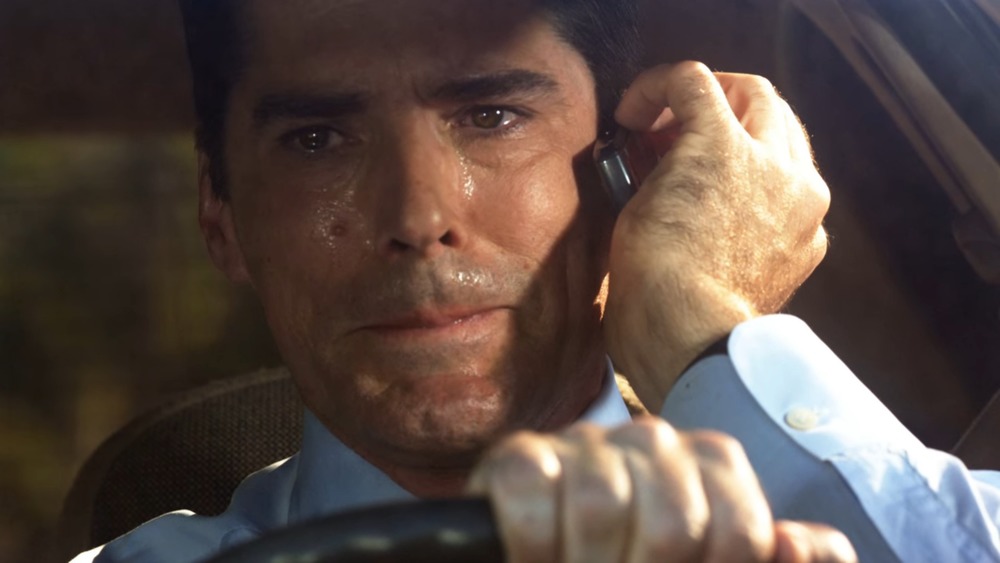 CBS
Despite its 323 episodes, fans regularly rewatch the crime procedural Criminal Minds for its compelling characters and dramatic storylines. But with so many episodes available, it might be easier to skip some of the most depressing episodes and still get the full Criminal Minds timeline. However, some of the real tear-jerkers are also some of the most affecting episodes of the series, and as a result really shouldn't be skipped. It's hard to expect a show centered on serial killers to be happy, but certain episodes are far more heart-wrenching than others, and the 100th episode certainly hits that mark.
Even if it's sad, don't skip the season 5 episode "100," because it is the culmination of a seasons-long story arc that has monumental consequences for the characters. Up until this point, the FBI's Behavioral Analysis Unit (BAU) has been haunted by serial killer George Foyet a.k.a. the Reaper (C. Thomas Howell). Foyet is a more personal foe than the usual episode-by-episode unsub. His case was Aaron "Hotch" Hotchner's (Thomas Gibson) first as a senior member of the BAU, but went cold for a number of years before resurfacing in season 4.
Foyet nearly kills both Derek Morgan (Shemar Moore) and Hotch, invading the latter's house and torturing him before dropping his unconscious body off at a hospital. Then, Foyet threatens Hotch's ex-wife Haley (Meredith Monroe) and their son Jack (Cade Owens). Hotch has now become the Reaper's nemesis, which is the perfect setup for the tragic events of episode "100."
The Reaper attacks Hotch where it really hurts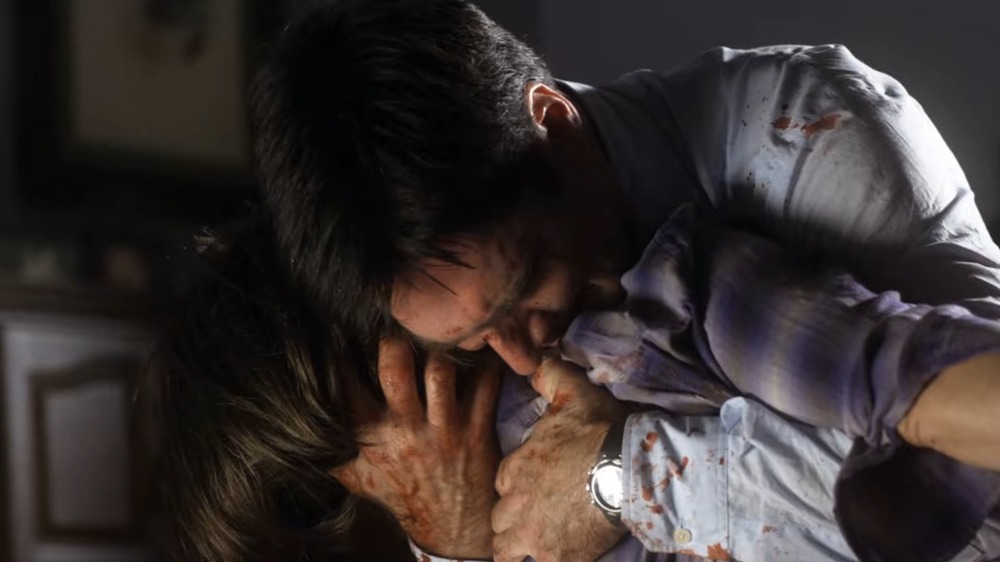 CBS
While it doesn't make the top five episodes according to IMDB, "100" is crucial to Hotch's character, who was the unit chief before the actor portraying him left the show. The episode is told in flashbacks, as each member of the BAU is interviewed about what happened.
It all starts with Haley and Jack in protective custody. Foyet tortures the U.S. Marshal in charge of them and uses the marshal's phone to trick Haley into going to a new location. Hotch calls Foyet and feeds his ego, trying to protect his family, but Foyet merely taunts him. As Hotch is driving to get to them, Haley calls him on the same phone Foyet was using. They talk, with Foyet listening in, and Haley realizes she's about to be killed. In a heart breaking scene that could make even a casual watcher cry, Foyet shoots Haley as she's still on the phone with Hotch.
When he finally arrives at the house, Hotch and Foyet fight until Hotch subdues him and beats him to death. Then, Hotch finds his son safe and hiding in a piece of furniture, which he'd told him to do in code over the phone. In the end, the woman questioning them over the case asks what would have happened if Hotch hadn't killed Foyet, and Hotch replies that he would have tried to kill Jack. She concludes that he didn't act unlawfully. It's an extremely difficult episode to watch, but it shows the love between Criminal Minds' most iconic version of the BAU, and an event that affects them for seasons to come.