George Clooney Warned Ben Affleck To Not Play Batman - Here's Why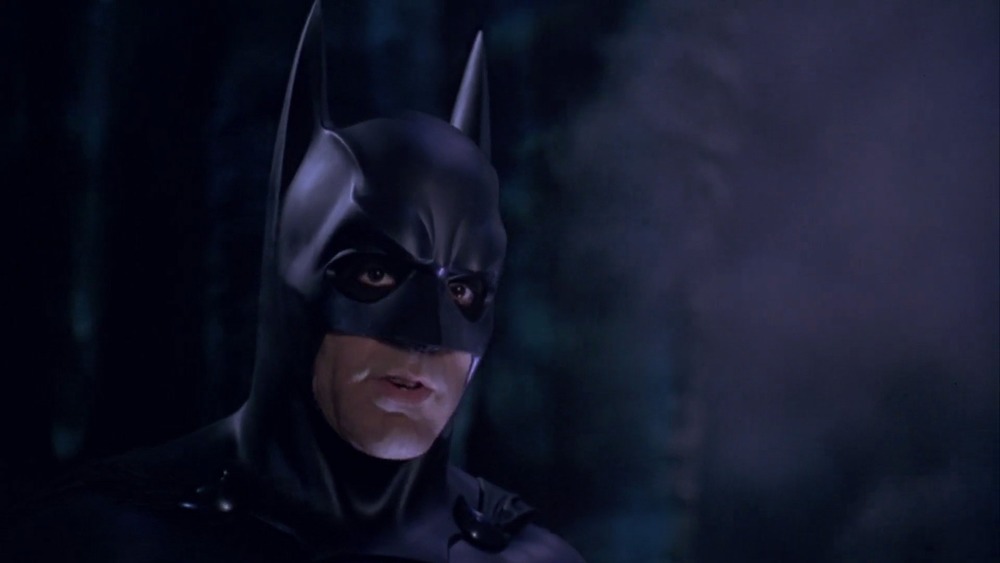 Warner Bros.
Batman is one of the most bankable and successful comic book characters in history. Likewise, film adaptations of the Dark Knight are often both critical darlings and massive financial successes. However, into every life (even Batman's) a little rain must fall, and there's probably no soggier example of that than 1997's Batman & Robin.
The '80s and '90s era of Batman, which Tim Burton helped birth into the world, has its highs and lows. Even 1992's now-beloved Batman Returns technically underperformed when compared with Burton's first entry, 1989's Batman. But once Burton and Michael Keaton both exited the franchise, things started going off the rails, culminating in the unmitigated flop that was 1997's Batman & Robin. With an 11% rotten rating on Rotten Tomatoes and only $238 million at the box office, no one would call the film a success — least of all its star George Clooney.
Clooney, who plays Bruce Wayne in Batman & Robin, does not have fond feelings about the film. In fact, after all these years, Clooney still feels negatively enough about Batman that he told Ben Affleck outright to not take up the cape and cowl decades later.
Clooney admits that everyone knew Batman & Robin was bad
In a December 16, 2020 interview with Howard Stern, George Clooney talked about his experience of playing Batman. Stern pointed out that Clooney is often the type of person who gets calls asking for advice because he's been both an actor and a director. Clooney agreed, saying that he's also been on both sides of being a flop and a huge success in his career.
Of course, Clooney pointed out that Affleck "didn't listen and ended up doing a great job." Clooney was quick to qualify that he "was wrong" but stood by his most important assertion: "Just don't have nipples on the suit." A cursory Google search will confirm that, while Affleck's Batman suit does have pectorals, they are, blissfully, nipple-free.
It's interesting to hear Clooney talk about his time as Batman. "It's so bad that it actually hurts to watch," he said, pointing out that he and co-star Arnold Schwarzenegger (who played Mr. Freeze) never even met on set.
According to Clooney, in hindsight everybody involved knows how bad Batman & Robin is. "Akiva Goldsman, who's won the Oscar for writing since then, he wrote the screenplay, it's a terrible screenplay — he'll tell you," said Clooney, adding, "I'm terrible in it and I'll tell you." And, yes, Clooney also specifically said that the late, great director, Joel Schumacher, would concede that the film "didn't work."
"We all wiffed on that one," concluded Clooney. Thankfully, for Ben Affleck, the latter's take on Batman remains so beloved by DCEU fans that Zack Snyder brought the actor back one more time to reprise his role in the forthcoming Snyder cut of Justice League.