Here's Where You'll Find The Big Chill Exotic Weapon In Fortnite Season 5
Epic Games brought in a ton of changes to Fortnite for its brand new Season 5, titled "Zero Point." A big showdown with Galactus, Destroyer of Worlds in the Marvel-themed Season 4 finale left a crater in reality, and now bounty hunters are coming in from other dimensions to protect the land. So far, Season 5 has introduced plenty of new skins (including a skin from God of War), a new currency, and new bounty-themed missions.
Fortnite Season 5 also brought in a new weapons class: Exotic. So far, players have seen the Storm Scout Sniper Rifle, the Nighthawk Revolver, the Shadow Tracker Pistol, the Boom Sniper Rifle, and the Dub Shotgun, all of which are obtained from the season's plethora of new NPCs. One of the newer Exotic weapons is the hilariously-named The Big Chill, which rapidly throws snowball grenades at enemies.
Here's where and how to find The Big Chill.
The snowy mountains near Catty Corner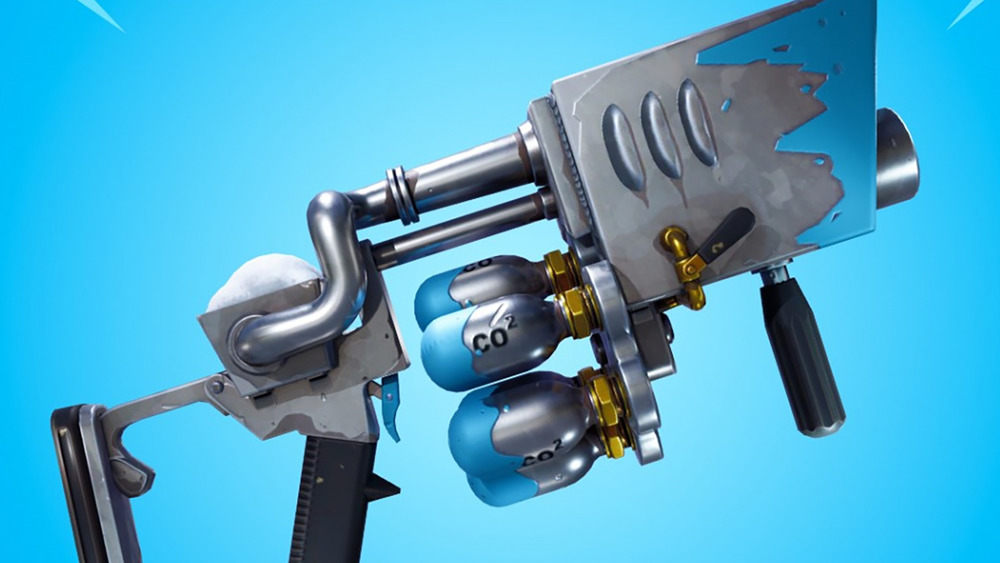 Epic Games
Appropriately, The Big Chill can be found in the snowy mountains in the southeast area of the Fortnite Season 5 map, near Catty Corner. Head to the top of the mountain to find a bright yellow and pink van covered in snow cones, where a NPC named Snowmando will be waiting. They have three speech dots above their head.
The only way to receive The Big Chill is by purchasing it from Snowmando, and it is one of the more expensive Exotic weapons, costing 1,455 gold bars. Thankfully, there are a few different quick ways to earn gold bars in Fortnite, so racking them up shouldn't take too long. 
Snowmando and The Big Chill arrive as part of Fortnite's v15.10 update, which introduced the game's 2020 Winterfest, titled "Operation: Snowdown." Snowmando gives players new Quests and other new items, plus some winter-themed skins. In addition to The Big Chill, a fiery Exotic weapon can also be obtained from another NPC named Blaze. As fans may remember from Fortnite's Winterfest 2019, there's also going to be opportunities to receive Christmas cosmetics and rewards.