Croods 2 Director On Leading An All-Star Cast In The Animation Sequel - Exclusive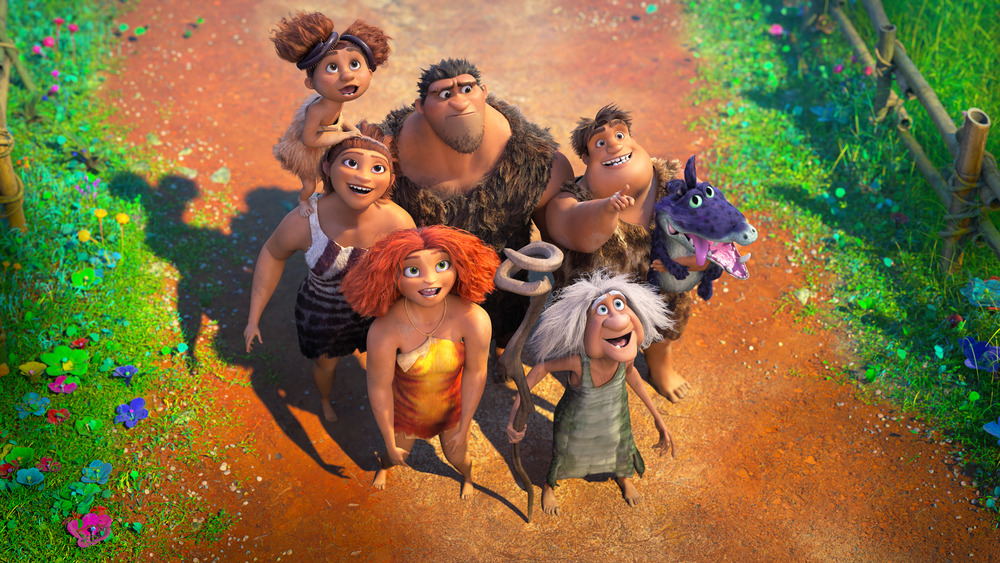 DreamWorks Animation LLC
The Croods: A New Age may come seven years after we were first introduced to the titular cave family, but the sequel movie highlights the same characteristics that make the Croods an easily lovable brood: They're energetic, outspoken, and full of heart. This wacky pack is led by an often overbearing patriarch, exemplifying the fact that while happy families have rough times, it's sweet and soulful when they bond together to battle adversity. For his part, director Joel Crawford loves the movie's focus on family, and says it was fun to be a part of "helping evolve and grow the family's dynamics so that audiences can watch them grow up."
He also says that one of the best parts of bringing this second Croods movie to life was the opportunity to direct such a fantastic cast. "The returning cast alone, including Nicolas Cage, Emma Stone, Ryan Reynolds, Catherine Keener, Clark Duke, and the legend Cloris Leachman all have amazing talents, especially in voice acting," Crawford tells Looper in an exclusive interview. "This movie also brings in a new family — the Bettermans — and that gave us Peter Dinklage, Leslie Mann, and Kelly Marie Tran. Kelly came in with the most crazy, bubbly energy. We knew that we found our Dawn [the Bettermans' daughter] and didn't need to audition anyone else for that role."
Joel Crawford talks about the value in keeping things fun in the booth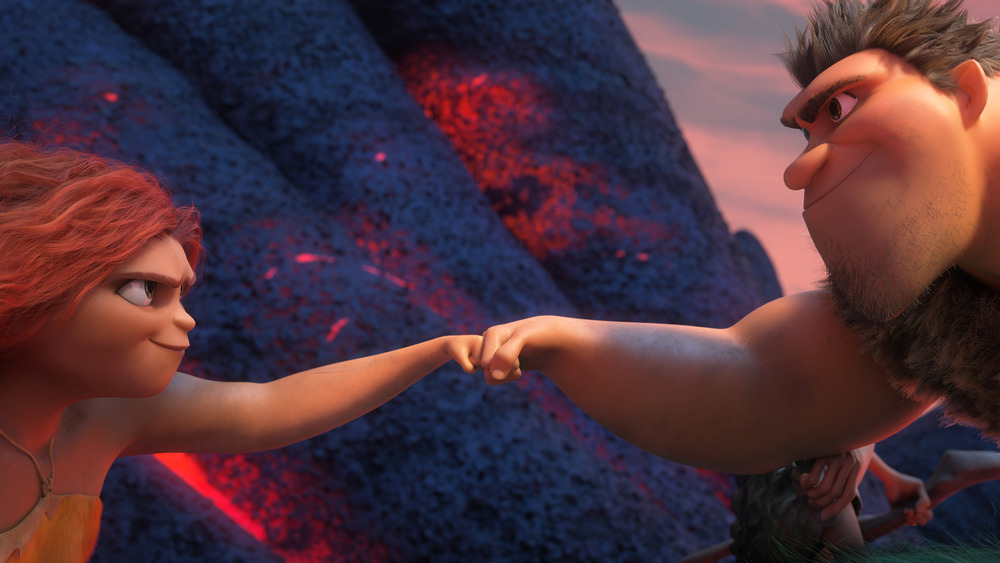 DreamWorks Animation LLC
The Croods movies are full of emotion, adventure, and characters with very distinct personalities. Crawford believes that maintaining an upbeat, festive working environment helps the actors best flex their creative muscles — both individually and as a team. 
"I can't help but play when record together," he says. "I have always been a fan of improv — I even took a class at the Groundlings Theatre and School when I was in art school and that really started my love of improv. So, when the cast comes in, myself and Januel Mercado, the head of story, make it a safe place to play and to have fun."
Crawford continues, "For example, when Nicolas Cage [who voices Grug Crood] records, there are times where he taps into another actor's performance, or finds something that just triggers him, and does or says something that surprises both me and him. It's this lightning in a bottle that I think immediately, 'Oh, I'm using that take.' Then there's Leslie Mann [who voices Hope Betterman] — her comedic timing and wit are crazy. She had me in tears laughing during so many recording sessions. All of the cast is so great at finding these unique little moments that I definitely put into the movie to create that kind of life in each scene."
The Croods: A New Age is currently in theaters, where you can catch the results of those amusing recording sessions. The film is scheduled to be released on streaming platforms on December 25.