Here's How You Can Watch All Of The Hunger Games Movies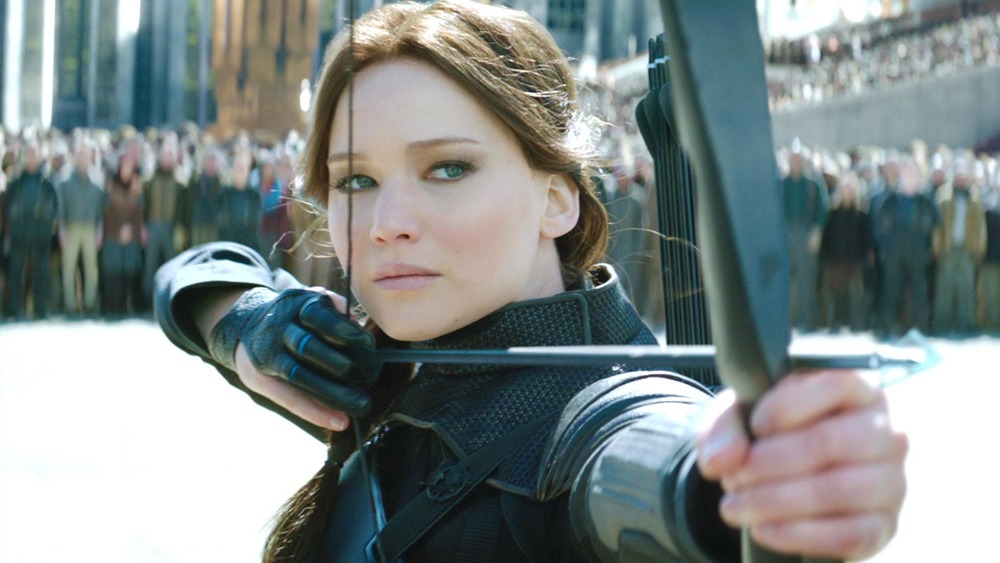 Lionsgate
If you have a sudden hankering to watch all of the Hunger Games films, you're in luck; they're all available to stream now.
Based on Suzanne Collins' dystopian young adult series of the same name, The Hunger Games trilogy — The Hunger Games, Catching Fire, and Mockingjay — was expanded to four films when the books made the leap to the big screen from 2012 to 2015, with producers splitting Mockingjay into two distinct parts. Set in a post-American world known as Panem, which is divided into twelve struggling districts and overseen by an evil, wealthy Capitol, The Hunger Games follows Katniss Everdeen (Jennifer Lawrence) from District 12, who volunteers in her younger sister's stead to participate in the Capitol's annual Hunger Games. Every year, the Capitol punishes the districts for their rebellion years before by holding the Hunger Games, in which two tributes from each district — a boy and a girl — between the ages of twelve and fifteen must compete to the death, with only one victor left standing.
After saving her sister from the Games, Katniss and her fellow tribute, Peeta Mellark (Josh Hutcherson) find themselves in the barbaric, opulent Capitol, preparing for the dangerous Games. However, after Katniss and Peeta both survive their first Games, they realize the fight is just beginning, and eventually, Katniss leads a rebellion to defeat the Capitol and end the Games once and for all.
These thrilling, violent books were a perfect fit for a film franchise, thanks in large part to Lawrence's anchoring central performance and an incredible supporting cast that includes Woody Harrelson as Katniss' cynical mentor, Elizabeth Banks and Stanley Tucci as absurd Capitol figures, Donald Sutherland as the conniving Capitol President Snow, and more. Here's how you can watch all of the Hunger Games films now.
The Hunger Games movies are available to stream with a cable subscription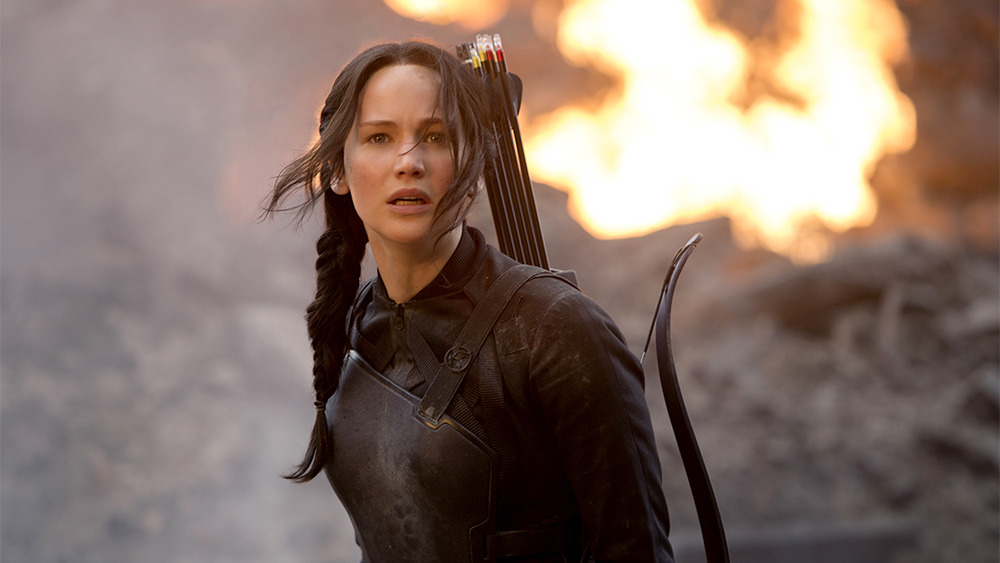 Lionsgate
If you've got a cable login, you'll be able to watch The Hunger Games on Freeform, the channel formerly known as ABC Family. With a cable subscription, you can log onto Freeform's website and check out all four of the movies, but if you don't have one, there's another option. Through Freeform Access, you can use your login for Hulu, Sling, or YouTube TV to access Freeform's catalogue as well. On the other hand, if you're looking to own the Hunger Games movies, you can always head to platforms like Amazon and AppleTV to buy the entire series for yourself, so you can watch them any time, anywhere — with or without a cable subscription.
Beyond that, it looks like another Hunger Games film is forthcoming. In May of 2020, Collins published a prequel about a young President Snow entitled The Ballad of Songbirds and Snakes, and the film adaptation has already been greenlit, with original series director Francis Lawrence back at the helm.
While you wait for the next Hunger Games film, be sure to check out the original four, whether you watch them on Freeform or purchase them through a platform.