What Christian Bale Would Look Like As Liquid Snake From Metal Gear Solid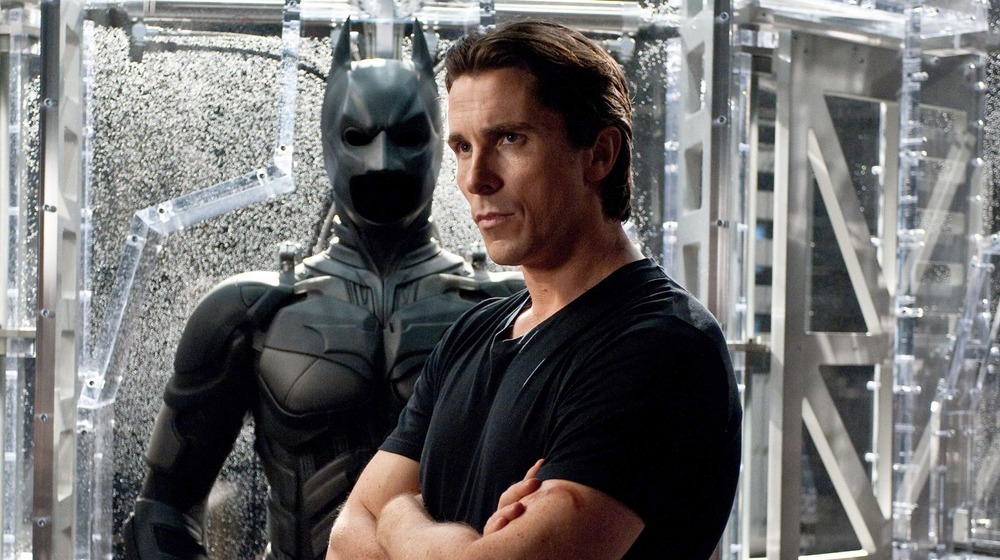 Warner Bros.
Fans of Hideo Kojima's Metal Gear Solid video game series have had plenty of good news as of late. There's a Metal Gear Solid movie adaptation in the works, and Star Wars franchise alum Oscar Isaac is set to step in the shoes of Solid Snake, the stealth action game franchise's legendary protagonist. 
As the Dune remake star prepares to don the iconic suit and bandana, fans' inquiring eyes have turned to Solid Snake's enemies. While Isaac is currently the only actor to have been announced for Sony's big-screen adaptation, Metal Gear Solid will quite likely feature a face-off between the stealthy super-soldier and Liquid Snake, Solid's clone-brother and one of the several Snakes running wild in the franchise. Finding an actor who can match Isaac's boundless intensity and give it a villainous twist is no easy feat — but digital artist @spdrmnkyxxii seems to consider Christian Bale a good choice for the role of Liquid Snake, and has proven the point with an extremely convincing image of the actor as the character.
Here's what Christian Bale would look like as Liquid Snake from Metal Gear Solid.
Christian Bale would be one believable Liquid Snake
In the original Metal Gear Solid video game, Liquid Snake is the leader of the FOXHOUND black ops unit. He has a serious grudge against Solid Snake, and isn't afraid to break bad to a point where he takes over a top-secret nuclear weapons operation in Alaska and stages an insurrection against the United States. He's a bitter and arrogant yet terrifyingly dangerous man whose physical and mental prowess make him a threat on all fronts — and who's a master of disguise, on top of everything. 
@spdrmnkyxxiii's image of Christian Bale as Liquid Snake makes it clear that the Dark Knight trilogy and American Psycho star would look amazing donning Liquid Snake's signature trench coat and blond mane of hair. The actor's considerable body of work has shown us that he has the intense physicality and gravitas the role requires. As for the whole "master of disguise" part, Bale's rather famous for the insane transformations he's willing to go through for his art, so he seems the perfect fit for Liquid Snake.
Bale obviously hasn't been cast yet, and while there were past rumors about the actor playing Solid Snake when the Metal Gear Solid movie was first being discussed many years ago (likely fueled by the fact that Bale said he'd be interested in portraying the character in a film), Bale has said he's never talked about actually doing a Metal Gear Solid flick. Thus, it's impossible to say whether this awesome piece of fan art would ever materialize in real life. However, @spdrmnkyxxiii's image is more than proof that the actor would certainly be an imposing presence in the role of Liquid Snake.