The Office Character Who Was Almost Killed Off In The 4th Season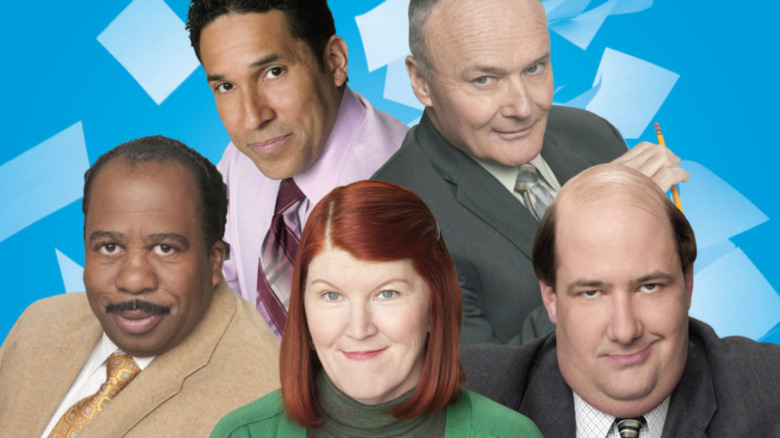 NBC
The Office is known for its irreverent brand of so-cringey-it's-funny humor, but what some fans may not know is that the show almost crossed a line in its fourth season by killing off a side character.
In the Office Ladies podcast, Jenna Fischer and Angela Kinsey (Pam Beesly and Angela Martin on the show, respectively) talk in-depth about what went on behind the scenes of the Emmy Award-winning series, and in episode 56, the two actresses discussed the season four episode Fun Run, as well as the character death that was narrowly avoided in the writer's room.
As most fans probably remember, that episode is the one in which Michael (Steve Carrell) accidentally hits one of his employees, Meredith Palmer (Kate Flannery), with his car, putting her in the hospital with a broken pelvis. Although Meredith eventually recovers — after more than a few gags involving her pelvic cast — that almost wasn't the case. As revealed during a recent Office Ladies episode, some writers were in favor of killing Meredith off.
Show creator Greg Daniels and writer Justin Spitzer "spent one evening pitching on this idea that maybe Meredith died," Fischer explained.
"He said that the pitch was that Michael would accidentally hit Meredith with this car and then thinking that no one could see him, he didn't want to leave any witnesses, and so in one pitch, he backed over her to make sure she was dead," she said, adding later, "And then, Justin told me that there was a pitch that Michael would go into his trunk and get one of those anti theft devices called the club and then club her to death and then hide her body."
Meredith was almost killed off in the 4th season of The Office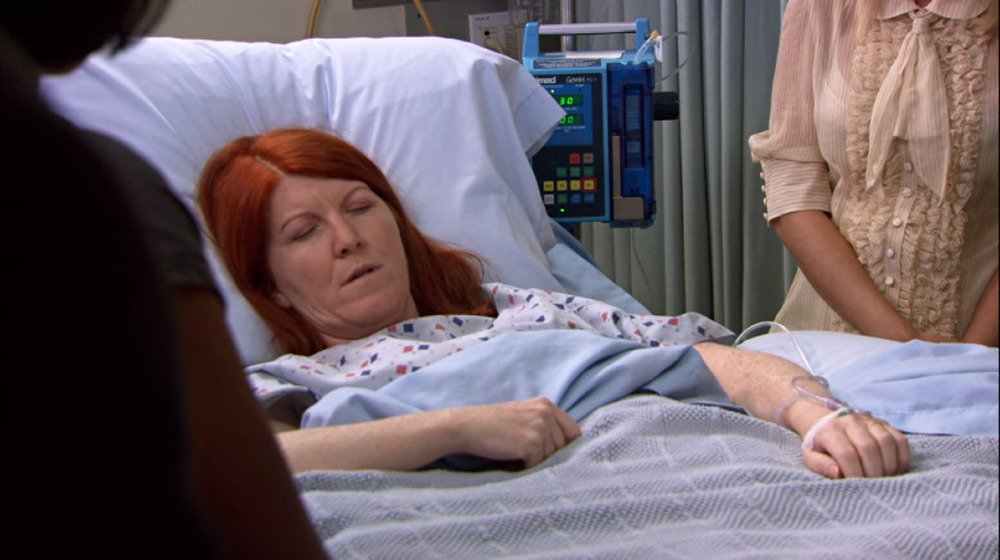 NBC
Fortunately for Meredith fans, Daniels nixed the idea on the basis that it was too dark of a turn for the show to take, but there were a few writers that really fought for it, according to Fischer. And while Meredith may have avoided the chopping block, Flannery had her doubts about her character's future as soon as she got the Fun Run script, partly because there'd been talk that the writers were considering killing a character, she explained.
"I literally said, 'Does Meredith live?' I said it right away. And then, like, I've been reading later that, like, there's been articles saying that one of the writers decided that, you know, they wanted to pitch that Meredith didn't live and then they thought that was too dark. Greg thought it was too dark for Michael to have killed one of the employees of Dunder Mifflin," she said.
"I was so conscious of it because I was like, I know this isn't a soap opera, like this could be it," she continued. "But the first time we shot it, literally, they played it almost like Meredith was a speed bump that he just like went over."
Despite the dark turn the show nearly took, the Fun Run episode went on to become one of the most well-received of the series, ranking on IMDb among the top 30 episodes of the 100+ of the show's nine seasons.