The Reason This Scene From It's A Wonderful Life Looks So Different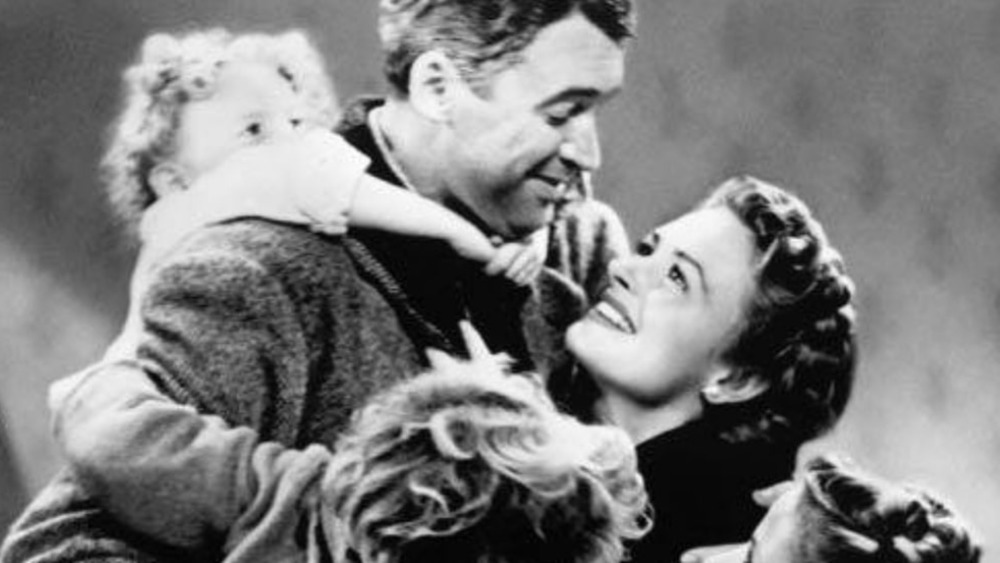 Republic Pictures
For some people, It's a Wonderful Life is as essential to the holiday season as eggnog and Christmas carols. The movie, which stars James Stewart as the down-on-his-luck George Bailey, is deeply rooted in post-World War II Americana, and is sometimes dismissed as a feel good film that's too saccharine for modern audiences. But there's a depth to the Frank Capra-directed movie that's easy for viewers who are so far removed from it's 1946 release date to miss: At its heart, It's a Wonderful Life is a story about the trauma of war — and it has a war veteran at its center, thanks to Stewart.
Capra's Christmas classic was the first movie Stewart filmed after he returned from WWII in 1945, and he was a reluctant participant in the beginning, according to author Robert Matzen, who wrote Mission: Jimmy Stewart and the Fight for Europe. In a 2016 interview with the Chicago Tribune, Matzen shared that the actor initially wanted to do a comedy upon his return, and he reportedly found the subject matter of It's a Wonderful Life — namely, George contemplating suicide — to be too bleak.
Ultimately, the holiday film was the only offer he had upon his return, aside from a movie about his time overseas, which he had no interest in doing. And although the movie is most certainly not a comedy, it proved to be the cathartic role that Stewart needed to ease him back into Hollywood, as evidenced by the iconic emotional scene that he improvised on the spot.
Jimmy Stewart's crying in It's a Wonderful Life's prayer scene was unscripted leaving Capra with a dilemma on his hands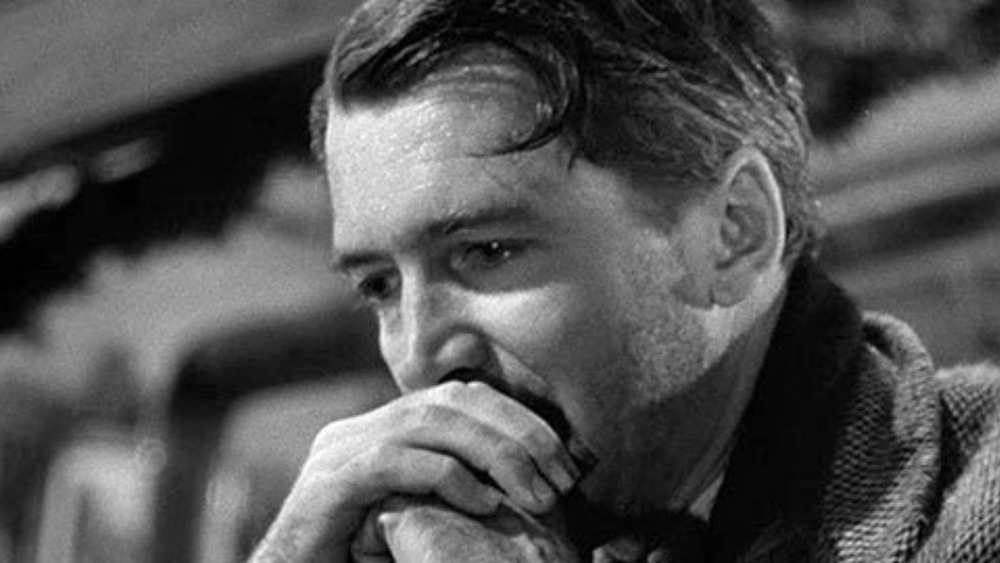 Republic Pictures
The scene where George prays for God to help him is one of It's a Wonderful Life's most unforgettable scenes. Stewart's emotion in the moment is palpable, and that's because it was real. No one, not even the actor, knew he was going to cry during the scene, which left Capra with a dilemma.
The director knew Stewart had poured his heart into the scene, but he hadn't set up for a close shot. That meant he would need his star to tap into that energy again so that they could reframe and zoom in on his face. Unfortunately, the actor knew he wouldn't be able to recreate the moment with the same level of authenticity again.
"As I said those words," Stewart said in 1977, as reported by The Independent. "I felt the loneliness, the hopelessness of people who had nowhere to turn, and my eyes filled with tears. I broke down sobbing. That was not planned at all."
Capra knew he couldn't lose the scene, so he and the film's editor manually created the illusion of a zoom in post-production, which was no easy task in 1946. The end result left the closeup of Stewart's face a little grainy compared to the rest of the film, but the graininess actually seems to add to the emotion. And the shift in style was well worth the effort since it ensured one of Stewart's greatest acting moments made it into It's a Wonderful Life.
So if you've ever wondered why there seems to be a sudden drop in the screen clarity during the pivotal prayer scene, know it was done to ensure the emotion Stewart poured into It's a Wonderful Life could be seen by viewers, as well as felt.