Here's Where You Can See Those Departed Walking Dead Stars Next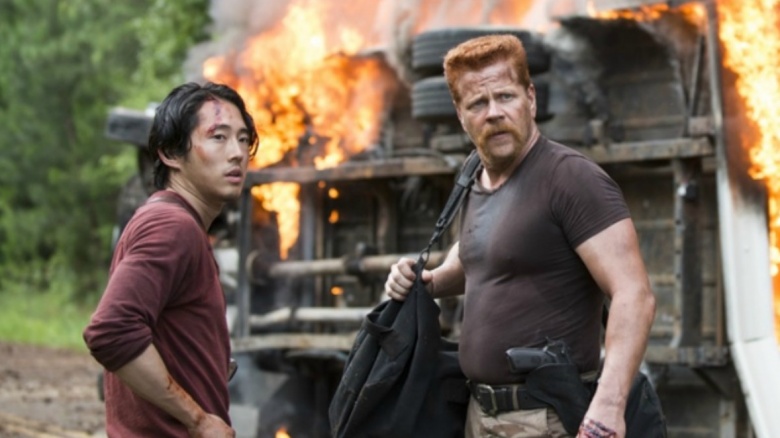 A few of your favorite stars might've just left The Walking Dead, but that doesn't mean you can't still catch up with them elsewhere.
Outgoing Walking Dead alums Steven Yeun (Glenn) and Michael Cudlitz (Abraham) officially met their TV maker in the season 7 premiere, but in real life, their heads are actually still perfectly intact—and the two stars still have plenty of projects lined up over the next several months.
Yeun's next big project (Via The Hollywood Reporter) will be the Netflix feature film Okja, from Snowpiercer director Bong Joon-Ho. Okja is described as a monster movie that focuses on a young girl (played by Seohyun An) who becomes friends with a genetically manufactured pig. The pig grows to be enormous, and when the company that made it wants him back, she sets off on a mission to save him. Production on the action-adventure story actually started in April, though a release date has yet to be announced. He's also attached to star in another big-screen action flick, Mayhem, directed by Joe Lynch (Everly). That film casts Yeun as a lawyer trapped in a building overrun by infected people acting out their wildest impulses, where he'll have to fight his way out to survive. No release date has been announced for Mayhem yet either.
Yeun is also providing some voice work for Guillermo del Toro's Trollhunters animated series on Netflix, where he'll voice a school bully named Steve. That show drops December 23. Yeun's voice will also pop up in the animated adaptation of Image Comics' Chew, where he'll play the starring role of Detective Tony Chu—a man with the ability to get psychic impressions from whatever he eats. He'll be joined on that project by Felicia Day (The Guild).
Cudlitz's post-Walking Dead schedule isn't quite as busy, but he still has a few projects on his plate. The Southland alum will continue to have a recurring role in Dwayne "The Rock" Johnson's HBO football comedy Ballers, and also has a "top secret" project in the works that should be announced soon. Sadly, still no word on that long-rumored Southland movie.