How Baby Yoda's Blue Macarons In The Mandalorian Really Came To Be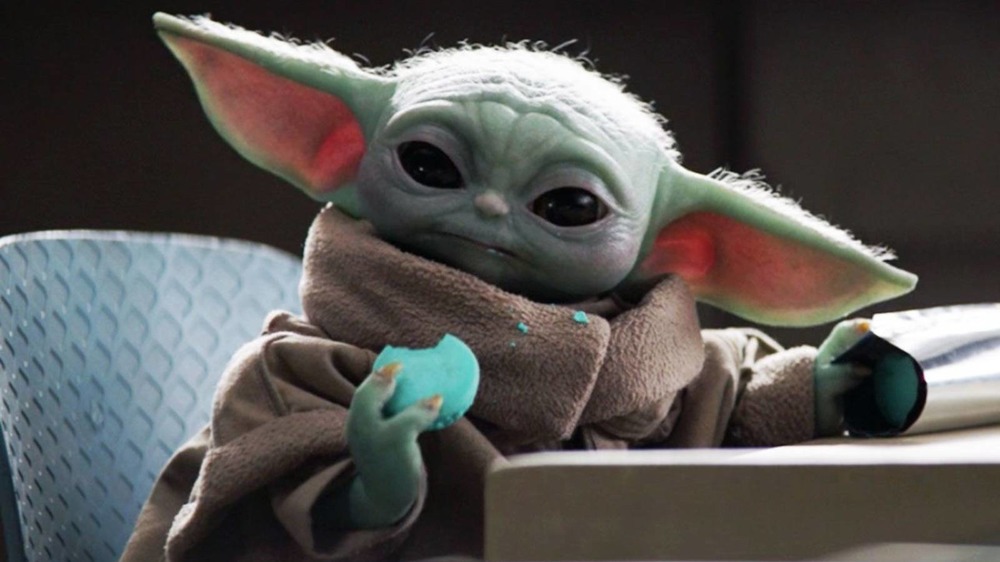 Disney/Lucasfilm
Baby Yoda (or Grogu as he's canonically known now) sure does love to eat. From frogs to bone broth, Grogu can't be stopped when his tiny tummy's rumbling. He's not even above eating the eggs of a close-to-extinct alien species. The little green guy has a serious case of the munchies, and if you have any food nearby, then you'd best be prepared to share. 
That's what one Star Wars character recently learned during episode 12 of The Mandalorian, titled "The Siege." Din Djarin (Pedro Pascal) needs some repairs done for his ship, and in the meantime, he helps out his old buddies, Greef Karga (Carl Weathers) and Cara Dune (Gina Carano), with a little side mission. Their plan is far too dangerous for Baby Yoda, so they drop him off at school for the day. As it just so happens, Grogu is seated next to someone with a bag of delicious blue cookies. The kid's reluctant to hand over the snacks when Grogu obviously wants one, but when you have Force powers, you can pretty much get your hands on anything. 
Fans of The Mandalorian must have the same mindset as Grogu, because they all now want to get their hands on those delicious-looking blue cookies. Well, you're in luck! The YouTube cooking channel Binging With Babish recently broke down how to make your very own blue macarons like the ones seen on the show, and Babish had a very special guest, The Mandalorian creator Jon Favreau, explain how the blue cookies came to exist in the first place. 
Jon Favreau discusses how the cookies on The Mandalorian weren't always blue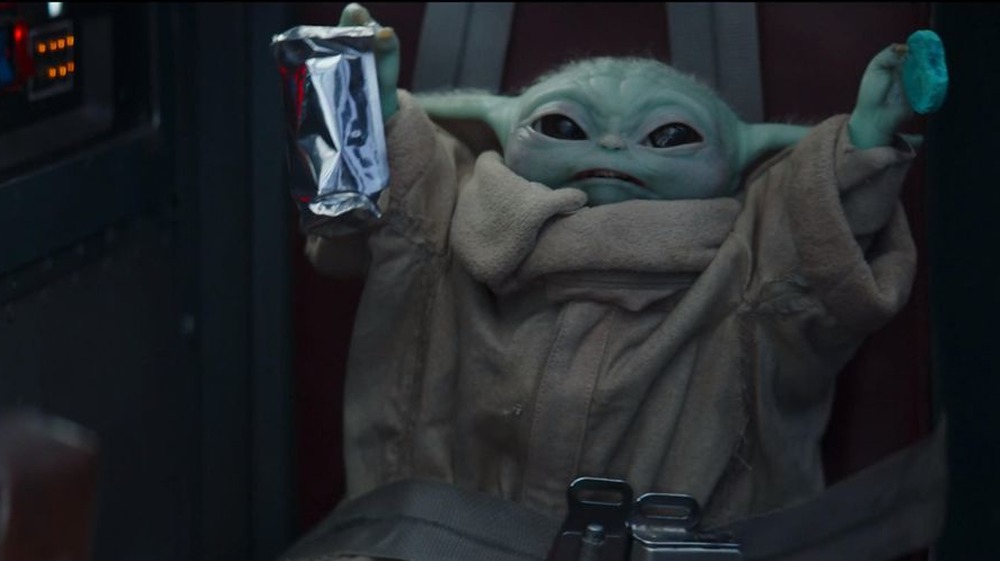 Disney/Lucasfilm
Before breaking down the recipe to make your own blue macarons at home, Binging With Babish host Andrew Rea sat down for a virtual chat with Favreau, who discussed the development of the blue cookies. As it turns out, the snacks weren't always designed to be blue, and if you stuck around and watched the production art over the credits at the end of the episode, then you would have seen artwork showing Grogu munching on what look like pretty normal, brown cookies. 
However, you can't just have normal cookies in the Star Wars universe. "We wanted it to be blue because it was like blue milk," the filmmaker explained, "and the prop-master ended up baking macarons, but not a full macaron. Not the sandwich, just one half of the sandwich." Macarons normally have filling between two cookies, and luckily, Grogu didn't have to deal with that. He made a mess with the macarons as they were, so we shudder to think how stained his robes would have gotten with blue filling getting all over the place. 
"It didn't really have much flavor," Favreau revealed, "It was kind of a blue raspberry, a little bit, but again, because it's on a film set you're not worried as much about the taste. It's about the look." Stick with the video after the Favreau bit, and you can learn how to make two different variations of the interstellar cookie. The first is more of a traditional macaron, which requires some skill and a lot more work. However, if you just want to eat tasty blue cookies without a ton of effort, Rea has provided a simplified recipe, too. 
Just make sure you don't get on a rocket ship after eating them, or else you'll throw up blue stuff all over your clothes just like little Grogu.