The Two Kevin Costner Projects Absolutely Dominating Amazon Video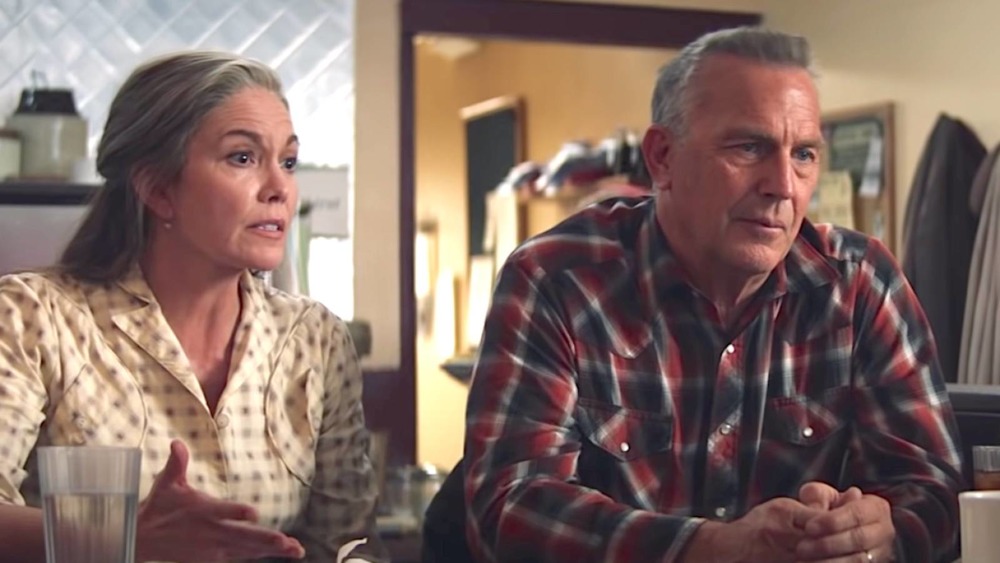 Focus Features
If your name is Kevin Costner, then you're having a very good week. 
The actor has been working since the 1980s, and he has no signs of slowing down any time soon. He's the star of such classic films as Field of Dreams, Robin Hood: Prince of Thieves, Tin Cup, and The Bodyguard, among dozens of other projects. In recent years, he's made his mark with high-profile roles in Man of Steel and Molly's Game. If you want to see what the actor has been up to over the last few years (and don't mind renting a few things on Amazon Prime Video), then you're in luck. 
According to Flix Patrol, two Kevin Costner projects are currently near the top of Amazon's Top 10 Movies and TV Series rankings. Costner's latest film, Let Him Go, which was released on November 6, 2020, is getting a lot of attention. Audiences are also watching the Costner-led series, Yellowstone, which wrapped up its third season earlier this year with a shocking finale. Whether you're in the mood for a singular film or something to binge watch, Costner's got you covered. 

What's the plot of Let Him Go?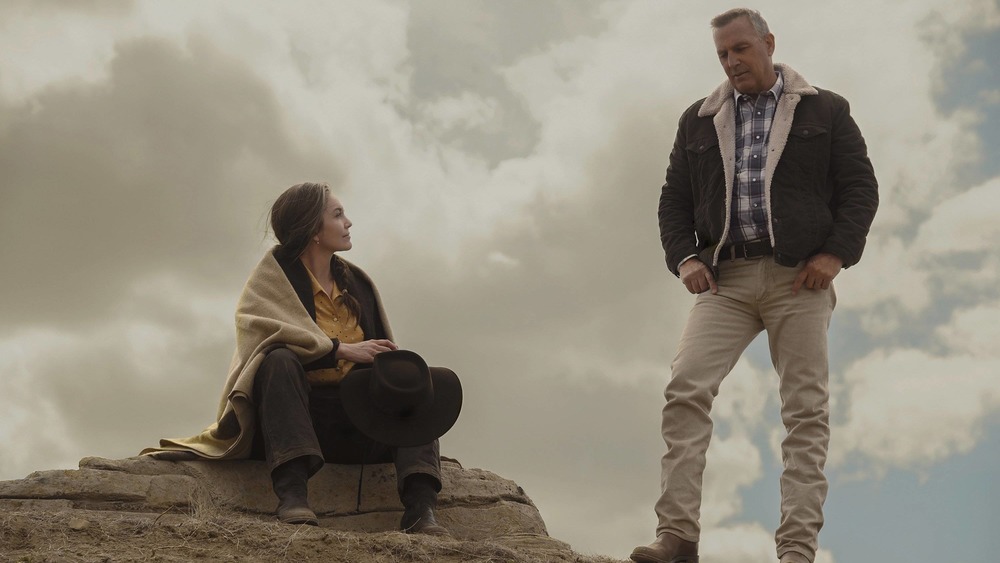 Focus Features
Kevin Costner leads the new neo-Western, Let Him Go, reunited with his Man of Steel co-star, Diane Lane. The two play George and Margaret, two grandparents living in 1963 Montana along with their son, his wife, and their newborn. One day, the son goes out for a ride, and his horse returns without the rider. After searching for their lost scion, George and Margaret happen upon their son's body. It appears as though he was thrown from the horse and broke his neck. 
The film picks up several years later when the son's widow, Lorna (Kayli Carter), remarries another man by the name of Donnie Weboy (Will Brittain). It's immediately clear that Donnie is abusive toward Lorna as well as the now three-year-old child. Not long after the wedding, Donnie leaves town with his new family with no indication of where they're all headed. George and Margaret are concerned for the safety of their daughter-in-law and grandchild and set out to find the family. 
What's Yellowstone all about?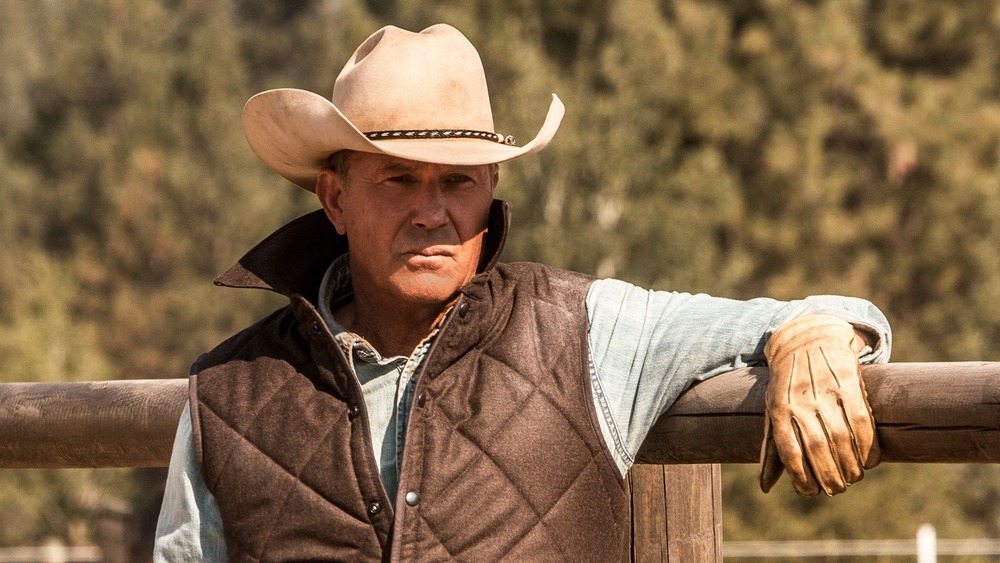 Paramount Network
It seems as though Kevin Costner is comfortable in the neo-Western setting considering he's played family patriarch John Dutton for three seasons on the popular Paramount Network series Yellowstone. The show follows the exploits of the Dutton family, who own the largest private ranch in Montana. Their property is incredibly valuable, and over the course of the series, they contend with land developers and other ranch owners who want a piece of what they have. They've made plenty of enemies over the years, and as the season 3 finale proved, some of them are willing to get violent to take out John and his family. 
The series also stars Luke Grimes as Kayce Dutton, Kelly Reilly as Beth Dutton, Wes Bentley as Jamie Dutton, and Cole Hauser as Rip Wheeler. The show is filled with all kinds of family drama and political intrigue to keep you hooked from one episode to the next. It's a great binge for any fan of other neo-Westerns like Justified and Deadwood, the latter of which was inspired by some disturbing true stories. 

Should you watch Let Him Go and Yellowstone?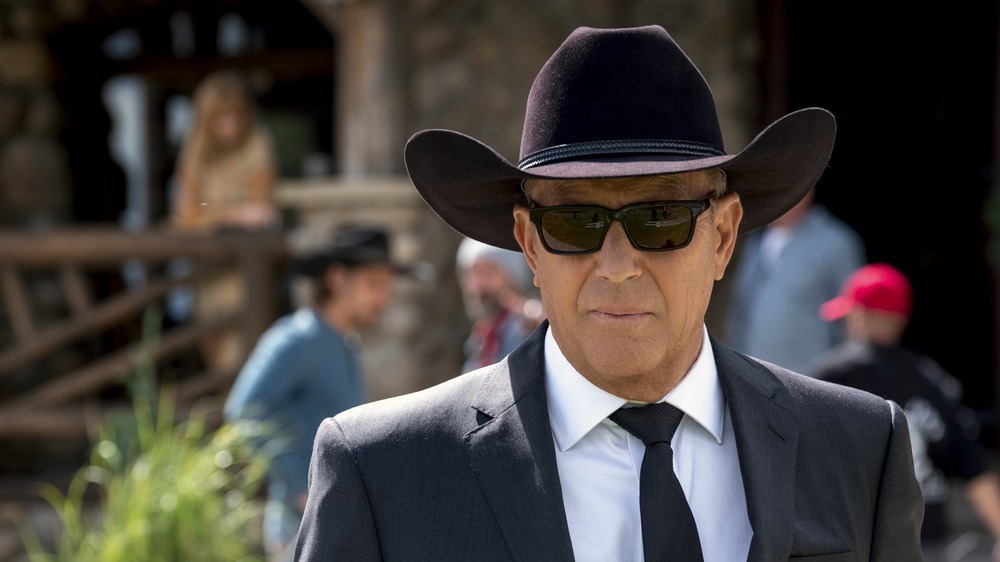 Paramount Network
Anyone in the mood for some mature drama should check out either Let Him Go or Yellowstone. The former has received rave reviews from critics, and in a year where a lot of movies had to be pushed back to 2021, Let Him Go is a welcome treat, indeed. It's a great throwback to revenge Westerns of the past, with enough updating to keep things fresh.
 Katie Walsh of The Los Angeles Times put it best when she wrote in her review, "In many ways, it feels like the midcentury pulp thrillers it emulates: well-plotted and grisly, but almost ephemeral. It is Lane's performance that lingers, one that dares to be uniquely hopeful about the future, and letting the old ways die."
If you have a bit more time on your hands, then you should also consider binge watching Yellowstone. There have been three seasons so far, so there are plenty of plot lines to wrap yourself up in before season 4 airs sometime in 2021. Alci Rengifo of Entertainment Voice wrote in his review of season 3 of the series, "Yellowstone, like many good westerns, combines gritty action with the dreamy landscapes of America's lush frontiers. Yet in its subtexts it also has a few notable ideas."
Whether you're a fan of Westerns or want a jumping-off point into the genre, Kevin Costner has given us two great projects to check out. You can rent both on Amazon now to see what everyone else is talking about.