The Walking Dead: Producers Knew Negan's Victims For Years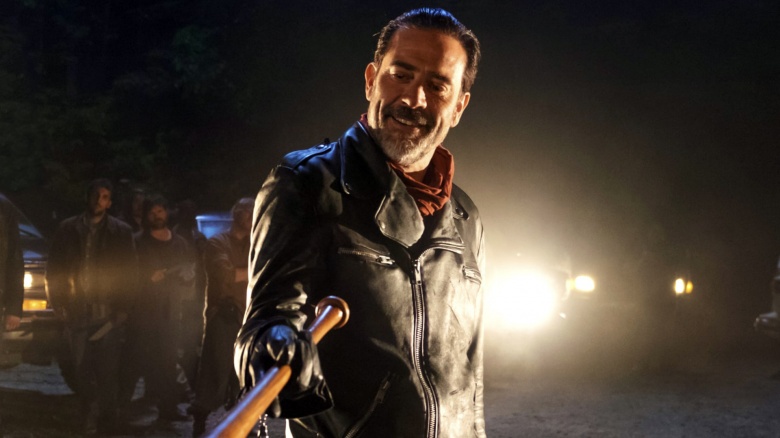 Contains spoilers for The Walking Dead Season 7
Although you're probably still processing the shocking events of the Season 7 premiere of The Walking Dead, producers have known who Negan (Jeffrey Dean Morgan) would kill for a very long time.
Showrunner Scott M. Gimple and creator Robert Kirkman revealed on AMC's Talking Dead (via Entertainment Weekly) that they first came up with the plan two years ago.
In case you missed it and just love spoilers, we learned that Negan's first victim (the one everyone has been theorizing about since the Season 6 finale) turned out to be Abraham (Michael Cudlitz). But it wasn't long before Negan took a fatal swing at another fan-favorite: Glenn (Steven Yeun).
"I think the hardest thing about it was thinking while starting the script, 'Well, what would break Rick?'" Gimple explained on the show. "It was all in the book, in issue 100. But looking for a way to break the audience too. Not in a way that is in any way to hurt them, but for them to believe that Rick Grimes would be under the thumb of Negan. That he would go through an experience that would do that to him. That the audience would go through the experience too, so that they would believe that Rick could do what this guy says."
Kirkman said the horrific events were necessary to give the show new life. "I think more than anything, the introduction of Negan, as heartbreaking as it is and as gut-wrenching as it is, was really to just set the stage in a way of saying, you know, this show, this story isn't going anywhere," he said. "We still have a lot more to do. We're setting the stage for a lot more to come. There is so much that comes out of this scene that has to be resolved. We felt like, as many years as we've been doing this, we wanted to send a clear message that we are just getting started and there is a lot that is going to be coming from this."
Yeun told EW that he wanted Glenn to meet his end at Negan's hands–the same way he dies in the comic. "You read that comic, you kind of don't want that to go to anyone else," Yeun said. "It's such an iconic moment and I think I even said, 'Don't give that to anybody else.' It's such a gnarly thing to say but sincerely, living that out was very wild but at the same time, that moment happening and being realized on television in a different medium and to do it in the way that we did it I think is brave and at the same time super affecting. And for me, that was the motivation to be like, 'Yeah, that sounds great.'"
After such a gutting premiere, Gimple said the season's second episode will blow the storyline wide open. "It's actually funny after the episode you just saw," he said. "There's a tiger. There is King Ezekiel. And that begins a season where we see all these different worlds, all these different characters. We see these characters that remain trying to put together the pieces, trying to go on."
The Walking Dead airs Sundays on AMC. While we dig out all our black clothes, check out the untold truth of The Walking Dead and how the show could end.