What Rahul Kohli Would Look Like As Ezra Bridger From Star Wars Rebels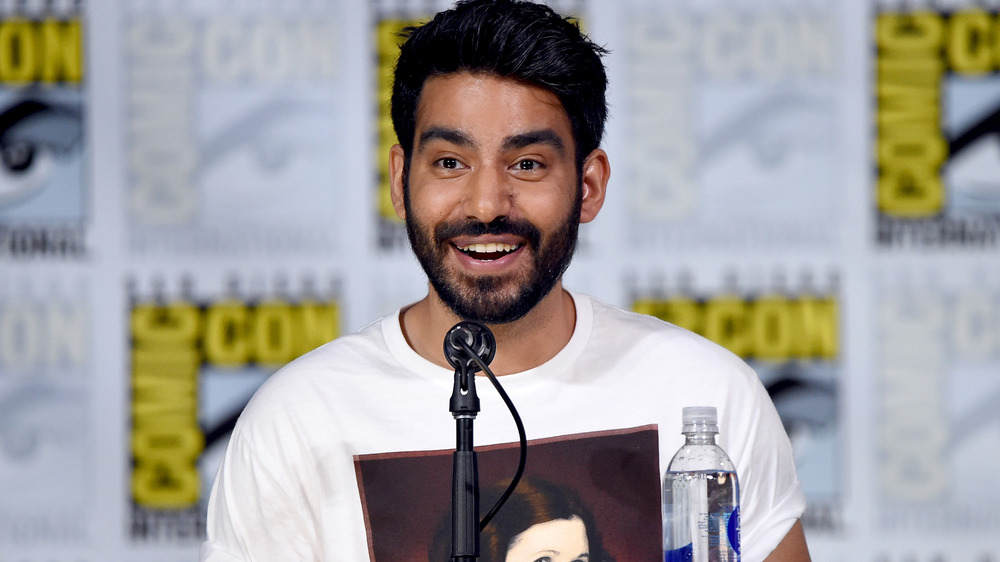 Mike Coppola/Getty Images
Contains spoilers for The Mandalorian season 2, episode 5 — "Chapter 13: The Jedi"
In the most recent episode of The Mandalorian, "Chapter 13: The Jedi," fan-favorite character Ahsoka Tano, played by Rosario Dawson, made her first live-action appearance. The character previously appeared in the animated series Star Wars: The Clone Wars and Star Wars Rebels, and was voiced by Ashley Eckstein. The new episode of The Mandalorian finds Din Djarin (Pedro Pascal), also known as Mando, traveling with the Child to the planet Corvus in search of Ahsoka, hoping she'll know more about the Child's background. Thankfully, she does.
Ahsoka directs Mando to take the Child, whose real name is revealed to be Grogu, to "ancient ruins of a temple that has a strong connection to the Force" — with the hope that "a Jedi may sense his presence and come searching for him." Unfortunately, chances of this happening are low, as Ahsoka clarifies that "there aren't many Jedi left." 
Of course, this got fans thinking about what Jedi she might be thinking of who could appear to train Grogu in The Mandalorian. While Luke Skywalker is an obvious option, fans of the animated series Star Wars Rebels brought up another great — and more unique — choice for Grogu's potential Jedi trainer: Ezra Bridger. Reading all the signs, it's very possible that a live-action Bridger may appear in The Mandalorian, and a major fan-cast for the role is actor Rahul Kohli from The Haunting of Bly Manor and iZombie. Thanks to artist BossLogic, fans now have an idea of what Kohli would look like in the role.
Artist BossLogic created a poster of Rahul Kohli as Ezra Bridger
Following along with fan theories, BossLogic whipped up a poster imagining Kohli as Bridger — sporting a lightsaber, scar, and all. Bridger is a very strong Jedi Padawan and a leader in the revolution against the Galactic Empire in Star Wars Rebels, and the last time fans see Bridger is when he's taken into hyperspace alongside Grand Admiral Thrawn, another fan-favorite character whom Ahsoka mentions in "Chapter 13: The Jedi."
For Kohli, his connection to the character goes back to a tweet in which he jokingly hinted that he might be going for the role of Bridger. "I've gotten into that Lothal orphan, force sensitive, trained by Kanan Jarrus kind of shape. For no particular reason," he wrote in a September 2020 tweet. He followed that up with, "Seriously, for no particular reason."
Shortly thereafter, in mid-October 2020, Kohli clarified to Inverse that although he "heard rumors that there was a casting call for a live-action Ezra," he isn't involved in The Mandalorian season 2. Kohli said that he "would be in the background of the cantina if that's what it took" to be a part of Star Wars, so he would probably jump on the opportunity to play a rich character like Bridger, if given the chance.
Dave Filoni, the co-creator of Star Wars Rebels, also works on The Mandalorian, and is likely a big part of why characters like Ahsoka and Bo-Katan Kryze (Katee Sackoff) are appearing in the new show. That said, it wouldn't be that far-fetched to imagine that another Star Wars Rebels character like Bridger may appear soon. If so, he reportedly won't be played by Kohli (unless he's being coy and tricking us), so fans will have to settle for this art imagining it as a possibility.